Virtual Tumor Boards
Connecting the strengths of university and community medicine
United in quality cancer care
The UC Davis Cancer Care Network has united affiliate cancer centers in the commitment to promote first-rate cancer care. Virtual tumor boards provide physicians opportunities to explore additional resources and treatment options, such as clinical trials or referrals for additional specialty care that may be beneficial.
Tumor boards allow physicians to:
Draw on experiences from their own patients
Tap specific or unique expertise of care team members
Explore various options for clinical therapies, and
Continuously expand and refine their knowledge base and refine their expertise to advance care.
Patients benefit from the collective experience of several specialists and the research prowess of a nationally renowned academic medical center, gaining improved opportunities for remission and cure.
The Virtual Tumor Board Project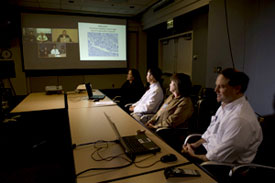 The Virtual Tumor Board Project was founded by Dr. Frederick Meyers, associate dean for precision medicine and professor of internal medicine/hematology-oncology at UC Davis School of Medicine, with major funding from Blue Shield of California Foundation and support from the UC Davis Cancer Care Network sites.
Each affiliate site is equipped with advanced videoconferencing equipment which projects the presenting physician's image and voice, along with detailed images of a patient's pathology slides or radiological scans. The high-definition images and sound run through encrypted Web-based technology, ensuring both maximum security and optimum quality.
Connecting your community to first-rate cancer care