Project Echo® OPIOID and NAS Research
About the research project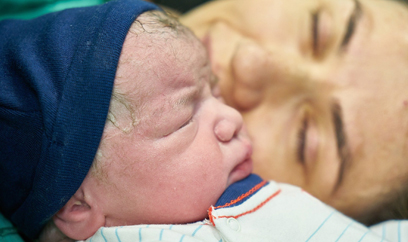 The Optimizing Pregnancy and Infant Outcomes in Drug (OPIOID) and Neonatal Abstinence Syndrome (NAS) project at UC Davis Health seeks to improve the quality of care provided to pregnant and parenting women with opioid use disorder and their opioid exposed infants, especially those with neonatal abstinence syndrome living in rural communities.
This research project utilizes the Project Extension for Community Healthcare Outcomes (ECHO®) model of care, which leverages regional expertise through the use of telehealth services. This allows for sharing of evidence-based practices to reduce health care disparities, utilizing case-based learning to help master complex patient care and offers the ability to monitor community needs and outcomes. Through this collaboration model, perinatal, neonatal and opioid use disorder specialists at UC Davis Health work with rural hospitals and community partners in a culturally and linguistically appropriate tele-mentoring and capacity-building program. The program is tailored to the specific needs of providers in rural medical networks caring for pregnant women and their neonates with dyadic exposure to opioids, and provides education to their family members, caregivers and communities.
The Project ECHO® model is also used for family medicine and pediatric physicians to foster expertise on caring for opioid exposed neonates and infants who go on to develop neonatal abstinence syndrome. The focus is on the "Eat, Sleep, Console" method and optimizing non-pharmacologic care while empowering parents, encouraging breastfeeding and promoting dyad care.


How Project ECHO® works
The Project ECHO® model, developed at the University of New Mexico Health Sciences Center, provides frontline clinicians with the knowledge and support they need to manage patients with complex conditions in the patients' own communities. This dramatically increases access to specialty treatment, particularly in rural and underserved areas.
Project ECHO® clinic sessions take place monthly in real-time on a videoconferencing platform. During Project ECHO® clinics, providers present de-identified patient cases to a consortium of providers who can share best practices on caring and managing patients with complex conditions. These case-based discussions are supplemented with short didactic presentations to improve content knowledge and share evidence-based practices.
Benefits of Project ECHO® model
There are many benefits for health care providers, hospitals and health care organizations for participating in the Project ECHO® model of care, including:
Enables providers to practice at the top of their licenses, confidently treating patients with common complex conditions
Allows patients to stay in their local communities and receive treatment from their primary care providers
Enhances clinician development by enabling primary care providers to acquire new skills and competencies
Rural providers become part of a community of practice and learning, increasing professional satisfaction and allowing providers to be more productive
Participation in the one-hour Project ECHO® clinic and completion of an evaluation form allows providers to earn one continuing medical education (CME) or continuing nursing education (CNE) credit
Curriculum for Project Echo® OPIOID and NAS program
The topics covered in the Project ECHO® clinics center around prevention, treatment, and recovery strategies to enhance the access to and quality of care provided to pregnant and parenting women with opioid use disorder and their infants living in rural communities.
Curriculum topics include, but are not limited to:
Screening protocols
Medication-assisted treatment in pregnancy
Expanded screening for sexually transmitted infections
Social determinants of health in prenatal care associated with opioid use disorder
Pain management during labor and delivery
Optimizing non-pharmacologic treatment and supportive care for neonatal abstinence disorder
Reducing stigma and bias in health care teams
"Eat, Sleep, Console" approach to neonatal abstinence disorder
Addressing comorbidities
Clinical workforce to support opioid use disorder and medication-assisted treatment services
Postpartum care of pregnant patients with opioid use disorder
 Project timeframe: September 2021-September 2023
Contact us
For more information or to sign up to participate, please contact the project directors:
This project is funded by the Neonatal Abstinence Syndrome (NAS) Program administered by the Federal Office of Rural Health Policy (FORHP) in the Health Resources and Services Administration (HRSA).
Resources
Download Flyers
This password-protected respository of resources and downloadable materials is designed specifically for consortium members.