Safety Training and Operator Training
Safety Policy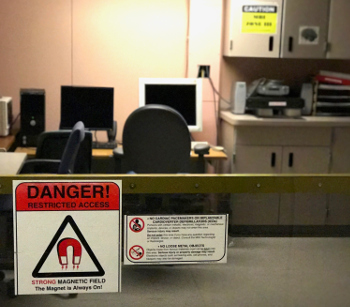 All PIs and intended MRI users are required to attend a full MRI safety training prior to operation of the scanners, which must be renewed annually. All MRI operators are required to be certified for scanner operation by the IRC Imaging Specialist.
The IRC policy is to have a minimum of two safety-trained individuals present for an MRI scan at all times. There must be a one-to-one ratio of safety-trained lab members to subjects/patients and anyone who may be accompanying these subjects (i.e. parent, other family member). This rule is in effect at all times.
All personnel must have a working knowledge of, and a willingness to follow, all safety requirements.
Safety Training
Overview
Safety training is required for all scanner users. This involves an initial on-site training session that includes a lecture, safety video, and a written quiz. Subsequent renewals may be processed online. Safety training must be renewed annually by all active scanner users and safety monitors.
To join the next available safety training course, or to ask about your current safety training status, please email James Wallis jmwallis@ucdavis.edu.
MRI Safety Training Presentation
Operator Training and After Hours Training
To become an MRI operator, you must complete operator training, which involves four 2-hour training sessions on the MRI scanner intended for use. To join the next available operator training, please email James Wallis jmwallis@ucdavis.edu.
Please note: Undergraduates are not eligible to operate the MRI scanner. Undergraduates are eligible to undergo safety training to become a safety monitor (see previous section).
For scans being performed outside of regular business hours (Mon-Fri, 8 a.m. - 5 p.m., non-holiday), a scanner operator must undergo additional After Hours training. An operator can become eligible for After Hours training after successful completion of five scans.
What if my subject has an implant?
If participants have any type of implants (i.e. orthopedic hardware, heart stents, surgery clips, electronic implants, etc.), you cannot proceed with the MRI scan until written documents from the manufacturer, stating the conditions that must be followed to safely scan the participant, have been approved by James Wallis (MRI Safety Officer) or designated IRC tech support personnel.
If a participant has had an MRI with an implant, never assume that the participant is safe to scan. You must still have approval before scanning your participant.
When approval of the implant is needed, the name of the manufacture, name of the implant, model number of the implant, and physician's operative report must be submitted to the MRI Safety Officer.
Always allow a minimum of seven days before your participant's appointment to receive the manufacture's recommendation to safely scan the participant with an implant.
If unable to acquire written documents confirming the conditions to safely perform an MRI scan, the participant may not be allowed to participate in an MRI study.
Violation of this policy are grounds for immediate suspension of the research lab, and all scheduled MRI scans will be canceled until the violation has been resolved.