Our Team
John H. Peters, M.D.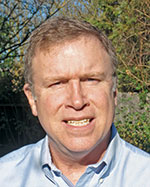 Clinical/Research Interests
John H. Peters MD is an Associate Professor of Medicine in the Department of Internal Medicine and Division of General Medicine at the University of California, Davis School of Medicine. His clinical interests are geriatric medicine and internal medicine. His research is centered on definition of roles for extracellular matrix and adhesion proteins in the pathogenesis of osteoarthritis and other chronic inflammatory diseases of aging. He has worked extensively on the characterization of alternatively spliced fibronectin isoforms as soluble biomarkers for vascular tissue injury and inflammation. Dr. Peters joined the UC Davis School of Medicine in 2001 after serving on the faculty of UCLA School of Medicine. He was Chief of Geriatric Medicine at the Sacramento VA Medical Center from 2000 to 2005.
Title:
Associate Professor of Medicine in Residence, Staff Physician, Sacramento VA Medical Center
Specialty:
Internal Medicine, Geriatric Medicine, Pulmonary Medicine
Education:
UC San Diego School of Medicine, MD 1978
University of Nevada, Reno, BS 1973
Residency:
University of Oregon Health Science Center, 1978-1981
Fellowships:
UC San Diego, 1981-1984 Pulmonary and Critical Care Medicine
Scripps Research Institute, Department of Immunology, 1983-1989 Research Fellow
Massachusetts Institute of Technology, Center for Cancer Research,1989-1992 Research Fellow
UCLA, 1996-1997, Geriatric Medicine
Board Certifications:
American Board of Internal Medicine
Internal Medicine, 1982
Pulmonary Medicine, 1986
Geriatric Medicine, 1998 (renewed 2010-2020)
Select Recent Publications:
AV Shinde, R Kelsh, JH Peters, K Sekiguchi, L Van De Water, PJ McKeown-Longo. The α4β1 integrin and the EDA domain of fibronectin regulate a profibrotic phenotype in dermal fibroblasts. Matrix Biol. (2014), http://dx.doi.org/10.1016/j.matbio.2014.11.004
JH Peters, MN Grote, NE Lane, RJ Maunder. Changes in plasma fibronectin isoform levels predict distinct clinical outcomes in critically ill patients. Biomarker Insights 6:59–68 (2011)
LF Arslan, MB Smeets, PW Riem Vis, JC Karper, PH Quax, LG Bongartz, JH Peters, IE Hoefer, PA Doevendans, G Pasterkamp, DP de Kleijn . Lack of fibronectin-EDA promotes survival and prevents adverse remodeling and heart function deterioration after myocardial infarction. Circ Res 108:582-592 (2011)
CG Fernandez, S Jami, GA Loredo, F Ko, TJ Hahn, S McDougall, JH Peters. Recognition of the alternatively spliced segments of fibronectin by the RCJ 3.1 C5.18 chondrocytic rat cell line. Osteoarthritis and Cartilage 18(2):228-39 (2010)
JH Peters, T Greasby, N Lane, A Woolf. Correlations between plasma levels of a fibronectin isoform subpopulation and C-reactive protein in patients with systemic inflammatory disease. Biomarkers 14(4):250-257 (2009)
P Singh, CL Reimer, JH Peters, MA Stepp, RO Hynes, L Van De Water. The spatial and temporal expression patterns of integrin α9β1 and one of its ligands, the EIIIA segment of fibronectin, in cutaneous wound healing. J Invest Derm 123:1176-1181 (2004)
MH Tan, Z Sun, SL Opitz, TE Schmidt, JH Peters, EL George. Deletion of the alternatively spliced fibronectin EIIIA domain in mice reduces atherosclerosis. Blood 104 (1):11-18 (2004)
JH Peters, S Carsons, M Yoshida, F Ko, S McDougall, GA Loredo, TJ Hahn. Electrophoretic characterization of species of fibronectin bearing sequences from the N-terminal heparin binding domain in synovial fluid samples from patients with osteoarthritis and rheumatoid arthritis. Arthritis Res Ther 5:329-339 (2003)
JH Peters, S Carsons, M Yoshida, F Ko, S McDougall, GA Loredo, G Chen, R Maunder, TJ Hahn, NH Willits, RO Hynes. Plasma levels of fibronectin bearing the alternatively spliced EIIIB segment are increased after major trauma. J Lab Clin Med 141 (6):401-410 (2003)
JH Peters, J Sechrist, S Luetolf, GA Loredo, M Bronner-Fraser. Spatial expression of the alternatively spliced EIIIB and EIIIA segments of fibronectin in the early chicken embryo. Cell Comm. Adhes 9;1-18 (2002)
JH Peters, S Carsons, K Kalunian, S McDougall, M Yoshida, F Ko, M van der Vliet-Hristova, TJ Hahn. Preferential recognition of a fragment species of osteoarthritic synovial fluid fibronectin by antibodies to the alternatively spliced EIIIA segment. Arthritis Rheum 44(11):2572-2585 (2001)

To see if John H. Peters is accepting new patients, or for assistance finding a UC Davis doctor, please call 800-2-UCDAVIS (800-282-3284).