Research
Laboratory
Welcome to the UC Davis Health, Center for Musculoskeletal Health's Research Laboratory. The research lab is located on the Sacramento campus in the Research II building at 4625 Second Avenue. Our lab provides an infrastructure that encourages multidisciplinary collaborations on a range of topics with the goal to identify the mechanisms and develop novel new treatments for osteoporosis and arthritis.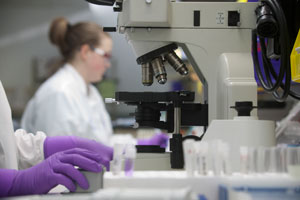 Our faculty provide leadership and collaboration on large multidisciplinary and multiphase studies leading to new discoveries to inform the medical community about musculoskeletal disorders across the lifespan and new guidelines to improve musculoskeletal health in our community. Recent research has focused on how bone active agent affects bone quality independent of bone quantity, mechanisms for the development of glucocorticoid (GC) induced bone fragility and necrosis, roles of Wnt signaling and nuclear progesterone signaling in bone development and maintenance, and utilization of mesenchymal stem cells (MSC) for the treatment of bone & joint destructions and inflammation that associated with osteoporosis, fracture repair and rheumatoid arthritis.
The laboratory is fully equipped to support research activities including:
two 4-20°C refrigerators
4°C flammable refrigerator
-80°C freezer
Isotemp oven
microwave oven
isomet saw
wire saw
Leica microtomes 2250/2265/SP1600
Nikon fluorescent microscope
Bioquant Imaging System with Bioquant Osteoll software
Molecular Device fluorescent/absorbance/curette spectrometer
agarose electrophoresis
Scanco Vivo 40 MicroCT with isoflurane vaporizer machine
API real-time PCR 7300 system
Surface-reference (Biodent) bone indentation system
BIO-RAD ChemiDocTM MP Imaging system
Keyence Microscope and imaging system with cell count and 3D features
LMX200 multiplex system with Milliplex Analyst
Additionally, researchers unable to invest in the cost of equipment should contact the lab as equipment can be available for additional studies.
For more information, please contact Wei Yao, M.D. or Nancy Lane, M.D.