Our Team
Barton L. Wise, M.D., M.Sc., F.A.C.P.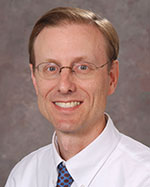 Clinical/Research Interests
Dr. Wise's main area of research is the epidemiologic study of risk factors for osteoarthritis and for joint replacement. This subject area is of particular importance in medicine as osteoarthritis is the major cause of disability in the elderly, engenders a significant of proportion of US health care costs, particularly due to joint replacement, and is an important cause of suffering for patients.
Dr. Wise has a paper in the American Journal of Medicine which demonstrates that tendon rupture and Achilles tendonitis in association with fluoroquinolone use occurs more frequently in the elderly, the non-obese, and concurrent glucocorticoid users, and possibly in women. This represents an important contribution to clinicians' ability to risk stratify when considering using this class of antibiotics.
Another publication in Journal of Rheumatology, uses the Multicenter OA Study (MOST) cohort to examine a dimension of pain different from severity, termed consistency of pain, and its relationship to risk of incident total knee replacement. In this paper Dr. Wise demonstrates that consistency of pain does increase risk of total knee replacement independent of other known risk factors, including severity of knee pain.
Dr. Wise has presented his research in many venues, both within the United States and internationally. He has given invited lectureships at the Oklahoma Medical Research Foundation and at the Annual Arthritis Foundation Rheumatology Symposium on Common Rheumatic Diseases. Dr. Wise has also given oral presentations to international audiences at American College of Rheumatology Annual Meetings, the annual Women's Health Symposium in Washington, DC, and elsewhere. He has also had poster presentations at the Osteoarthritis Research Society International World Congress, American College of Rheumatology Annual Conference, the European League Against Rheumatism Annual European Congress, and elsewhere.
Title:
Assistant Professor of Medicine, University of California, Davis School of Medicine
Specialty:
Internal Medicine, Rheumatology
Education:
Brown University
Providence, RI
AB, Geology/Anthropology, 1989

Boston University School of Medicine
Boston, MA
MD, 2002

Brown University Medical School
Providence, RI
Rhode Island and The Miriam Hospitals
Residency: Internal Medicine, 2002-2005
Fellowships:
Boston University Rheumatology Program
Boston University Medical Center
Boston, MA
2005-2008
Board Certifications:
American Board of Internal Medicine, 2005
American Board of Internal Medicine, Subspecialty Board of Rheumatology, 2007
Select Recent Publications:
Wise BL, Demissie S, Cupples A, Felson D, Yang M, Shearman A, Aliabadi P, Hunter DJ. The relationship of estrogen receptor-alpha and -beta genes with osteoarthritis of the hand. J Rheumatol 36(12): 2772-2779, 2009. PMID 19884274.
Zhang B, Lin H, Hunter DJ, Neogi T, Wise BL, Choy E, Niu J, Zhang Y. A multistate transition model for osteoarthritis pain change. Communications in Statistics: Theory and Methods 38(18): 3297-3306, 2009.
Zhang Y, Zhang B, Wise BL, Niu J, Zhu Y. Statistical approaches to evaluating the effect of risk factors on the pain of knee osteoarthritis in longitudinal studies. Current Opinion in Rheumatology 21(5):513-519, 2009. PMID 19584728.
Wise BL, Niu J, Wang N, Zhang YQ, Morgan JM, Choy E, Hunter DJ. Psychological factors and their relation to osteoarthritis pain. Osteoarthritis and Cartilage 18(7): 843-875, 2010 Jul. PMID 20346403
Wise BL, Felson DT, Clancy M, Niu J, Neogi T, Lane N, Hietpas J, Curtis J, Bradley L, Torner J, Zhang YQ. Consistency of Knee Pain and Risk of Knee Replacement: the MOST Study. J Rheumatol 2011;38;1390-1395.
Kim SH, Wise BL, Zhang Y, Szabo R. Increasing incidence of shoulder arthroplasty. J Bone Joint Surg Am. 2011 Dec 21;93(24):2249-54.
Wise BL, Yang M, Niu J, Lane NE, Harvey W, Felson DT, Nevitt M, Hietpas J, Torner J, Lewis CE, Zhang Y. Patterns of compartment involvement in tibiofemoral osteoarthritis in men and women and in whites and African Americans. Arthritis Care Res. 2012 Jun;64(6):847-52.
Wise BL, Peloquin C, Choi H, Lane NE, Zhang Y. Impact of age, gender, obesity, and steroid use on quinolone-associated tendon disorders. American Journal of Medicine. 2012;125(12):1228.e23–e28.
Wise BL, Parimi N, Zhang Y, Cawthon P, Barrett-Connor E, Ensrud K, Lane NE for the Osteoporotic Fractures in Men (MrOS) Research Group. Frailty and Hip Osteoarthritis in Men in the MrOS Cohort. J Gerontol A Biol Sci Med Sci 2014;69(5):602–608. PMID: 24253535. PMCID:PMC3991147.
Seidel M*, Wise BL* (Co-Equal First Authors), Lane NE. Nerve Growth Factor: An Update on the Science and Therapy. Osteoarthritis and Cartilage. 2013;21(9):1223-8. PMID:23973134. PMCID:PMC4252012.
Maxwell JL, Keysor JJ, Niu J, Singh JA, Wise BL, Frey-Law L, Nevitt MC, Felson DT. Participation following knee replacement: The MOST Cohort Study. Phys Ther. 2013;93(11):1467-74. PMCID: PMC3827713.
Maxwell JL, Felson DT, Niu J, Wise BL, Nevitt M, Singh J, Frey-Law L, Neogi T. Does Important Improvement in Function After Knee Replacement Guarantee Good Absolute Function. J Rheumatol. 2014;41(1):60-4. PMCID:PMC3914207.
Wise BL, Niu J, Zhang Y, Felson DT, Bradley L, Torner J, Nevitt M, Lane NE. The association of parity with knee osteoarthritis and total knee replacement in the MOST cohort. Osteoarthritis Cartilage. 2013;21(12):1849-54. PMCID: PMC3855897.
Lane NE, Parimi N, Lui L, Wise BL, Yao W, Lay YA, Cawthon PM, Orwoll E; for the Osteoporotic Fractures in Men (MrOS) Study Group. Association of Serum Uric Acid and Incident Nonspine Fractures in Elderly Men: The Osteoporotic Fractures in Men (MrOS) Study. J Bone Miner Res. 2014;29(7):1701-7. PMID: 24347506. PMCID: PMC4351860.
Chaudhari AJ, Leahy RM, Wise BL, Lane NE, Badawi RD, Joshi AA. Global point signature for shape analysis of carpal bones. Physics in Medicine and Biology. 2014; 59(4):961-973. PMCID:PMC3966902.
Boissonneault A, Lynch JA, Wise BL, Segal NA, Gross KD, Murray DW, Nevitt MC, Pandit HG. Association of hip and pelvic geometry with tibiofemoral osteoarthritis: Multicenter Osteoarthritis Study (MOST). Osteoarthritis and Cartilage. 2014;22(8):1129-35. PMID: 24971867. PMCID:PMC4195737.
Wise BL, Kritikos L, Lynch JA, Liu F, Parimi P, Luker Tileston K, Nevitt N, Lane NE. Proximal Femur Shape Differs Between Subjects with Lateral and Medial Knee Osteoarthritis and Controls: The Osteoarthritis Initiative. Osteoarthritis and Cartilage. 2014;22(12):2067-73. PMID:25194496. PMCID:PMC4252863.
Wise BL, Niu J, Felson DT, Hietpas J, Sadosky A, Torner J, Lewis CE, Nevitt M. Functional Impairment As a Predictor of Knee Replacement in the Multicenter Osteoarthritis Study. Clinical Orthopaedics and Related Research. 2015;473(8):2505-13. PMID: 25754756. PMCID:PMC4488226.
Heiman E, Kravitz RL, Wise BL. Rheumatologists' Approaches to Diagnosis and Treatment of Depression. Manuscript Accepted November 2015 at Journal of Clinical Rheumatology.
Wise BL, Liu F, Kritikos L, Lynch JA, Parimi N, Zhang Y, Lane NE. The association of distal femur and proximal tibia shape with sex: the Osteoarthritis Initiative. Semin Arthritis Rheum. 2016 Aug;46(1):20-6. PMID: 27039962. PMCID: PMC4969176 [Available in PMC on 2017-08-01]
Skou ST, Wise BL, Lewis CE, Felson DT, Nevitt M, Segal NA, for the Multicenter Osteoarthritis Study Group. Muscle strength, physical performance and physical activity as predictors of future total knee replacement: A prospective cohort study. Copyright © 2016 Osteoarthritis Research Society International. Published by Elsevier Ltd. All rights reserved. PMID: 27066879 PMCID: PMC4955690 [Available on 2017-08-01] DOI: 10.1016/j.joca.2016.04.001
Wise BL, Niu J, Guermazi A, Liu F, Heilmeier U, Ku E, Lynch JA, Zhang Y, Felson DT, Kwoh K, Lane NE. Magnetic resonance imaging lesions are more severe and cartilage T2 relaxation time measurements are higher in isolated lateral compartment radiographic knee osteoarthritis than in isolated medial compartment disease - data from the Osteoarthritis Initiative. Osteoarthritis Cartilage. 2016 Aug 15. pii: S1063-4584(16)30232-1. doi: 10.1016/j.joca.2016.08.002. PMID: 27539891.
Lane NE, Shidara K, Wise BL. Osteoarthritis year in review 2016: Clinical. Manuscript accepted at Osteoarthritis and Cartilage, September 2016.
Carlesso LC, Segal N, Curtis JR, Wise BL, Frey-Law L, Nevitt MC, Neogi T. Knee Pain Severity Rather Than Structural Damage is a Risk Factor for Incident Widespread Pain: The Multicenter Osteoarthritis (MOST) Study. Arthritis Care Res. 2016 Sep 16. doi: 10.1002/acr.23086. PMID: 27636245.

To see if Barton L. Wise is accepting new patients, or for assistance finding a UC Davis doctor, please call 800-2-UCDAVIS (800-282-3284).