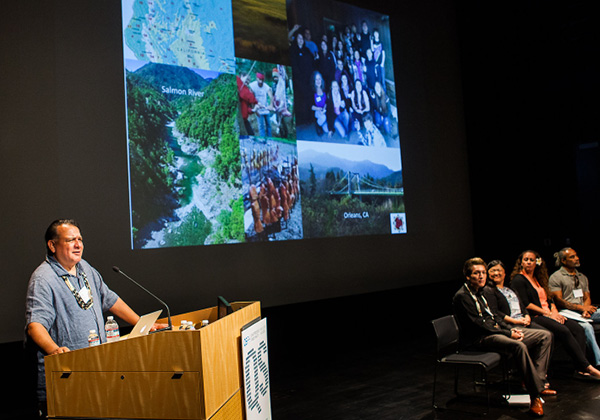 Grant Gilkison, who helped lead the youth initiative, talks about how meaningful the project was for the teen participants. Courtesy of Quantified Self/ Photography: Kristy Walker
Applying power of adapted technology to improve community health
Could teenagers and their iPods make a community healthier? Youth from the Karuk Tribe and a professor from the Betty Irene Moore School of Nursing at UC Davis teamed up to find out. What they discovered could benefit populations across the globe.
Katherine Kim, an assistant professor at the School of Nursing, recently concluded a three-year project that partnered with the Karuk youth in Northern California. Situated in the Klamath Basin in Humboldt and Siskiyou counties, the remote area presents an ecologically diverse ecosystem, yet the community's access to nutritional foods is severely limited compared to other regions of the country. Through a multistate and multi-institutional project funded via a $5 million U.S. Department of Agriculture (USDA) Food Security Grant, researchers sought to develop a sustainable food system in the Klamath Basin that would result in healthy communities and ecosystems among the Native American tribes who live there.
"Special populations, such as Native Americans, underserved or rural residents, don't have access to health care delivered by people who understand their environment, culture or language. Technology has the power to bridge that divide where sometimes humans cannot," Kim explains. "We can quickly adapt mobile technologies and social networking applications to fit very specialized needs and meet user perspectives in order to solve problems."
Kim, who earned her doctoral degree from the School of Nursing in 2014, led a team that trained Karuk youth to serve as researchers within their own community. Together, they developed a survey and learned how to use mobile tools to interview community members. Kim and her team gave youth the tools. The young people then chose in which direction to take the research.
"Kids are brilliant if you give them a chance," says Grant Gilkison, community outreach and tribal liaison for the Mid- Klamath Watershed Council, who is co-lead on the youth initiative for the USDA grant. "For the first time in their lives, these kids were a part of something. For people to stand up and notice them and congratulate them, they were shining stars in the eyes of their peers."
For this project, Kim used software originally developed for community-health workers in Kenya and ran it on iPods. She says the fact that mobile devices could be adapted to promote health decision making — in the absence of Internet connectivity — illustrates the promise of technology in rural areas.
The youth formulated questions, and then interviewed community members regarding access to fruits and vegetables, views about their health and challenges to being healthy. Data collected with the iPods was published in a report co-authored by the student researchers. The student researchers also presented their findings at the Health Data Exploration annual networking meeting in San Diego in May.
While the results are specific for this community, the project's design has far-reaching implications for other special populations.
"This type of participatory design, which is learning both the features users want and the context in which they will use them, is exactly what patient centeredness is in health care," Kim explains. "With mobile technology we can tailor programs for each individual or group of people, rather than rely on a one-size-fits-all approach."
Kim shared both her experience in the Klamath Basin and how it can be applied to health care systems at a number of professional conferences over the past year, including a round table with the National Academy of Medicine.
Meanwhile, the experience transformed the lives of youth who participated, prompting several to go on to college and professional schools.
"Some of them would have never left this valley if they hadn't had this experience," Gilkison adds. "From the leadership training to learning how to speak in front of people, these students were engaged the entire time and are now pursuing opportunities they'd never conceived of before."