Alumni and events
As alumni of the Betty Irene Moore School of Nursing at UC Davis, you are the school's most important asset and its greatest strength. As leaders in health care organizations, faculty at higher education institutions, members of primary-care teams and influencers within policy-making bodies, you illustrate how graduates fulfill the vision and mission of the school.
Through word-of-mouth support to promote the school and financial support to enable future students to benefit from the philanthropy that yielded your education, your involvement is critical to the future success of the school. Through your partnership, faculty, staff and students at the School of Nursing discover ways to advance health, improve quality of care and shape policy.
Alumni distinctions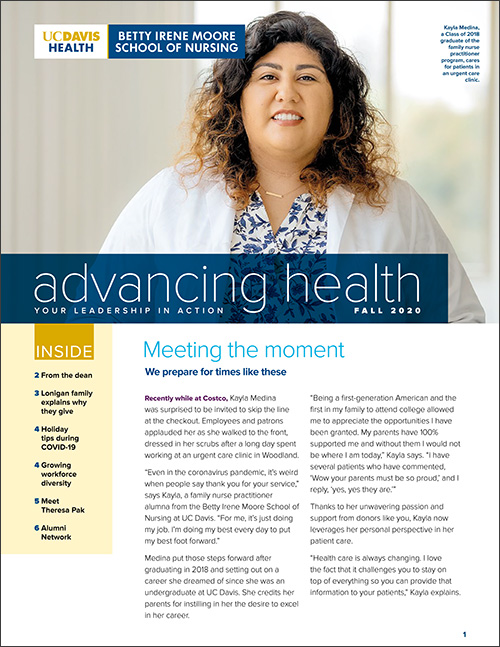 Read the latest Advancing Health
The fall 2020 edition of Advancing Health showcases students, alumni, faculty and donors who continue to meet the moment and amplify impact.
Dec. 4 — Physician assistant student awarded national scholarship
Mohamed Jawara, a second-year physician assistant (P.A.) student at the Betty Irene Moore School of Nursing at UC Davis, was awarded a $2,000 National Commission On Certification of Physician Assistants (NCCPA) Endowed Scholarship. Mohamed is one of four P.A. students named recipients of the 2020 NCCPA Endowed Scholarship. This scholarship is awarded annually to a select number of students who identify as an underrepresented minority, economically disadvantaged or educationally disadvantaged. Mohamed, who is originally from Sierra Leone and came to the P.A. program from Loma Linda, California, is interested in working in underserved communities and resolving health disparities.
Upcoming events
Dec. 14: Master's Entry Program in Nursing Pinning Ceremony
The completion of coursework and final exams is marked with a pinning ceremony and celebration.