Alumni and events
As alumni of the Betty Irene Moore School of Nursing at UC Davis, you are the school's most important asset and its greatest strength. As leaders in health care organizations, faculty at higher education institutions, members of primary-care teams and influencers within policy-making bodies, you illustrate how graduates fulfill the vision and mission of the school.
Through word-of-mouth support to promote the school and financial support to enable future students to benefit from the philanthropy that yielded your education, your involvement is critical to the future success of the school. Through your partnership, faculty, staff and students at the School of Nursing discover ways to advance health, improve quality of care and shape policy.
Alumni distinctions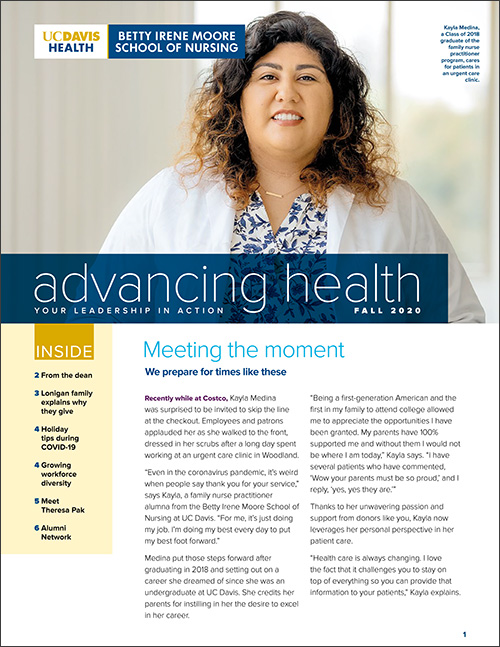 Read the latest Advancing Health
The fall 2020 edition of Advancing Health showcases students, alumni, faculty and donors who continue to meet the moment and amplify impact.
Feb. 25 — School of Nursing postdoctoral fellow selected for global leadership group
Schola Matovu, a Heather M. Young Postdoctoral Fellow at the Betty Irene Moore School of Nursing at UC Davis, was admitted to the WomenLiftHealth second cohort of Woman Leaders in Global Health (WLGH). The initiative seeks to promote gender equality within global health leadership. The program is hosted by Stanford University Center for Innovation in Global Health and funded by the Bill and Melinda Gates Foundation. The leadership journey is a fully funded year-long experience for mid-career women leaders. The program is designed to provide women leaders the tools — confidence, networks, understanding of barriers — along with peer, mentor and coach support, to use their leadership skills for health impact. Schola's foundational research explored the experiences and psychosocial well-being of Ugandan grandparent-caregivers for grandchildren affected by HIV/AIDS in Uganda. Her current research goals include designing and testing person-centered, community and family-based, culturally appropriate psychosocial interventions tailored to the well-being of grandparent-caregivers. She also co-founded and is the executive director of Nurse-to-Nurse Global Initiative, a nonprofit whose mission is to promote health and dignity of marginalized patient populations by empowering and advancing the leadership and professional development of the nurses that serve them.
Upcoming events
Dec. 14: Master's Entry Program in Nursing Pinning Ceremony
The completion of coursework and final exams is marked with a pinning ceremony and celebration.