Alumni and events
As alumni of the Betty Irene Moore School of Nursing at UC Davis, you are the school's most important asset and its greatest strength. As leaders in health care organizations, faculty at higher education institutions, members of primary-care teams and influencers within policy-making bodies, you illustrate how graduates fulfill the vision and mission of the school.
Through word-of-mouth support to promote the school and financial support to enable future students to benefit from the philanthropy that yielded your education, your involvement is critical to the future success of the school. Through your partnership, faculty, staff and students at the School of Nursing discover ways to advance health, improve quality of care and shape policy.
Alumni distinctions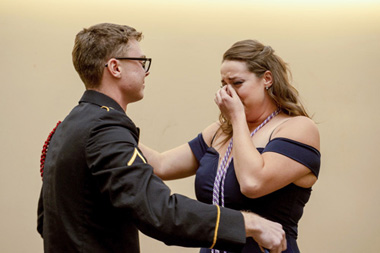 Congratulations, Master's Entry Program in Nursing Class of 2018!
The second graduating class of Master's Entry Program in Nursing students at the Betty Irene Moore School of Nursing at UC Davis celebrated the completion of the 18-month intensive graduate degree program with a traditional pinning ceremony Dec.
Jan. 22 — Documentary filmed at School of Nursing now available for download
To Err is Human, a documentary filmed partially at the Betty Irene Moore School of Nursing at UC Davis and includes interviews with school faculty, is now available for download on iTunes and Amazon. To Err is Human examines patient safety in the United States: the No. 3 leading cause of death in the nation. Studies show 1.7 million Americans experience a preventable mistake during health care and these mistakes lead to as many as 440,000 deaths annually. Directed by the son of late patient-safety pioneer and physician John M. Eisenberg, this in-depth documentary is about a silent epidemic and those working behind the scenes to create a new age of patient safety. Through interviews with leaders in health care, footage of real-world efforts leading to safer care and one family's journey, the film provides a look at the future of the health care system's ongoing fight against preventable harm. Sections of the documentary, which was filmed at UC Davis Health in December 2016, highlight some of the content in courses that prepare future providers, as well as the simulation resources for students to practice and experience opportunities to prevent patient harm. The school presented a screening to students in April.
Upcoming events
Dec. 14: Master's Entry Program in Nursing Pinning Ceremony
The completion of coursework and final exams is marked with a pinning ceremony and celebration.