Alumni and events
As alumni of the Betty Irene Moore School of Nursing at UC Davis, you are the school's most important asset and its greatest strength. As leaders in health care organizations, faculty at higher education institutions, members of primary-care teams and influencers within policy-making bodies, you illustrate how graduates fulfill the vision and mission of the school.
Through word-of-mouth support to promote the school and financial support to enable future students to benefit from the philanthropy that yielded your education, your involvement is critical to the future success of the school. Through your partnership, faculty, staff and students at the School of Nursing discover ways to advance health, improve quality of care and shape policy.
Recognizing nurse practitioner alumni impact
This National Nurse Practitioner Week, Nov. 11-17, we celebrate the impact of UC Davis nurse practitioner alumni.
Alumni distinctions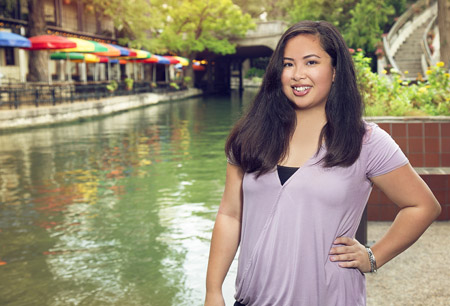 Alumna advances health in San Antonio
Victoria Conlu, master's-degree leadership graduate of the Class of 2017, explains how her education prepared her for a new position serving a Texas community.
Nov. 26 — Faculty provides wilderness training, collaborates with nursing faculty across the globe
Gordon Worley, an assistant clinical professor at the Betty Irene Moore School of Nursing at UC Davis, recently returned from global travels teaching wildness health care classes in Norway and Scotland as well as visiting nearby sister nursing schools. From Nov. 17-21, Gordon was a guest lecturer for an advanced wilderness life support course in Narvik, Norway. The class included an outdoor practical skills session in the dark of the arctic winter. He then attended the World Extreme Medical Conference in Edinburgh, Scotland Nov. 23-35. The conference provided Gordon, n expert in providing medical care in extreme environments and circumstances, opportunities to exchange research and ideas with providers from across the world. He also spent several days meeting with faculty from the UC Davis sister school, University of Edinburgh, as well as nursing faculty at the Glasgow Caledonian University School of Nursing, the University of Glasgow School of Nursing and the National Health Service Greater Glasgow and Clydeside Health District.
Upcoming events
Oct. 26: Student Wellness Workshop
Don't Let the Imposter in You Fool You.
Nov. 14-17: Exhibit booth at the Gerontological Society of America 2018 Scientific Meeting
The Family Caregiving Institute at the Betty Irene Moore School of Nursing at UC Davis hosts an exhibit booth at the annual conference in Boston.

Dec. 8: Master's Entry Program in Nursing Pinning Ceremony
The completion of coursework and final exams is marked with a pinning ceremony and celebration.