Alumni and events
As alumni of the Betty Irene Moore School of Nursing at UC Davis, you are the school's most important asset and its greatest strength. As leaders in health care organizations, faculty at higher education institutions, members of primary-care teams and influencers within policy-making bodies, you illustrate how graduates fulfill the vision and mission of the school.
Through word-of-mouth support to promote the school and financial support to enable future students to benefit from the philanthropy that yielded your education, your involvement is critical to the future success of the school. Through your partnership, faculty, staff and students at the School of Nursing discover ways to advance health, improve quality of care and shape policy.
Alumni distinctions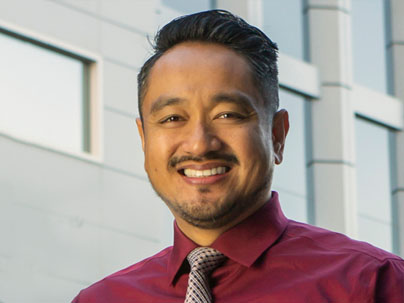 Confidence to connect the dots
Doctoral alumnus Rayne Soriano credits his professional achievements and personal strengths to UC Davis. Hear Rayne explain how the Doctor of Philosophy program changed his outlook.
Nov. 19 — Nursing professor publishes in medical journal with Yale research team
School of Nursing Associate Clinical Professor Piri Ackerman-Barger, who co-directs the UC Davis Center for a Diverse Healthcare Workforce and is a recognized expert in diversity and inclusion for health professions, recently authored an article published in Academic Medicine, the journal of the Association of American Medical Colleges. The article, "Seeking Inclusion Excellence: Understanding Racial Microagressions as Experienced by Underrepresented Medical and Nursing Students," highlights the work of Piri and a team of researchers at Yale School of Medicine to better understand how racial microaggressions may affect learning for health professions students. Microaggressions are subtle daily slights and indignities that people from a stigmatized group may experience based on their identity. The research team conducted focus groups and individual interviews from 2017 to 2018 with underrepresented medical and nursing students at Yale and UC Davis. The team concluded that students viewed their daily experiences were affected by racial microagressions and that those experiences affected their learning, performance and overall well-being.
Upcoming events
Dec. 14: Master's Entry Program in Nursing Pinning Ceremony
The completion of coursework and final exams is marked with a pinning ceremony and celebration.