Alumni and events
As alumni of the Betty Irene Moore School of Nursing at UC Davis, you are the school's most important asset and its greatest strength. As leaders in health care organizations, faculty at higher education institutions, members of primary-care teams and influencers within policy-making bodies, you illustrate how graduates fulfill the vision and mission of the school.
Through word-of-mouth support to promote the school and financial support to enable future students to benefit from the philanthropy that yielded your education, your involvement is critical to the future success of the school. Through your partnership, faculty, staff and students at the School of Nursing discover ways to advance health, improve quality of care and shape policy.
---
Upcoming events
Get ready to turn on your webcam and join interprofessional alumni, leaders and friends of the Betty Irene Moore School of Nursing for a live networking event and celebration!
Starting Ripples, Making Waves
Betty Irene Moore School of Nursing Decade of Discovery Alumni Celebration
Saturday, June 26, 2021 | 10 to 11:30 a.m. PDT
Find out how you can get involved at the Alumni Network
Questions? Email Sarah Mentze at sementze@ucdavis.edu, text or call 916-501-9917.
---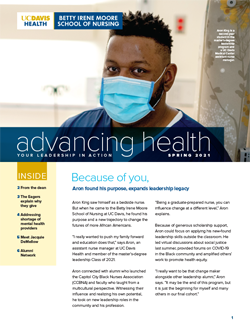 Advancing Health, spring 2021
Read the latest issue of Advancing Health and learn how we're driving change through innovation. Features include the final graduating class of the master's-degree leadership program, planning for the school's next decade, new partnerships to expand care for older adults in Northern California and how donor support makes this all happen.
Alumni distinctions
Improving Nursing Care for Transgender Patients
As a registered nurse, Matthew Vega is on a mission. The Class of 2020 master's leadership alumnus wants to improve nursing care for transgender patients, who suffer from health care disparities including higher rates of mental health problems and suicide.
May 6 — Doctoral alumnus receives professional education award
Rayne Soriano, a Class of 2015 graduate of the Betty Irene Moore School of Nursing at UC Davis Doctor of Philosophy Program, was recognized by the Sacramento Sierra Chapter of the Association of California Nurse Leaders with the 2021 Professional Education Award. Toby Marsh, chapter president and UC Davis Health Patient Care Services director and chief nursing officer, said Rayne developed innovative virtual opportunities to support the education of nurses in 21 medical centers along with partnering with other leaders throughout the nation to further nurse education during the pandemic. The annual award recognizes best practices in staff, patient or education. Rayne is the regional director of patient care services for Kaiser Permanente Northern California. He's also an adjunct professor for the University of San Francisco.
Upcoming events
Dec. 14: Master's Entry Program in Nursing Pinning Ceremony
The completion of coursework and final exams is marked with a pinning ceremony and celebration.