Connected communities
A university with a transformative vision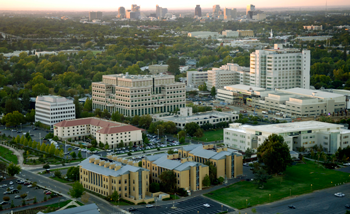 UC Davis is one of the nation's top public-research universities and a pioneer in interdisciplinary problem solving. Its four colleges, five professional schools, more than 100 academic majors and 90 graduate programs in Northern California provide a comprehensive, rigorous and research-based learning environment for 35,000 students, faculty and researchers.
One of 10 campuses in the University of California system, UC Davis ranks 6th among U.S. universities based on contributions to society (Washington Monthly), 10th in research funding among public universities (National Science Foundation) and 7th among public universities and 27th among public and private universities (The Best Colleges' Top 50 Colleges and Universities in America for 2013). The main campus is located in Davis on the largest University of California campus, while the health system is located on the Sacramento campus, a few blocks from the state capitol.
A health system dedicated to improving lives
UC Davis Health, one of five health systems within the University of California, is an integrated, academic health system consisting of the UC Davis School of Medicine, the Betty Irene Moore School of Nursing, the 619-bed, multispecialty, acute-care hospital and clinical services of UC Davis Medical Center and the UC Davis Medical Group. The health system also includes the UC Davis Comprehensive Cancer Center, UC Davis Children's Hospital and a Level I trauma center.
The health system is a major driver of economic prosperity in the Sacramento region and Northern California, generating more than $3.4 billion in annual economic output and more than 20,000 jobs. The health system is a hub of innovation that is improving lives and transforming health care by providing excellent patient care, conducting groundbreaking research, fostering innovative, interprofessional education, and creating dynamic, productive partnerships with the community.
Distinguishing features of UC Davis Health include:
A vibrant capital region
Located where the Sacramento River and the American River flow together in the northern portion of California's expansive Central Valley, Sacramento serves up a diverse menu of history, people, outdoor activities and cultures. As the state's capital city, Sacramento is home to more than a half million people, represents a rapidly expanding and diverse patient population and offers a more affordable cost of living when compared to California's other heavily populated regions.