Developing the next generation of nurse leaders and innovators
To learn more about the fellowship, our fellows and their impact, please use the navigation on the right side of the page to explore our site.
The Betty Irene Moore Fellowship for Nurse Leaders and Innovators is a national program to develop the next generation of nurse leaders and innovators. The fellowship program recognizes and advances early- to mid-career nursing scholars and innovators with high potential to accelerate leadership in nursing-science research, practice, education, policy and entrepreneurship. Betty Irene Moore Fellows develop skills and confidence in leadership and innovation improving health care delivery and advancing health.
Nurse leaders give keynote speeches
Betty Irene Moore Fellow Dora Clayton-Jones and Fellowship National Advisory Council member Susan Reinhard gave keynote presentations at the Mount Sinai Health System Nursing Research Day 2023. Both specialize in enhancing health care transitions for patients, aligning with the theme of the hybrid event, "Crossing the Divide: The Role of Nursing in Navigating Transitions of Care." They were invited to participate by Betty Irene Moore Fellow Kimberly Souffront.
Fellow recognized by American Heart Association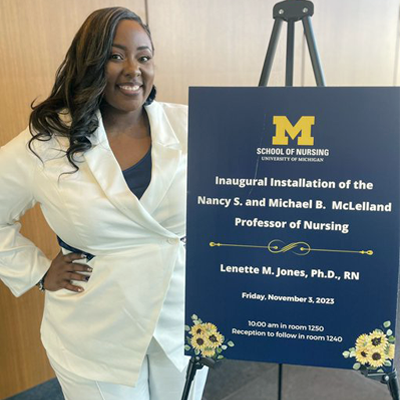 Lenette M. Jones, 2021 cohort Betty Irene Moore Fellow, recently celebrated her induction as a fellow in the American Heart Association (AHA) and her new appointment as the inaugural Nancy S. and Michael B. McLelland Professor of Nursing at the University of Michigan School of Nursing.
Jones is highly regarded for her expertise in health equity issues, social determinants of health and community-based participatory research. Her appointment as an endowed professor and her recognition as an AHA fellow serves as a formal acknowledgment of her contributions in these areas and her leadership as a nurse scientist.
Fellowship welcomes new national advisory council member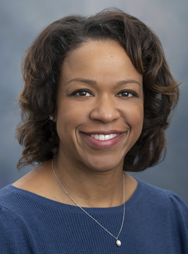 The national program office for the Betty Irene Moore Fellowship for Nurse Leaders and Innovators is excited to announce the addition of inaugural cohort fellow Dawn M. Aycock to the Fellowship National Advisory Council.
Aycock joined the program as a Betty Irene Moore Fellow in 2020 and completed her three-year fellowship on July 1. She officially begins her tenure as an advisory council member this month, which allows her to pursue her passion for expanding the ranks of diverse nurse scientists in the nursing field. In this advisory role, she provides strategic guidance, leveraging her expertise and experience to provide insightful recommendations and mentorship that foster the program's continued success and innovation.
Learn more
Sign up to receive email updates about the program and the latest news about our fellows!
Meet the fellows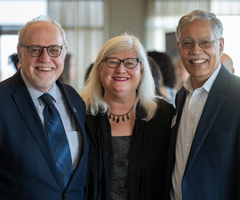 About us
Fellow's impact