Doctor of Nursing Practice — Family Nurse Practitioner Degree Program
New hybrid Doctor of Nursing Practice — Family Nurse Practitioner Program now available
The postbaccalaureate Doctor of Nursing Practice — Family Nurse Practitioner (D.N.P.-F.N.P.) degree program at the Betty Irene Moore School of Nursing prepares new family nurse practitioners.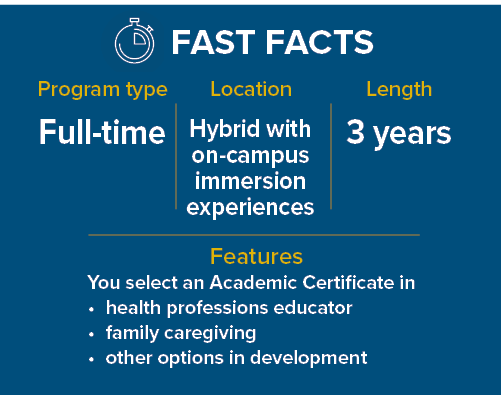 A three-year hybrid program that combines distanced-based education with four on-campus immersions, our D.N.P.-F.N.P. program prepares advanced practice providers to engage in patient- and family-centered, evidence-based primary care. Through reflective practice and interprofessional collaboration, you are prepared to be leaders who effect bold system change and promote health care innovation by informing and advancing health policy and health equity locally, nationally and globally. Applications open for summer 2024 enrollment this fall.
Our D.N.P.-F.N.P. program is designed for nurses who believe in better. Like all of the Betty Irene Moore School of Nursing graduate degree programs, the D.N.P.-F.N.P. program is developed to activate change where it is needed most. This program goes beyond clinical education with courses that elevate your ability and confidence to be a new type of health care leader.
About the D.N.P.-F.N.P. program
In the hybrid program format, the courses are primarily asynchronous to allow the greatest flexibility for working nurses with varied schedules. Synchronous sessions are scheduled and are offered at a consistent time each week. There are four mandatory on-site immersions in Sacramento in the three-year program.
The on-site immersions last anywhere from three to five days, depending on the materials covered for each session. In years one and two of the program, there is one immersion per year. There are two immersions scheduled for year three.
In years two and three, students incorporate assigned clinical rotations and, in year three, scholarly project practicum. Visit the curriculum page to see how the clinical rotations are included with other courses. With the concept-based curriculum model, the program's online content integrates well with both the immersions and clinical rotations. The school arranges clinical rotations for students and works to place students close to their current California residence. Our goal is to support students to remain in their communities to serve there in clinical rotations, and hopefully, beyond once in practice.
Unique views wanted

We seek nurses with diverse life experiences. We value cultural inclusiveness, new perspectives and untraditional journeys. Our focus on underserved communities better prepares you to be primary care providers in those areas. Faculty and staff partner with you and are committed to your success throughout the program.
Watch the Nov. 30, 2023 recording of the information session webinar for an overview of the D.N.P.-F.N.P. program.