School of Nursing happenings
Betty Irene Moore School of Nursing faculty, students and scholars continually participate in lectures, speaker series, symposiums and other special events that reflect the school's vision and mission to transform health care through nursing education and research. This frequently updated list is a sample of the breadth of such activities.
2019 Happenings
March 18 — Nurse practitioner faculty present at statewide conference
Two Betty Irene Moore School of Nursing family nurse practitioner faculty presented at the 42nd Annual California Association for Nurse Practitioners (CANP) Educational Conference in San Diego March 14-17. Ricky Norwood, an assistant clinical professor who also practices and mentors students in the Sacramento County Health Center, presented the poster, "PTSD Screening with a Focus on Refugees," with his fellow clinicians from the county and a refugee health clinic. The poster detailed the group's study of a screening tool used to identify post-traumatic stress disorder among Middle Eastern and Afghan male refugees. The providers determined the tool was successful in the prevention, identification, education and early treatment of PTSD and enabled providers to improve the quality of primary care for these individuals. Assistant Clinical Professor Gordon Worley, a wilderness first aid expert, presented "Humanitarian Volunteering on a Real-World Schedule," where he shared his experiences volunteering to drive supplies and care for patients in free clinics in Mexico. He also presented "My What Big Teeth You Have: The Assessment and Current Pharmacologic Treatment of Western Venomous Snakebites."
March 6 — Associate dean outlines nursing school's approach to education at Dublin conference
Elizabeth Rice, associate dean for student and faculty success at the Betty Irene Moore School of Nursing at UC Davis, discussed approaches to active learning at the Trinity Health and Education (THE) International Research Conference March 6-7 at the School of Nursing and Midwifery at Trinity College Dublin in Dublin, Ireland. Elizabeth's presentation, "A Program for Faculty Development with Active Learning," focused on her work leading active learning fellows, an initiative with five faculty members at the school who receive high-tech tools, such as tablets, and specialized training in active learning methods and planning. THE international conference addresses contemporary issues in health and health care education. The event also provides a forum for academics, clinicians, researchers, policy makers and consumers to present and discuss their research to explore innovation in practice.
March 3 —Nursing researcher co-authors article with team studying Kawasaki disease
The journal, Contemporary Clinical Trials, published an online article co-authored by Katherine Kim, an assistant professor at the Betty Irene Moore School of Nursing at UC Davis. Katherine is co-principal investigator with Jane C. Burns at UC San Diego of a $2.8 million grant exploring the effectiveness of different therapies for children with Kawasaki disease. The study also assesses the burden of the treatments on the children and their families. The article, "The Kawasaki Disease Comparative Effectiveness (KIDCARE) trial: A phase III, randomized trial of second intravenous immunoglobulin versus infliximab for resistant Kawasaki disease," focuses on the protocols for that study. The researchers seek to compare the effectiveness of therapies for Kawasaki disease for those children, about 10 to 20 percent of patients, who are resistant to the most commonly used treatment, immunoglobulin. In addition, they partner with the parents, who collect data about their experiences.
Feb. 28 — Nursing professor lectures at Cal Poly Center for Health Research
Jann Murray-García, an assistant clinical professor at the Betty Irene Moore School of Nursing at UC Davis, continued her cultural humility presentations as a guest lecturer at the Cal Poly Center for Health Research in San Luis Obispo. Jann presented "Cultural Humility: Interrupting Our Scripts of Racial Inequality" as part of the 2018-2019 Seminar Series on Health Disparities. A pediatrician, Jann developed the concept of cultural humility with fellow physician Melanie Tervalon when the two published a journal article citing the need for cultural humility, which goes beyond cultural competency, in order to address and eventually eliminate health disparities. The Cal Poly Center for Health Research conducts transdisciplinary research in the prevention and treatment of obesity and related chronic diseases. The center's research spans from cellular to socio-ecological and promotes health equity.
Feb. 27 — Clinical professor recognized by UC Davis chancellor for diversity efforts
UC Davis Chancellor Gary S. May honored Betty Irene Moore School of Nursing Assistant Clinical Professor Jann Murray-García at the annual Chancellor's Achievement Awards for Diversity and Community. Jann, who received the Academic Federation individual award, was honored based on her ongoing work of cultural humility, a critical distinction in defining outcomes in multicultural education. Established 16 years ago, the awards honor achievements that contribute in substantial ways to the development and well-being of a diverse and evolving UC Davis community. The event included student, staff, faculty, department and special recognition awards.
Feb. 22 — School of Nursing team publishes article calling for family caregiving education for health providers
A team from the Family Caregiving Institute at the Betty Irene Moore School of Nursing at UC Davis published the article, "Are We Ready for the CARE Act? Family Caregiving Education for Health Care Providers," in the March issue of the peer-reviewed Journal for Gerontological Nursing. Lisa Badovinac, assistant dean for education at the school, authored the article in collaboration with Lori Nicolaysen, student services director, and Executive Associate Dean Terri Harvath. The article details the trio's study of the impact of the Caregiver Advise, Record, Enable (CARE) Act on educational programs for health providers. The CARE Act requires hospitals to identify and include family caregivers during admission and discharge of patients. According to the team's research, nurses and health care professionals receive little formal education on how to support family caregivers, creating challenges in complying with the new policy.
Jan. 22 — Alumna tapped for national nurse manager fellowship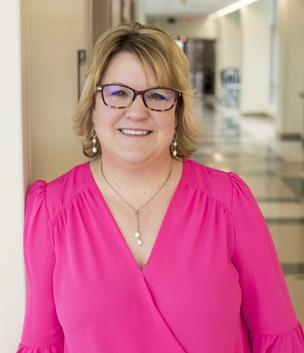 Cheryl McBeth, a 2015 alumna of the master's-degree leadership program, was selected as a 2019 participant in the American Organization of Nurse Executives (AONE) Nurse Manager Fellowship program. This first-of-its-kind program targets the unique leadership-development needs of nurse managers. The year-long fellowship provides an in-depth learning environment that prepares nurses to lead change in advancing health care. Each fellow participates in five in-person meetings and completes a capstone project, while working to strengthen their skills, master new competencies and continue the lifelong learning needed for the next generation of successful nurse leaders. Cheryl, who is manager of the pediatric and cardiac UC Davis Medical Center Intensive Care Unit and the UC Davis Children's Hospital Critical Care Transport Team, developed a project that focuses on reducing the bloodstream infection rates in the hospital by returning to the basics of "scrub the hub," a process to sanitize injection ports. Cheryl's strategies include introducing better and more time-efficient products for scrubbing the hub, as well as providing education of the process and its importance.
Feb. 26 — Nursing professor teams up with other faculty to pen opinion editorial
Jessica Draughon Moret, an assistant professor of clinical nursing at the Betty Irene Moore School of Nursing, recently collaborated with several other nurses, midwives and public health researchers to publish the opinion editorial, "No Deal: Providers Sound Off on Trump's Domestic Gag Rule," in Ms. Magazine Blog. The column speaks out against U.S. President Trump's new domestic gag rule that bars providers who, through Title X, offer counseling, referring or performing abortion services. The authors claim the gag rule destroys the fragile balance between power and trust for providers and patients. The authors, who call themselves Concerned Clinicians and Public Health Scholars Dedicated to Comprehensive Reproduction Services, is a team of providers and experts from 10 universities, hospitals and clinics.
Feb. 21 — First-year physician assistant student awarded scholarship
Megan Bailey, a first-year student in the master's-degree physician assistant (P.A.) program at the Betty Irene Moore School of Nursing at UC Davis, was recently awarded the Ray Dale Memorial Scholarship by the California Association of P.A.s (CAPA). The $2,000 scholarship honors Ray Dale and is awarded to a student demonstrating good academic standing and pursuing activities to promote the P.A. profession in California. Megan is a UC Davis alumna who majored in biochemistry and molecular biology. She also worked as a medical assistant in pediatrics, primary care and urgent care. She seeks to work as a P.A. in either family medicine or pediatrics.
Feb. 20 — Doctoral alumna publishes article about dissertation work
Michelle Camicia, a 2018 graduate of the Betty Irene Moore School of Nursing at UC Davis doctoral program, recently published an article on the journal website, Rehabilitation Nursing. The article, "Development of an Instrument to Assess Stroke Caregivers' Readiness for the Transition Home," highlights her research to develop a measure to assess stroke caregivers' commitment and capacity to assume the caregiving role prior to patients' discharge. The article is scheduled for printing in an upcoming publication. Other contributing authors included Barbara Lutz of the University of North Carolina, Wilmington School of Nursing along with UC Davis School of Nursing faculty Terri Harvath, Katherine Kim and Jill Joseph. Michelle is the director of the Kaiser Foundation Rehabilitation Center in Vallejo. The center supports those recovering from stroke, brain or spinal cord injury. She also was a contributing author for another recent article, "Nurse Author: Who Me? Yes, You!" on the Rehabilitation Nursing website. She joined a team of nine authors from various rehabilitation centers and nursing schools to provide strategies to help inexperienced writers develop and hone skills for journal publication.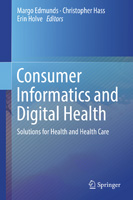 Feb. 5 — Professor, postdoctoral scholar and student team up to write book chapter
A team from the Betty Irene Moore School of Nursing at UC Davis authored a chapter in the recently published book, Consumer Informatics and Digital Health: Solutions for Health and Health Care. Associate Professor Katherine Kim, former postdoctoral scholar Sakib Jalil and doctoral candidate Victoria Ngo wrote the chapter, "Improving Self-Management and Care Coordination with Person-Generated Health Data and Mobile Health." The book explores the impact of consumer technology on health care and the patient experience. The UC Davis team's chapter details the increase of person-generated health data, such as medication logs, family history or symptom screening tools. They also discuss mobile health applications, such as fitness and health tracking devices, smart phone applications and other personal devices, such as glucose meters or blood pressure cuffs. The team discusses current research on how the data and tools can be used to improve health care.
Jan. 22 — Professor publishes studies
Philippe Goldin, a clinical psychologist, cognitive neuroscientist and associate professor at the Betty Irene Moore School of Nursing at UC Davis, recently published two articles. The first paper, "Feasibility of a Therapist-Supported, Mobile-Phone-Delivered Online Intervention for Depression: Longitudinal Observational Study," was published online Jan. 22 in the eHealth Journal of Medical Internet Research Formative Research. This study examined the feasibility of a newly developed mobile application to support people who are depressed. The data suggest that the intervention significantly reduced depression symptoms. Furthermore, the amount of daily practice and group-chat use during the intervention predicted increased reduction of depression symptoms. The second paper, "Acceptance vs. Reappraisal: Behavioral, Autonomic and Neural Effects," was published Jan. 17 on the journal website, Cognitive, Affective & Behavioral Neuroscience. This article described a study that compared the effects of two emotion regulation strategies, cognitive reappraisal and acceptance, which are considered important skills for enhancing mental well-being. Findings suggest that both strategies proved to be effective in reducing negative emotions in response to negative self-beliefs.
Jan. 22 — Documentary filmed at School of Nursing now available for download
To Err is Human, a documentary filmed partially at the Betty Irene Moore School of Nursing at UC Davis and includes interviews with school faculty, is now available for download on iTunes and Amazon. To Err is Human examines patient safety in the United States: the No. 3 leading cause of death in the nation. Studies show 1.7 million Americans experience a preventable mistake during health care and these mistakes lead to as many as 440,000 deaths annually. Directed by the son of late patient-safety pioneer and physician John M. Eisenberg, this in-depth documentary is about a silent epidemic and those working behind the scenes to create a new age of patient safety. Through interviews with leaders in health care, footage of real-world efforts leading to safer care and one family's journey, the film provides a look at the future of the health care system's ongoing fight against preventable harm. Sections of the documentary, which was filmed at UC Davis Health in December 2016, highlight some of the content in courses that prepare future providers, as well as the simulation resources for students to practice and experience opportunities to prevent patient harm. The school presented a screening to students in April.
Jan. 18 — Family nurse practitioner graduate transitions to practice at UC Davis Health
Victoria Jackson, a 2018 graduate of the family nurse practitioner program at the Betty Irene Moore School of Nursing at UC Davis, was recently appointed as a practitioner in Cardiology Outpatient Services at UC Davis Medical Center. Her specialty is electrophysiology. In this role, she manages the Pacemaker and Implantable Cardioverter Defibrillator (ICD) Device Clinic.
Jan. 17 — School of Nursing research team publishes article about nurse-led intervention
A research team from the Betty Irene Moore School of Nursing at UC Davis recently published the article, "More than A1C: Types of Success Among Adults with Type-2 Diabetes Participating in a Technology-Enabled Nurse Coaching Intervention," in the January issue of Patient Education and Counseling. Sarina Fazio, a 2018 doctoral graduate from the school, was the lead author. She was supported by Jennifer Edwards, a 2018 master's-degree leadership graduate; Sheridan Miyamoto, a 2014 doctoral alumna; UC Davis Health researcher Stuart Henderson; Associate Professor in Residence Madan Dharmar and Dean Emerita Heather M. Young. The article highlights the team's research of the use of health technology combined with nurse coaching to manage diabetes. The researchers found success at reducing glycated hemoglobin. The team also learned that other areas could be measured as well, including changes in behaviors, mindset and other health indicators.
Jan. 16 — Physician assistant alumnus appointed as UC Davis fellow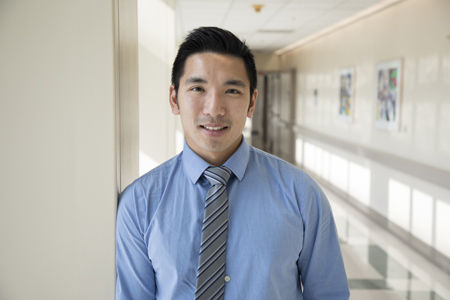 Patrick Nguyen, a 2018 graduate of the physician assistant program at the Betty Irene Moore School of Nursing at UC Davis and newly certified physician assistant, was recently appointed a UC Davis Medical Center Advanced Practice Fellow. The fellowship program was developed by the medical center's Advanced Practice group to support new physician assistants and nurse practitioners in their first year of practice. The program seeks to support the fellows develop relevant, practical skills in critical thinking and evidence-based practice as well as procedural skills in specific areas of interest. Fellowships are offered in trauma surgery, neurosurgery or interventional radiology. Patrick is a radiology fellow and will focus on developing a career in a hospital-based radiology group.
Jan. 13 — Nursing faculty provides volunteer health care in Baja, Mexico
Gordon Worley, a nurse practitioner and an assistant clinical professor at the Betty Irene School of Nursing at UC Davis, returned Jan. 14 from a three-day volunteer mission to San Quintin, Baja California, Mexico, as a member of the Flying Samaritans organization. The Flying Samaritans is a volunteer organization which operates free health clinics in Baja California, Mexico. Doctors, dentists, nurses, translators, pilots and support personnel drive or fly to clinics in private aircraft. Gordon traveled to the Alma Luminosa clinic which provides health and dental services. Gordon has supported Flying Samaritans missions for several years now. The Flying Samaritans seek to fulfill four basic missions - primary care, specialty care, education and emergency care.
Jan. 11 — Doctoral alumna promoted to director position at Stockton medical center
Jacquie DeMellow, a 2018 graduate of the Doctor of Philosophy Degree Program at the Betty Irene Moore School of Nursing at UC Davis, was recently promoted to director of quality at St. Joseph's Medical Center in Stockton, California, a Dignity Health facility. In this role, she leads the delivery of safe, effective patient-centered care at the medical center. Previously, Jacquie served as a sepsis coordinator and critical care quality facilitator at the same hospital. Jacquie's dissertation research focused on outcomes of mechanically ventilated patients in intensive care units as well as the performance of their provider teams. A clinical nurse specialist in critical care for more than 20 years, Jacquie is passionate about improving outcomes and implementing evidence-based practices in critical care environments. She is scheduled to present her dissertation research at a number of upcoming conferences.
Jan. 7 — Alumna pens chapter for public health nursing textbook
Karyn Grow, a graduate of the master's-degree leadership program at the Betty Irene Moore School of Nursing at UC Davis, recently authored a chapter for a nursing educational textbook. She wrote the chapter on case management for the seventh edition of Community/Public Health Nursing: Promoting the Health of Populations. She also made a number of presentations at professional conferences this past fall. She discussed her team's efforts to develop behavioral health and substance use disorder programs in her rural community at the Caravan Health Symposium last month in Phoenix. She presented "Decreasing Readmissions Utilizing an Integrated Care Management Process at the Collaborative Alliance for Nursing Outcomes (CALNOC) Navigating the Future Conference in October in San Diego. Karyn is the administrative director of case management and care coordination for Tahoe Forest Health System.
Past Betty Irene Moore School of Nursing Happenings