School of Nursing happenings
Betty Irene Moore School of Nursing faculty, students and scholars continually participate in lectures, speaker series, symposiums and other special events that reflect the school's vision and mission to transform health care through nursing education and research. This frequently updated list is a sample of the breadth of such activities.
2020 Happenings
March 23 — Practical tips for caregivers concerned about coronavirus
For the past five years, researchers at the Family Caregiving Institute at the Betty Irene Moore School of Nursing have partnered with AARP to provide a series of videos to support caregivers as they navigate tasks such as managing medicines and caring for wounds. The team at AARP recently published the webpage, "Practical tips for caregivers concerned about coronavirus," as a resource to caregivers. The Family Caregiving Institute also shares this resource to help caregivers prepare and reduce exposure to the virus.
March 10 — Retired professor publishes editorial in nursing journal
Mary Lou de Leon Siantz, a professor emeritus at the Betty Irene Moore School of Nursing at UC Davis, recently published the editorial, "Living in Crisis: Latino Children held at the Southern Border," in the Journal of Pediatric Nursing. Mary Lou, a nationally recognized expert on immigrant issues, discusses the scenario at the nation's southwest border where thousands of immigrant children are separated from their families. She explores how the treatment of the children today may influence their ability to contribute to society later in life. "The situation is a call to action for all nurses working with immigrant children and families to advocate for immigration policy that will end family separation…" she wrote. As a retired professor, Mary Lou continues her research and work to encourage diversity in the science, technology, engineering and math (STEM) professions. She recently led the session, Leading Transformation in the Health of Latino/Hispanic Communities, at the third annual National Association of Hispanic Nurses Latino Leadership Institute in Washington, D.C., Feb. 7-9. She was also awarded a $3,000 seed grant from UC Davis Global Affairs to continue her exploration of migration and the mental and reproductive health of rural Mexican migrant adolescent girls in California's Central Valley and Jalisco, Mexico.
March 5 — School of Nursing awarded UC Davis Global Affairs sustainable development grant
Laura Van Auker, Gerald Kayingo and Debra Bakerjian, all clinical professors at the Betty Irene Moore School of Nursing at UC Davis, were awarded a $7,000 UC Davis Global Affairs Advancing Sustainable Development Goals Grant. The grants are provided for projects that address the United Nations' 17 goals for sustainable development, such as ending hunger and ensuring clean water. The School of Nursing team's project, Forming Interprofessional Teams to Advance Health and Well-being in California and Kenya, is a partnership with the University of Nairobi in Kenya. The project seeks to develop curriculum that prepares UC Davis and University of Nairobi students and faculty to provide culturally sensitive care, model interprofessional education and team-based health care, and advance good health and well-being in communities in California and Kenya.
Feb. 24 — Family Caregiving Institute research team publishes journal supplement
Faculty and alumni from the Family Caregiving Institute at the Betty Irene Moore School of Nursing at UC Davis recently published a special supplement, "Advancing Family Caregiving Research," to the journal, The Gerontologist, which is produced by the Gerontological Society of America. Associate Professor Elena Siegel served as an editor of the supplement and wrote the editorial, "New Directions to Advance Family Caregiving Research," with Ken Hepburn, a professor at the Nell Hodgson Woodruff School of Nursing at Emory University. The supplement includes four articles that explore the research of the Family Caregiving Institute and highlight the group's initial findings. Authors include faculty Terri Harvath, Julie Bidwell, Fawn Cothran, Kathryn Sexson, Heather M. Young, Janice Bell, Ester Carolina Apesoa-Varano and Katherine Kim. Doctoral alumnae Robin Whitney, Ronit Ridberg and Sarah Reed also contributed to the journal.
Feb. 18 — Graduate nursing student named UC Davis Grad Slam finalist
Kristina Rodriquez, a second-year master's-degree leadership student at the Betty Irene Moore School of Nursing at UC Davis, is one of 10 finalists for the 2020 Grad Slam competition at UC Davis. Students across the university compete to sum up their research in three minutes or less in the annual UC Grad Slam. Kristina presented her project, "Resilience and Burnout Among Intensive Care Unit Nurses: The Development of a Debriefing Resource Tool," at a qualifying round at the UC Davis Sacramento campus Feb. 10. The winner of the UC Davis Final Round on April 7 competes at the UC-wide competition May 8.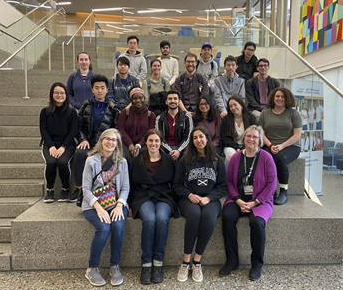 Feb. 6 — Undergraduate engineering students design tools to support caregivers
Several UC Davis undergraduate engineering students are designing tools to help family caregivers as part of their term project, or design challenge, for the Introduction to Engineering Design Course. The students toured the Family Caregiving Institute at the Betty Irene Moore School of Nursing recently to learn more about the needs of caregivers and the people they care for at home. The students are teaming up to design tools addressing a number of problems ranging from communication and safety to sleep issues and positive interaction. The teams present their final designs at showcase event in March.
Feb. 5 — Physician assistant professor supports launch of Irish program
Felix Emond, a physician assistant (P.A.) and assistant clinical professor at the Betty Irene Moore School of Nursing at UC Davis, developed course content and gave two lectures at a P.A. program recently launched at the Royal College of Surgeons in Ireland (RCSI), known as a physician associate program there. Felix spent a week in Dublin, Ireland, to develop musculoskeletal curriculum for the new program as well as lead two lectures. RCSI is the first and only P.A. program in Ireland. Felix is a fellowship-trained P.A. in orthopedic surgery and sports medicine. He has more than 30 years of clinical experience in outpatient, inpatient and operative care of individuals with musculoskeletal conditions.
Feb. 5 — UC Davis physician assistant student awarded scholarship
Sarah Peffer, a second-year physician assistant (P.A.) student at the Betty Irene Moore School of Nursing at UC Davis, was awarded the 2020 Ray Dale Memorial Scholarship by the California Academy of Physician Assistants (CAPA). Each year, the organization awards four $2,000 scholarships to student members of the organization who demonstrate good academic standing and who pursue activities to promote the P.A. profession in California. CAPA works to enhance, educate and empower the profession with the ultimate goal of improved health care for patients.
Jan. 30 — Family nurse practitioner professor inducted into English emergency medical group
Gordon Worley, an assistant clinical professor at the Betty Irene Moore School of Nursing at UC Davis, was recently inducted as a member of the Faculty of Pre-Hospital Care in the Royal College of Surgeons of Edinburgh in England. Pre-hospital care is a well-established specialty in the United Kingdom that includes emergency and trauma care along with rural health care. Gordon was invited to be part of the group when he visited the college while leading a workshop on snakebites at the World Extreme Medical Conference 2019 in Edinburgh, England, in November. Gordon, a former emergency department nurse practitioner, search and rescue volunteer and disaster responder, said the international invitation provides him and the school opportunities to learn new perspectives and health care solutions from other health-care professionals around the world. He added that such international collaborations also open doors for future student exchange programs.
Jan. 1 — Faculty, postdoctoral scholar publish article about project led by youth in Northern California
Katherine Kim, an assistant professor with the Betty Irene Moore School of Nursing at UC Davis, and Victoria Ngo, a Class of 2019 alumna of the school's doctoral program and now a postdoctoral scholar at the school, published the article, "Native American Youth Citizen Scientists Uncovering Community Health and Food Security Priorities," in the January 2020 issue of Health Promotion Practice. The article showcased a project led by Katherine with youth from the Karuk Tribe in rural Northern California. Katherine trained the Karuk youth to serve as researchers in their community. Together, they developed a survey and used mobile devices to interview community members about access to fruits and vegetables in their isolated community. Through their research, the youth discovered the need to develop community gardens. As a result, gardens were developed at two elementary schools, a senior center and a community center. Additionally, the tribe convened workshops to help youth and the family improve food production and processing.
Jan. 5 — Nursing faculty publish article focused on simulation training for educators
Amy Nichols, director of clinical simulation and clinical professor at the Betty Irene Moore School of Nursing at UC Davis, collaborated with three other nursing faculty to publish the article, "Exploring Faculty Perceptions about Simulation Training: Influence on Career, Confidence, Knowledge and Skill Acquisition and Competence," in the International Journal of Nursing Education Scholarship. The article highlights Amy's research with two University of San Francisco nursing faculty and the director of a non-profit focused on hospital quality. The team explored the need for faculty development for simulation education. While simulation programs are used in nursing schools across the country, little research exists addressing the preparation of faculty to provide such education. The team discovered that faculty support development programs that enhance teaching and simulation programs overall.
Past Betty Irene Moore School of Nursing Happenings