School of Nursing happenings
Betty Irene Moore School of Nursing faculty, students and scholars continually participate in lectures, speaker series, symposiums and other special events that reflect the school's vision and mission to transform health care through nursing education and research. This frequently updated list is a sample of the breadth of such activities.
2023 Happenings
Jan. 12 — Doctor of Philosophy alumna appointed faculty at California State University
Gennifer Holt, a Class of 2020 alumna of the Doctor of Philosophy program at the Betty Irene Moore School of Nursing at UC Davis, was appointed to a tenure-track assistant professor position at California State University, Sacramento (CSUS). Her appointment in the School of Nursing includes teaching baccalaureate and graduate nursing students. As part of her commitment to the CSUS School of Nursing, Gennifer is involved in scholarly work including research as well as engaging in activities that promote the well-being of the community and elevate the nursing profession. She also represents Sacramento State as a board member for the Sigma Theta Tau Zeta Eta-at-Large Chapter; a chapter of the international nursing honor society dedicated to developing and empowering nurse leaders with the goal of improving health care. The Sacramento area chapter is a partnership between Sacramento State and UC Davis.
Jan. 10 — Adult-gerontology textbook named third place in Book of the Year Awards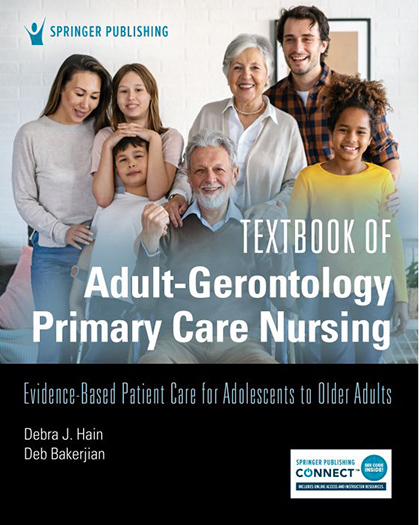 A textbook written by a team of Betty Irene Moore School of Nursing faculty and UC Davis Health clinicians, Textbook of Adult-Gerontology Primary Care Nursing, was recently awarded third place in the Adult Primary Care category in the American Journal of Nursing Book of the Year Awards 2022, which honors exceptional print and digital texts for advancing health care quality. Published in March 2022, the book is considered the first-ever adult-gerontology textbook. According to Deb Bakerjian, interim associate dean for practice at the School of Nursing, the textbook provides comprehensive, evidence-based practice approaches to both common and complex health issues advanced practice nurses may face in primary care. She edited 16 of 28 chapters. Several of those chapters were written by School of Nursing faculty, including Amy Nichols, Jennifer Edwards, Gordon Worley, Kathryn Sexson, Hannah Spero, Laura Van Auker and Sumathi Sankaran-Walters. Several UC Davis Health practicing clinicians also contributed. "Their expertise is an essential contribution that integrates the best available evidence with a current clinical practice application and a focus on high quality, cost-efficient, person/family-centered, safe care," Deb said. The Book of the Year program includes first, second and third places across 20 categories, including adult primary care, advanced practice nursing, informatics, and nursing management and leadership.
Past Betty Irene Moore School of Nursing Happenings