School of Nursing happenings
Betty Irene Moore School of Nursing faculty, students and scholars continually participate in lectures, speaker series, symposiums and other special events that reflect the school's vision and mission to transform health care through nursing education and research. This frequently updated list is a sample of the breadth of such activities.
2019 Happenings
Jan. 22 — Documentary filmed at School of Nursing now available for download
To Err is Human, a documentary filmed partially at the Betty Irene Moore School of Nursing at UC Davis and includes interviews with school faculty, is now available for download on iTunes and Amazon. To Err is Human examines patient safety in the United States: the No. 3 leading cause of death in the nation. Studies show 1.7 million Americans experience a preventable mistake during health care and these mistakes lead to as many as 440,000 deaths annually. Directed by the son of late patient-safety pioneer and physician John M. Eisenberg, this in-depth documentary is about a silent epidemic and those working behind the scenes to create a new age of patient safety. Through interviews with leaders in health care, footage of real-world efforts leading to safer care and one family's journey, the film provides a look at the future of the health care system's ongoing fight against preventable harm. Sections of the documentary, which was filmed at UC Davis Health in December 2016, highlight some of the content in courses that prepare future providers, as well as the simulation resources for students to practice and experience opportunities to prevent patient harm. The school presented a screening to students in April.
Jan. 18 — Family nurse practitioner graduate transitions to practice at UC Davis Health
Victoria Jackson, a 2018 graduate of the family nurse practitioner program at the Betty Irene Moore School of Nursing at UC Davis, was recently appointed as a practitioner in Cardiology Outpatient Services at UC Davis Medical Center. Her specialty is electrophysiology. In this role, she manages the Pacemaker and Implantable Cardioverter Defibrillator (ICD) Device Clinic.
Jan. 17 — School of Nursing research team publishes article about nurse-led intervention
A research team from the Betty Irene Moore School of Nursing at UC Davis recently published the article, "More than A1C: Types of Success Among Adults with Type-2 Diabetes Participating in a Technology-Enabled Nurse Coaching Intervention," in the January issue of Patient Education and Counseling. Sarina Fazio, a 2018 doctoral graduate from the school, was the lead author. She was supported by Jennifer Edwards, a 2018 master's-degree leadership graduate; Sheridan Miyamoto, a 2014 doctoral alumna; UC Davis Health researcher Stuart Henderson; Associate Professor in Residence Madan Dharmar and Dean Emerita Heather M. Young. The article highlights the team's research of the use of health technology combined with nurse coaching to manage diabetes. The researchers found success at reducing glycated hemoglobin. The team also learned that other areas could be measured as well, including changes in behaviors, mindset and other health indicators.
Jan. 16 — Physician assistant alumnus appointed as UC Davis fellow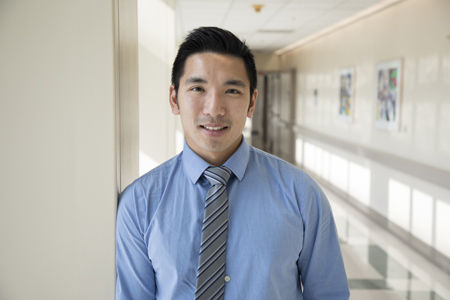 Patrick Nguyen, a 2018 graduate of the physician assistant program at the Betty Irene Moore School of Nursing at UC Davis and newly certified physician assistant, was recently appointed a UC Davis Medical Center Advanced Practice Fellow. The fellowship program was developed by the medical center's Advanced Practice group to support new physician assistants and nurse practitioners in their first year of practice. The program seeks to support the fellows develop relevant, practical skills in critical thinking and evidence-based practice as well as procedural skills in specific areas of interest. Fellowships are offered in trauma surgery, neurosurgery or interventional radiology. Patrick is a radiology fellow and will focus on developing a career in a hospital-based radiology group.
Jan. 13 — Nursing faculty provides volunteer health care in Baja, Mexico
Gordon Worley, a nurse practitioner and an assistant clinical professor at the Betty Irene School of Nursing at UC Davis, returned Jan. 14 from a three-day volunteer mission to San Quintin, Baja California, Mexico, as a member of the Flying Samaritans organization. The Flying Samaritans is a volunteer organization which operates free health clinics in Baja California, Mexico. Doctors, dentists, nurses, translators, pilots and support personnel drive or fly to clinics in private aircraft. Gordon traveled to the Alma Luminosa clinic which provides health and dental services. Gordon has supported Flying Samaritans missions for several years now. The Flying Samaritans seek to fulfill four basic missions - primary care, specialty care, education and emergency care.
Jan. 11 — Doctoral alumna promoted to director position at Stockton medical center
Jacquie DeMellow, a 2018 graduate of the Doctor of Philosophy Degree Program at the Betty Irene Moore School of Nursing at UC Davis, was recently promoted to director of quality at St. Joseph's Medical Center in Stockton, California, a Dignity Health facility. In this role, she leads the delivery of safe, effective patient-centered care at the medical center. Previously, Jacquie served as a sepsis coordinator and critical care quality facilitator at the same hospital. Jacquie's dissertation research focused on outcomes of mechanically ventilated patients in intensive care units as well as the performance of their provider teams. A clinical nurse specialist in critical care for more than 20 years, Jacquie is passionate about improving outcomes and implementing evidence-based practices in critical care environments. She is scheduled to present her dissertation research at a number of upcoming conferences.
Jan. 7 — Alumna pens chapter for public health nursing textbook
Karyn Grow, a graduate of the master's-degree leadership program at the Betty Irene Moore School of Nursing at UC Davis, recently authored a chapter for a nursing educational textbook. She wrote the chapter on case management for the seventh edition of Community/Public Health Nursing: Promoting the Health of Populations. She also made a number of presentations at professional conferences this past fall. She discussed her team's efforts to develop behavioral health and substance use disorder programs in her rural community at the Caravan Health Symposium last month in Phoenix. She presented "Decreasing Readmissions Utilizing an Integrated Care Management Process at the Collaborative Alliance for Nursing Outcomes (CALNOC) Navigating the Future Conference in October in San Diego. Karyn is the administrative director of case management and care coordination for Tahoe Forest Health System.
Past Betty Irene Moore School of Nursing Happenings