At the Betty Irene Moore School of Nursing at UC Davis, we endeavor to dream big through our people, our programs and our passion for nursing. We embrace the evolution of expanding knowledge and new technologies and leverage them to create programs and curricula that both transform the classroom experience and health care as a whole.
Join us as we work together with community members, faculty, students and alumni to understand what people want to lead healthy lives, identify tools to enable them to manage their well-being and design systems that empower them to accomplish individualized health goals.
Connect with us to help build a strong foundation and bright futures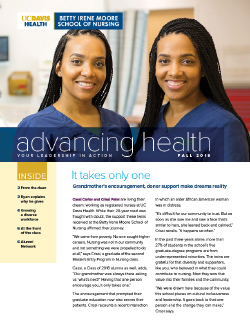 Advancing Health: your leadership in action
The Fall 2019 Advancing Health newsletter is out! See how your gifts and leadership support efforts of students, faculty, staff and alumni to improve health for all in our communities.