Founders
The Betty Irene Moore School of Nursing at UC Davis bears the name of a passionate woman dedicated to improving the quality of health care. For more than a decade, Betty Irene Moore has been an advocate for patients and families, a champion of nursing and a pioneer for improving health care. She is the co-founder of the Gordon and Betty Moore Foundation, which committed $100 million in 2007 to launch the School of Nursing at UC Davis.
Through Betty Irene Moore's vision, the Gordon and Betty Moore Foundation led a movement to improve patient care through nurses. This was based on her personal experiences when in the hospital and in caring for others who had been hospitalized. She saw how nurses play a critical role in the delivery of safe, quality health care. She set out to improve health care and health outcomes by investing in the very people who deliver 95% of the care people receive. This vision is further amplified by the school's approach to health sciences education, where nurses and other professionals are prepared to lead the changes necessary in health care.
Over the course of the founding grant, school leaders conducted an evaluation and submitted annual reports to the Gordon and Betty Moore Foundation. The grant culminated in an end-of-grant report filed in March 2022.
As part of this final report, leaders led an in-depth review of the school's progress. This report provides an overview of the school's growth and evidence of its growing contributions to the field and also includes reflections from respected colleagues in key areas of influence.
Additionally, the school collaborated with an arms-length evaluation team from the UC Davis School of Medicine Office of Research Evaluation unit to develop an external review process for the report. The review model assessed the school's growth and level of influence in four priority areas:
school launch outcomes and growth achievements
leadership, optimal health and health care equity for all
systems change and creating change agents in health care
aging and family caregiving
Faculty and staff groups, who were invited to participate in group interviews, outlined an evidence case for each area. Four external review committees comprised of national leaders and other partners then reviewed and rated the school's progress in each area, which provides an invaluable picture of the school's efforts in context of national efforts.
The school is grateful to the Office of Research Evaluation colleagues who partnered with the school on its evaluation efforts since its inception in 2007, as well as the national colleagues who provided their valuable time to the review process.
Read the final Report to the Gordon and Betty Moore Foundation (PDF)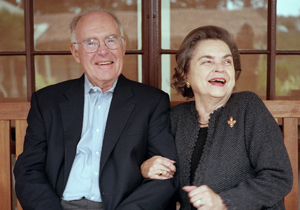 Photo courtesy of Susanna Frohman and the San Jose Mercury News
About the Gordon and Betty Moore Foundation
Gordon and Betty Moore established the foundation to create positive outcomes for future generations. In pursuit of that vision, the foundation fosters path-breaking scientific discovery, environmental conservation, patient care improvements and preservation of the special character of the San Francisco Bay Area.
Gordon Moore is most widely recognized for co-founding Intel Corporation in 1968 and for his theory, Moore's Law, which drives the semi-conductor industry. Born in Los Gatos, California, Betty Irene Moore attended Campbell Elementary School and Los Gatos High School, then went on to receive her B.A. in Journalism from San Jose College, where she first met Gordon Moore. Betty Irene Moore's personal commitment to improving the experience of patients led to the inception and focus of the Betty Irene Moore Nursing Initiative, and that vision endures through the foundation's Patient Care Program. The couple established the Gordon and Betty Moore Foundation in 2000.