Founders
The Gordon and Betty Moore Foundation was established to create positive outcomes for future generations. In pursuit of that vision, they foster path-breaking scientific discovery, environmental conservation, patient care improvements and preservation of the special character of the Bay Area.
The Environmental Conservation Program balances long-term conservation with sustainable use and protects critical ecosystems. The Patient Care Program aims to improve the experiences and outcomes of patient care. The Science Program advances the understanding of emerging scientific fields. The San Francisco Bay Area Program aims to foster, preserve and enhance the special character of the Bay Area.
For more information, visit www.moore.org and follow @MooreFound.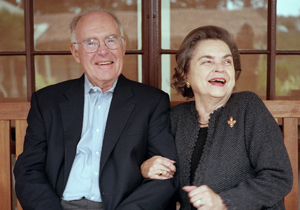 Photo courtesy of Susanna Frohman and the San Jose Mercury News
ABOUT BETTY IRENE MOORE
Betty Irene Moore, for whom the nursing school was named, is the co-founder of the Gordon and Betty Moore Foundation. Betty experienced a near-deadly medication error during a stay in the hospital and this experience catalyzed her interest and passion in improving the health care system. She believed if this could happen to her, it could happen to anyone. Betty saw an opportunity to educate nurses — who provide the majority of our care — with the goal of improving patient outcomes.
Gordon Moore is most widely recognized for co-founding Intel Corporation in 1968 and for his theory, Moore's Law, which drives the semi-conductor industry. The couple established the Gordon and Betty Moore Foundation in 2000.