Betty Irene Moore Fellowship Mentorship
Fellows supported by self-selected and program-appointed mentors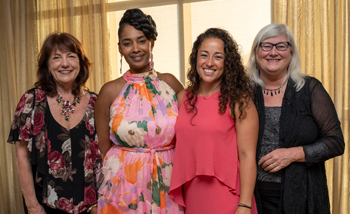 Each fellow is supported throughout the program by at least two mentors — a self-selected mentor the fellow names during the application process and an additional mentor selected in collaboration with the fellowship program. In some cases, a third research mentor the fellow names during the application process is also included to provide research expertise for the fellowship project. All mentors play important roles and help foster integration and application of insights at both intrapersonal and interpersonal levels while each fellow completes projects and grows as a leader.
Self-selected mentors provide the expertise to guide the fellowship project and support the fellow's vision for the difference they hope to make. Self-selected mentors may be faculty from a fellow's school or department, they may be outside their organization and they may also be from another discipline. The self-selected mentor is expected to understand the fellow's project well enough to provide advice and support. During the application process, fellows are asked to name an additional research mentor only if the self-selected mentor is not providing research expertise related to the fellowship project. Applicants are encouraged to contact hs-NurseLeaderFellows@ucdavis.edu with questions about whether a research mentor is needed.
"There are few programs that really recognize the importance of investing in nurses at this stage in our careers and also having leadership mentors."

— Dawn Aycock, 2020 fellow
The program-appointed mentor is selected to augment the self-selected mentor. Based on conversations with the fellow, the national program office and Fellowship National Advisory Council identify potential mentors who provide additional perspective or expertise to enhance the fellow's advisory team.