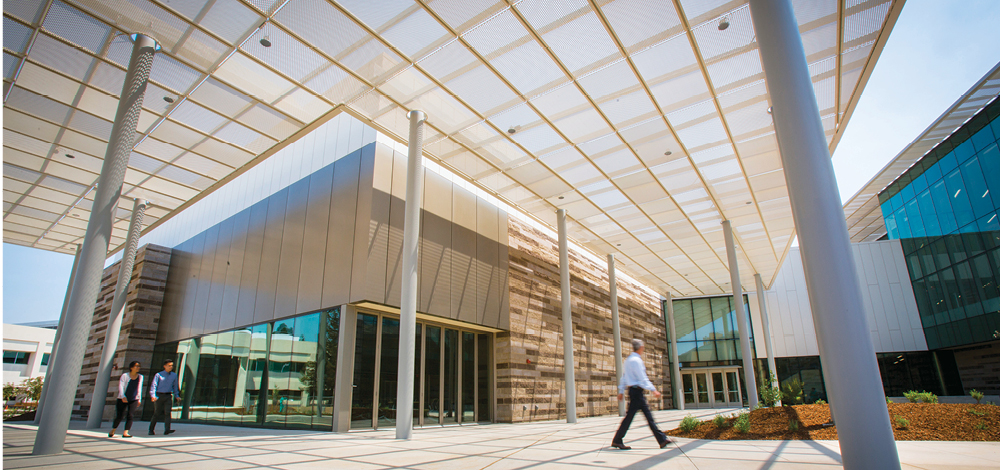 Fostering collaboration, inspiring innovation
The Betty Irene Moore School of Nursing moved into its new home, Betty Irene Moore Hall, this summer and ushered in a new era of innovative education.
"Thinking about the 33 of us who started and the school growing to more than 400 students," says Lori Madden, an alumna from the inaugural doctoral class, "it's great to see the school's growth and the capacity here for that to happen."
The 70,000-square-foot structure features learning environments to engage students, actively involve faculty and create spaces for collaboration across disciplines. From writeable walls in small areas to propeller-shaped tables in larger learning studios, the building encourages teamwork and active instruction, while providing capacity for community events and guest lectures. Collaborative spaces, known as learning commons, weave throughout to foster continual exchange between classroom and clinical learning.
"Betty Irene Moore Hall is a symbol of how this school is different. It's intentionally inviting and inclusive. It sets up a place for real dialogue, because at the core of health care are relationships," says Heather M. Young, founding dean. "Innovation and discovery abound. This is a place where we can fulfill our mission of thinking differently about how to solve health care problems."
A new way to engage students
Young credits faculty with retooling the way they think about curriculum delivery and students with how they break out of the traditional educational arena. The layout of Betty Irene Moore Hall promotes a different type of conversation in which innovative teaching and technology foster greater communication.
"Adults learn best when they are actively participating and pursuing lines of inquiry that they generate themselves," says Jenna Shaw-Battista, director for the Master's Entry Program in Nursing. "We are moving from faculty being a 'sage on the stage' to an environment where educators are the 'guide on the side.'"
Interactive learning enables graduates to quickly recall retained information in stressful situations.
Gone are the traditional lobby and long, door-lined hallways separating classrooms. Students, faculty and the community are surrounded by open spaces that vary in size, depending on location, ranging from larger meeting spaces to smaller niches to foster collaboration. Three learning studios — 175-, 125- and 60-seat rooms — emphasize group learning and creative use of multimedia tools.
"Actively engaged students are more likely to recall what they learned later within a variety of situations and contexts, thus increasing their ability to improve care. That's ultimately why we are here," says Theresa Harvath, executive associate dean. "These active learning spaces also serve as a resource for our colleagues in medicine, public health, informatics and more. Learning, collaboration and interprofessional interaction will never cease within these walls."
Students credit the layout to enabling professors to move around the room and engage with students, as opposed to orating from a lectern.
"Rather than being packed shoulder to shoulder in a lecture hall, this open environment sets everyone at ease and facilitates ease of discussion during class," says Justin Palmer, a second-year physician assistant student.
"Because the seats are facing every which way, you don't feel as exposed as you would in a traditional lecture hall when you ask a question," adds Judy Wong, a family nurse practitioner student in the Class of 2018.
A new way to retain learning
In addition to the active learning suites, students benefit from simulation-based learning, in which they experience clinical-care situations in real time without risking safety.
"Experience has shown us that students discover their strengths and weaknesses, their reaction to stressful situations and preconceived notions when allowed to interview a real person, assess his or her symptoms and propose a course of care," says Gerald Kayingo, director of the physician assistant program. "Our role is to prepare them not only to administer care but to become leaders of health care teams."
A well-designed simulation curriculum develops students' critical thinking and clinical decision-making abilities in a learner-centered environment. Betty Irene Moore Hall features integrated labs where individual-care scenarios play out on one side and debriefing rooms provide a setting to discuss bedside decisions on the other side.
"It's not enough simply to practice in the simulation, but to have an immediate opportunity to reflect on what went well and what were the things you wish you could do over again," Harvath says. "The solidification of learning happens in that debriefing."
From the inpatient eight-bed hospital ward, and task and anatomy skills labs to the 15-room primary-care clinic, students get hands-on practice within clinical settings. A unique simulation experience, a one-bedroom apartment, enables students to practice caring for people in their homes. As health care moves into the community, students need an environment in which to practice skills in a community-based setting. Students learn how to care for someone who has suffered a stroke or how to assist a person moving from a car to the couch.
While students learn the challenges family caregivers face, the one-bedroom apartment simulation is also an area to engage community members. As part of the new Family Caregiving Institute at the Betty Irene Moore School of Nursing at UC Davis, leaders envision hosting family caregivers to observe the students during simulation and discuss how that activity might translate for them in their current roles. It will also be a community space to work with real caregivers and pilot interventions in addressing family caregiver preparedness for their caregiving role.
"We want our students to watch care being practiced, administer care themselves, then be able to teach another team member how to care for a person seeking treatment," says Elizabeth Rice, associate dean for clinical education and practice. "This philosophy is ideal for students to retain their knowledge at a very advanced level."
Just as School of Nursing students are re-examining established health care systems, leaders recognize the critical link between formal structure and teaching practices. Bette Irene Moore Hall serves as a beacon and illustrates our transformative culture in a very tangible way.
Yukko Feletta, a master's-degree leadership alumna from the Class of 2015, agrees. "The vision of the Betty Irene Moore School of Nursing is definitely represented here," she says.