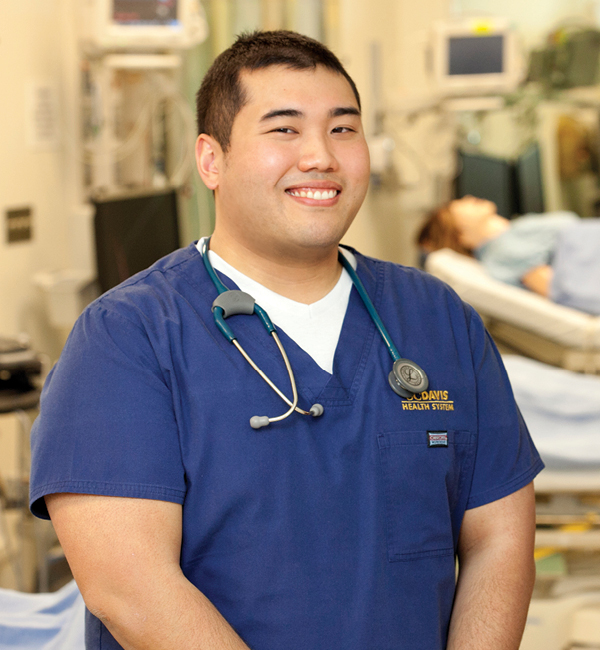 Investing in students locally, influencing change globally
Nursing education looked different and prepared future nurses differently when Natalie Bush attended West Virginia University years ago. Educators focused on tasks, while a student's biggest decision was in which department of the hospital or clinic to work after graduation.
Today a myriad of practice arenas and professional roles greet registered nurses. Knowing how to lead across settings is critical. Developing leadership skills lies at the heart of education at the Betty Irene Moore School of Nursing at UC Davis.
"Leadership is an idea that's been bounced around and talked about in the nursing profession forever. To have a school that's dedicated to training nurse leaders as their mission, that's a new idea and really exciting," Bush says. "Having seen Dean Young and her team grow this program from inception to being nationally ranked, I'm blown out of the water by what I've seen."
Early in the school's launch, Bush recognized that in order for the vision of the Gordon and Betty Moore Foundation and the passion of founding Dean Heather M. Young to reach full potential, philanthropic investment was critical. As a founding donor with the Natalie F. Bush, MSN, and Wes Bush Scholarship, a contributor to the National Advisory Council Endowed Scholarship and investor in scholarships for master's-entry nursing students, she ensures nurses who want to pursue higher education can, without tacking on the financial burden.
Charlie Dharmasukrit, a graduate of the Nursing Science and Health-Care Leadership Master of Science – Leadership Track and current doctoral student, received one of Bush's scholarships.
"The philanthropy allows students, like me, to obtain a graduate education," Dharmasukrit says. "We all have financial obligations and without that philanthropy, I would not have been able to get my master's degree and then continue on in the doctoral program."
Bush realizes that by supporting education through scholarships and other means, she can help make changes in places beyond her locale.
"We want Charlie to go out in the world and make a difference," Bush says. "I may live in Washington D.C., but I can exact change in California, or whatever state Charlie goes to work, or maybe Charlie goes to work in Africa. I can make changes in those places. And I think that's pretty exciting."
Though the School of Nursing is less than a decade old, scholarships for students already number more than 45 and continue to grow, thanks to donors, like Bush, who are committed to providing educational opportunities that transcend locale to impact health care everywhere.