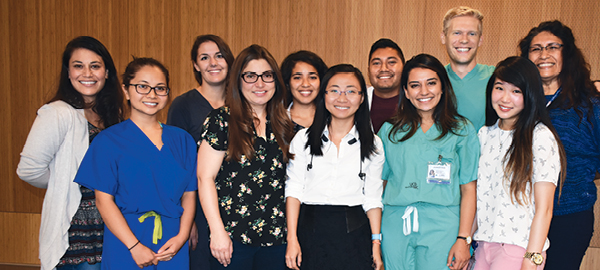 The student-led PITCH program includes physician assistant, nursing and medical students.
PITCHing in to transform health, improve collaboration
On a Saturday morning in April, a team of students from the Betty Irene Moore School of Nursing at UC Davis and the UC Davis School of Medicine transformed a community courtyard at an apartment complex into a pop-up community health fair. But this wasn't just any courtyard or any group of students.
Partnering with Mutual Housing California in support of its mission to develop, operate and advocate for sustainable homes that build strong communities, physician assistant, nurse practitioner and medical students in the PITCH program — Partners in Transforming Community Health — brought a variety of health education and prevention services to residents' front doors.
"For years, the history of health care has been that you go see a provider when you're feeling sick, get a prescription and leave," says Roxy Neale, a second-year physician assistant student. "We now know health is more than just a prescription."
And the health care team is more than just one professional. While nurse practitioner, physician assistant and medical students log countless hours in class on the Sacramento campus and during clinical rotations throughout the region, rarely do their paths cross in ways that lead to meaningful conversations about their work, their professions or their assumptions. PITCH attempts to change that and foster discussion about leadership within professions, collaboration across professions and how collaboration can benefit the community.
"The leadership portion of the physician assistant program helps you hone in those traits to speak out and speak up when you see something that needs to be fixed, either in your personal life or professional environment," Neale says. "That's what attracted me to PITCH, being an advocate not just for myself, but for those who are less advantaged."
"The whole focus is doing something to uplift the community and understand their needs better, understand the community better," says Tuong Pham, a first-year medical student. "We want our initiatives to benefit the community not just right now, but sustainably into the future and for future students who join PITCH."
With a start-up grant from Alpha Omega Alpha, a national medical honor society, members of this grassroots initiative established goals — community engagement, didactic learning, leadership and program evaluation — and launched a pilot workshop for student feedback. Since PITCH's inception in 2015, 26 members have participated in nearly one dozen community events in hopes of bridging health care and education to the communities UC Davis serves. Faculty mentors recognize the vital role this interprofessionalism plays.
"Our hope is that this important project can inform our curriculum process, make community leadership a core element of the curriculum and result in it being a specific competency that we expect all students to have upon graduation," explains Thomas Nesbitt, UC Davis Health interim vice chancellor for human health sciences and PITCH mentor.
"I'm impressed by the initiative of our students in both recognizing the need to understand perspectives of fellow providers and the value that interprofessional collaboration will ultimately have in practice," adds Susan Adams, assistant clinical professor at the School of Nursing and PITCH mentor.
"Ultimately, it's about our clients, our community and patients," says Annie Tat, a founding member and master's-degree leadership alumna. "If we want to be innovative and if we want to have interprofessional collaboration, we need to walk the talk."