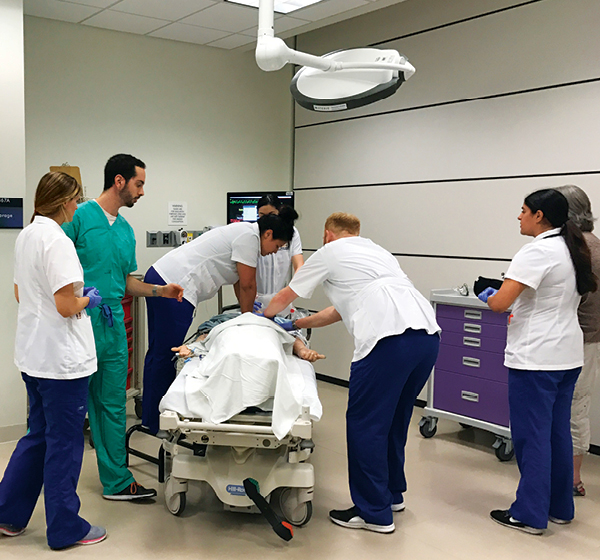 Innovating coursework, elevating confidence
When master's-entry nursing student Sandy Garza saw bins of pipe cleaners, construction paper, markers and yarn awaiting her arrival to class, she admits she was stumped.
"I wondered why we would be using these types of things in graduate school," Garza says. "But once we learned more about design theory and how creativity can bring things to life faster, we learned to embrace the crayons."
Exposing future nurses to hands-on, design-thinking methodologies is the goal of Katherine Kim, an assistant professor at the Betty Irene Moore School of Nursing at UC Davis whose research focuses on information technology to improve community health, care coordination and clinical research. From how to fix infection rates in the intensive care unit to developing biomedical devices for patients, Kim's first-year entry-level master's-degree nursing students used their creativity to develop solutions to health care problems.
"You don't want to be intimidated by technology," Kim says. "If you assume the technology is only for the specialized, then your intimidation will keep you from ever thinking about how it can be applied to things you do."
Whereas longer-standing programs are rooted in established practices, the accelerated nursing program at UC Davis lives without such constraints. The Betty Irene Moore School of Nursing goes beyond preparation for traditional, acute-care roles. Unique coursework develops students' leadership talents, builds their technology skills, develops their interprofessional strengths and expands their knowledge of health systems and populations.
"We are preparing the health care leaders of tomorrow for a future health care system that is still evolving," says Jenna Shaw-Battista, master's-entry program director. "Whether it's learning documentation on an electronic health record in quarter one, to building prototypes of innovative technologies in quarter three, our students are expected to be familiar and proficient with health care technology, but also to be dreaming of the future and planning for advancements that will help the profession and the public."
Students also prepare for their future careers through clinical experiences in their first quarter. Accelerated, entry-level nursing students often spend the first portion of graduate work in the classroom. But Master's Entry Program in Nursing students at the Betty Irene Moore School of Nursing at UC Davis venture into clinical environments a mere three weeks into their studies.
"It was a little nerve-wracking at first, putting together all the skills we've learned with real patients. But the insight and wisdom we get from the senior residents has been amazing," says Nancy Rodriguez, a member of the Class of 2017, about the first clinical experiences taking vital signs and patient histories in senior centers.
In order to prepare for more advanced real-life scenarios, students develop competence and confidence through simulation exercises. In the 11th month of their 18-month program, students participated in a cardiac arrest simulation scenario. They activated the code-blue, rapid response team system and provided cardiopulmonary resuscitation and defibrillation as members of an interprofessional health care team.
"Even during a simulation, with no lives on the line, the adrenaline gets pumping and everything is suddenly very real," says Neal Oppenheimer, a student in the inaugural master's-entry class. "Preparing for and participating in this simulation made me feel more confident going into my first actual code following the simulation."
Instructors want these future nurses to recognize a cardiac emergency and understand the key roles in that situation. In addition, they want students to learn how to communicate effectively with all involved in an intense, fast-paced environment before they experience similar situations in a real patient-care setting. Students coordinated the clinical aspects of this emergency simulation but also navigated psychosocial domains in learning how to communicate with patients and their distraught family members.
"We are teaching our students the skills they need, but we're also teaching them how to think like a nurse, how to communicate like a nurse, and how to interact with other members of the health care team as a proud representative of the nursing profession," says Jessica Draughon Moret, an assistant professor of clinical nursing.
"Our mandate was to become a new school of nursing," adds Debbie Ward, clinical professor. "I hope all our students feel that they are participants in both the history of nursing, but also a new vision in the ways we can enact nursing and make our communities healthy places for us."