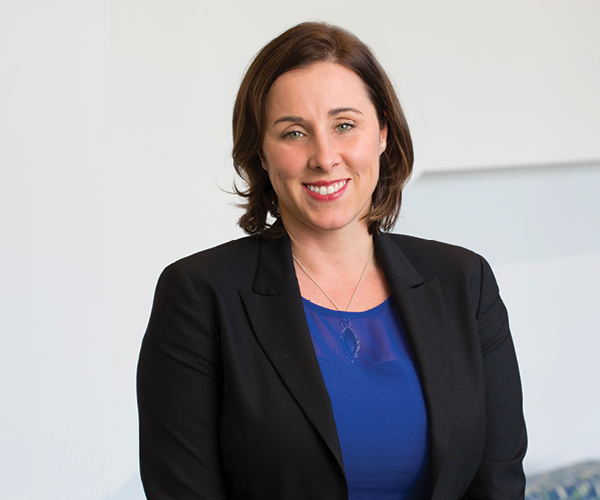 There's no 'I' in team, but there is an 'A'-lumna
In health care, the focus often lies on treating illness, but vaccines are a form of preventive medicine aimed at stopping a disease from ever taking hold. For master's-degree leadership alumna Jennifer Edwards, her current work at the Betty Irene Moore School of Nursing serves in a similar capacity.
Faculty at the School of Nursing and the UC Davis School of Medicine lead the integrated, primary care edu­­cation model: System-transforming, Patient-centered Longitudinal Interprofessional Community-based Education, or SPLICE. Edwards now works on the SPLICE team to develop curriculum and simulation experiences to build teamwork models while students are still in school.
"In the SPLICE Initiative, we focus on educating students in interprofessional practice and team-based care before they enter the workforce," says Edwards, a Class of 2018 graduate. "We work preventively, as opposed to trying to change patterns that are already ingrained once graduates start practice."  
From nursing school in Canada and bedside nursing in Southern California, to directing clinical operations for a rural Federally Qualified Health Center and ultimately pursuing a master's degree at the School of Nursing, Edward's desire to serve better and learn more propels her forward.
"I recognized there was so much more I could contribute if I only understood the systems and health disparities at play," Edwards says. "What used to be a blurry picture out of the corner of my eye came into focus because of this school."
Debra Bakerjian, a clinical professor and SPLICE principal investigator, says Edwards exemplifies the impact School of Nursing graduates have on patients, families and communities in the Sacramento region and beyond. 
"As the SPLICE nurse educator, Jennifer integrates leadership and systems-level perspectives into the education activities she develops," Bakerjian says. "This is incredible, because much of health professions education focuses on clinical care. Yet, we know psychosocial perspectives have the biggest impacts on most individuals' ability to maintain health and wellness."
Edwards now brings a greater awareness of the bigger picture of health. It's a perspective she shares with the 222 other alumni from the master's-degree leadership program who, collectively, are moving the needle toward big change.
"What we contribute to health care transcends the school," Edwards says. "Not everyone can be or will be vaccinated. But if we get enough people to focus on health disparities and value the roles and responsibilities of other health care professions, we will reduce the old ways of doing things to enact real change."