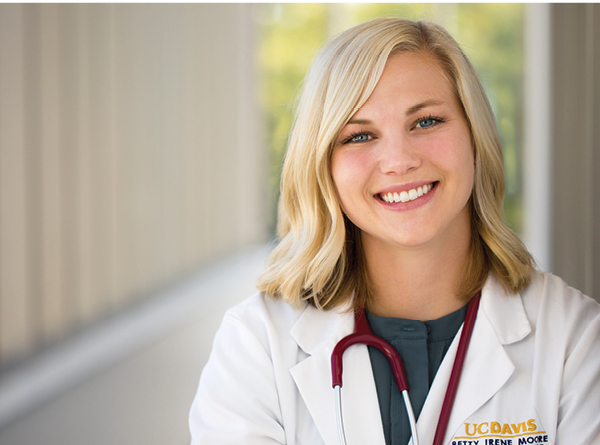 Exposure to rural health care fuels provider pipeline
As a second grader growing up in rural Elko, Nevada, Morgan Hines underwent a spinal tap, a misdiagnosis of meningitis and six days of not knowing her illness before providers realized a simple antibiotic was all she needed. That experience prompted Hines to pursue a career as a physician assistant (P.A.) and make health care better for people in rural areas.
"After two clinical rotations in Humboldt County, I realized where I wanted to fulfill my goal after graduation," says Hines, a 2018 graduate of the P.A. program at the Betty Irene Moore School of Nursing. "UC Davis prepared me to help patients with chronic and acute conditions. I also use what I learned in my specialty rotations. Being so remote makes specialty care difficult to receive."
In January, Hines began her career as a P.A. with the Redwoods Rural Health Center in Humboldt County. It's an outcome of a partnership between the school and health care insurers and providers. Through foundational support to pay for student housing, the school's family nurse practitioner and P.A. students rotate through community-based, primary care clinical experiences in Humboldt County. Since the partnership began, more than 100 students have experienced rural health care in Humboldt.
"We are 100% committed to exposing potential providers to this awesome community," says Paul McGinty, chief philanthropy officer at St. Joseph Health, Humboldt County. "Our emphasis is on stabilizing the base in primary care to strengthen our economy. Engaging our local providers in the teaching experience elevates their game, too."
Word of mouth spreads. The Humboldt County rotation is among the more popular rotations at the School of Nursing.
"Without the opportunity to live and train in Humboldt County, my passion for working in rural communities would not have been rekindled," Hines says.
Hines says her experience, so far, is better than expected. Despite fears of moving to a new area, the community and her patients welcome her and support her new life as a provider.
"Thinking outside the box is a huge part of my daily routine. The confidence I now have practicing in rural primary care, I have UC Davis to thank for that," Hines says.