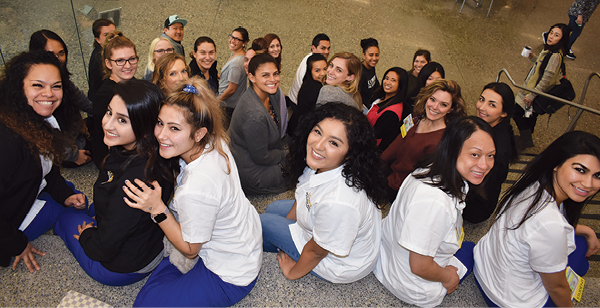 School of Nursing students respond to call for help
When classes were closed due to unhealthy air quality in the Sacramento region in November 2018, several physician assistant (P.A.) and nursing students used that time to volunteer in clinic shelters supporting Camp Fire evacuees and victims.
From collecting and delivering goods to spending hours in shelter clinics, these future health care providers volunteered countless hours serving the communities in any way they could. One first-year P.A. student, Shannon Watson, a registered nurse, long-time disaster relief volunteer and former Butte County resident, quickly organized her classmates to volunteer at a shelter clinic, caring for elderly, frail evacuees there.
"To me, this is what our school is all about," Watson says. "Our mission is service to rural communities, the underserved and leadership. To me, doing this, is all of that."
"The students immediately saw the implications of a health crisis in their community rather than a potential inconvenience to themselves," says Elizabeth Rice, associate dean for student and faculty success at the School of Nursing.
"I think that too often leadership is seen as a title. But, I want our students to really understand what they have done, that is true leadership," Rice adds. "They stepped up, saw a need and went out and provided care to people in crisis."