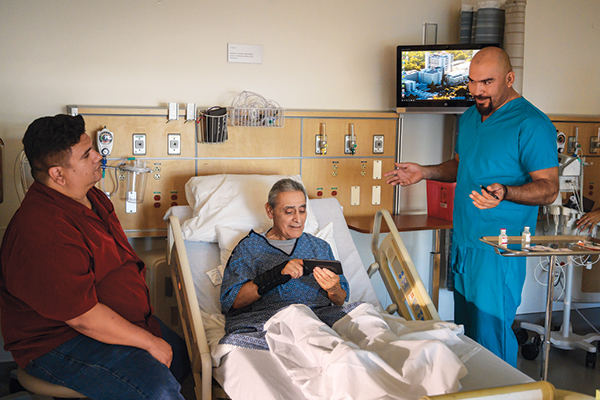 Online course focuses on caregiving to improve clinical interactions
At 97%, nearly all health care providers say caregivers play an important role in patient care, according to an AARP study. Yet fewer than half of caregivers say they are prepared for the rigorous demands of caring for a family member or friend at home. The Family Caregiving Institute at the Betty Irene Moore School of Nursing at UC Davis leads an effort to bridge the divide by preparing both graduate students and area clinicians to better support these crucial caregivers.
A new Graduate Academic Certificate in Family Caregiving launched this fall. UC Davis offers graduate academic certificate programs in areas of specialties not offered within the regular graduate-degree programs. The programs consist of carefully designed sequences of classes that focus on a specific area of specialty. The School of Nursing also offers a graduate certificate in health professions education. The unique Family Caregiving series brings together master's- degree leadership, doctoral and clinical students to enable them to learn how to successfully interact with and integrate families into the health care team.
"Consensus exists among family caregivers and the clinical, research and education arenas that we desperately need a more robust, professional education for those who work with caregivers," says Kathryn Sexson, lead educator for the institute. "The School of Nursing leads this conversation collaboratively — not just from a nursing perspective. That sets us apart from how we, as a society, traditionally approach a public health crisis."
Based on the interprofessional family caregiving competencies developed by experts from UC Davis and across the nation, Sexson and her team developed three new, four-credit courses that address the complex and dynamic nature of caregiving, family- centered communication and decision making, as well as patient- and family- centered care-plan development.
The online, certificate program teaches students and clinicians about the complex nature of caregiving, such as perceived stresses, socioeconomic influences, value systems and the heterogeneity of caregiving situations. Students learn the value of a cooperative, family-centered approach to developing caregiving plans in partnership with caregivers. The goal — better health outcomes for caregivers, patients and increased skills for providers.
"Currently, there's the push to train the family quickly when a patient is being discharged. That can fail and lead to readmission," says Kaprice Sistrunk, a master's-degree leadership student in the course, who spent 12 of her 19 years as a nurse working as a discharge planner or manager. "As much as you do your due diligence, you don't quite know what they are dealing with in the home. We put a lot on our caregivers, especially now."
Sexson adds that this is a critical time for rethinking the caregivers' role on the care team.
"Our hope is to equip and educate health care professionals to integrate the family into the health care team," Sexson says, "so the caregivers become active members of the team at the beginning of the provider-patient relationship and help co-create a plan of care leading to more successful outcomes."