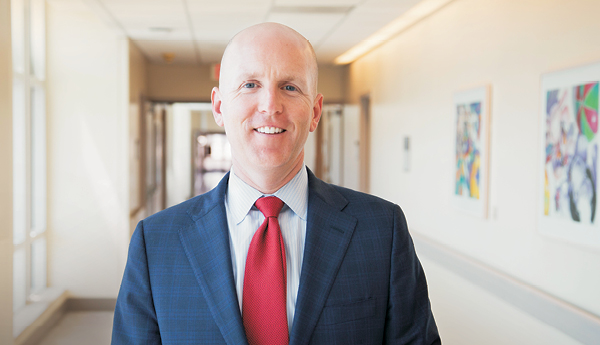 Value of nursing research to nursing practice
Toby Marsh is the chief nursing and patient care services officer for UC Davis Medical Center. He oversees more than 1,800 nurses and nurse practitioners, who together provide care for more than 200,000 patients every year at the acute care hospital and affiliated primary and specialty-care clinics. Under his leadership, the hospital earned a second, four-year Magnet accreditation from the American Nurses Credentialing Center, the nation's highest form of recognition for nursing excellence. He also led the creation of unit-based practice councils, which enable nurses to collaborate, communicate and make decisions about clinical work, then measure the results of changes.
Marsh answers some questions about the impact of nursing research on hospital nursing care.
Q Can you describe changes in nursing practice you've seen that illustrate the value of evidence-based practice?
Implementation of chlorhexidine gluconate oral care prior to intubation in the emergency department to reduce the incidence of ventilator-associated pneumonia
Nurse-initiated protocol for removal of urinary catheter to reduce catheter-associated urinary tract infection
Q What is the top evidence-based practice initiative going on now at UC Davis Medical Center?
Cardiothoracic ICU nurses now explore a couple of initiatives to speed up recovery and improve survival after cardiac surgery
Q What sorts of projects do you imagine the Center for Nursing Science could lead five years from now?
Competitively funded seed grant opportunities for innovations, evidence-based practice and research (this could be in partnership with other campus entities)
A regional conference to disseminate projects and collaborate with external organizations