Faculty Awards
African American Dementia Family Caregivers Pilot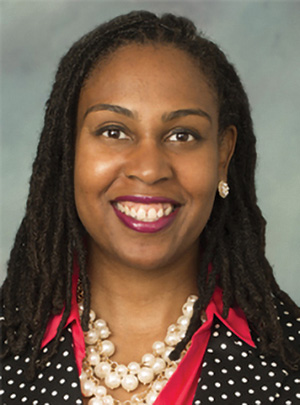 The mental and physical health consequences of dementia family caregivers' stress are well documented. Yet the vast majority of caregiving research has focused primarily on non-Latino white caregivers. In this $10,000 pilot study, Fawn Cothran, an assistant professor in the Family Caregiving Institute, tests acceptability of a personalized video with input from community-based stakeholders (African American dementia family caregivers) and evaluates preferences of measuring stress. Cothran also examines the feasibility of disseminating a video through community networks for recruitment of African American dementia family caregivers.
Caregiver Resources, Outcomes and Technology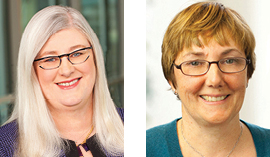 California is set to see a rapid increase in the number and diversity of older adults over the next decade. The estimated 4.7 million unpaid family members are the largest long- term workforce caring for older and disabled adults. Recently, 11 California Caregiver Resource Centers around the state received state funding to expand their technology platform and resources to better serve the diverse communities and caregivers of California. Professor Heather M. Young (pictured left) and Associate Dean for Research Janice Bell (pictured right) lead a three-year, $600,000 study to evaluate the impact of these innovations on client outcomes and system processes. Their first focus is to understand service characteristics, usage and the impact of these services on the lives and health of family caregivers and those they support. Researchers hope to gain perspectives on adoption of new technologies, more precise identification of caregivers at risk for mental and physical health problems, and on culture change within the organizations. Young and Bell have extensive knowledge of the aging network and caregiving industry in California. Their work focuses on real world problems and deep collaboration with communities and clients in research design, implementation and interpretation of findings.
Contact Tracing in COVID-19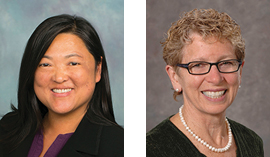 The COVID-19 pandemic is characterized by an unprecedented rapid and global spread with reported high rates of asymptomatic transmission. However, an understanding of symptoms is flawed due to biased and incomplete data collection leading to ineffective containment and mitigation strategies. In this $25,000 study, Discovery of Symptom Phenotypes and Trajectories for COVID-19 Adaptive Interventions, School of Nursing Assistant Professor and Katherine Kim (pictured left) and Professor Emerita Jill Joseph (pictured right) lead a UC Davis Health team to create an innovative symptom science platform to collect comprehensive, longitudinal data and testing results. They also apply cutting-edge machine-learning methods to predict infection. The goal of the Center for Information Technology Research in the Interest of Society (CITRIS) and the Banatao Institute funded research is to enable the generation of new insights to optimize use of public health and health system resources.
Enhancing Research Capacity for Yurok Food Sovereignty
For indigenous people within the Klamath Basin, many customs and natural resources have dwindled throughout the 20th Century leaving it a food desert whose inhabitants lack access to basics such as fresh produce, meats and dairy products. Katherine Kim leads a 1-year, $10,000 seed grant to establish a research collaboration dedicated to building community-driven food sovereignty strategies based on culturally relevant data and sound evidence. UC Davis and the Nature Rights Council partner to enhance community capacity for research and evaluation which they plan to demonstrate in the Yurok Food Sovereignty Project pilot to address food insecurity and health.
Food as Medicine
Studies prove improvement in health outcomes when patients are provided language and culture specific educational materials. With a grant from UC Davis Global Affairs to advance the United Nations Sustainable Development Goal for Food, School of Nursing faculty developed an interprofessional learning activity based on university-wide food themes. Food for Health, Food as Medicine engaged family nurse practitioner and physician assistant students in small groups to recognize Afghan and Hmong cultural risks for iron deficiency anemia. Assistant Clinical Professor Laura van Auker (pictured left) and Assistant Adjunct Professor Cara Sandholdt (pictured right) designed the curriculum. They developed multicultural resources for counseling and local sourcing of high-iron foods to promote food as medicine. The activity enhanced requisite clinician multicultural dietary counseling skills, strengthened clinician cultural humility and addressed social determinants of health experienced by local immigrant populations. Measures of student clinician confidence and expertise in culturally focused food counseling showed positive outcomes for the active-learning session.
Global Interprofessional Education and Practice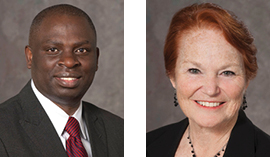 Team-based health care is not practiced in Kenya. Faculty from the School of Nursing collaborate with the University of Nairobi Schools of Nursing and Medicine to see how interprofessional education developed at the school can be tailored for use in Africa. A team of physician assistant and family nurse practitioner faculty received a $7,500 grant from UC Davis Global Affairs for Advancing Sustainable Development. The team is led by Clinical Professor Debra Bakerjian, former Clinical Professor Gerald Kayingo (pictured left) and Assistant Clinical Professor Laura Van Auker (pictured right). They lead seminars for students to enhance understanding of the United Nations' Goal No. 3 for Health and Wellness Improvement. Then in 2021, they plan to travel to Nairobi to present an interprofessional team training workshop and participate in joint clinical activities.
Scholarships for Disadvantaged Students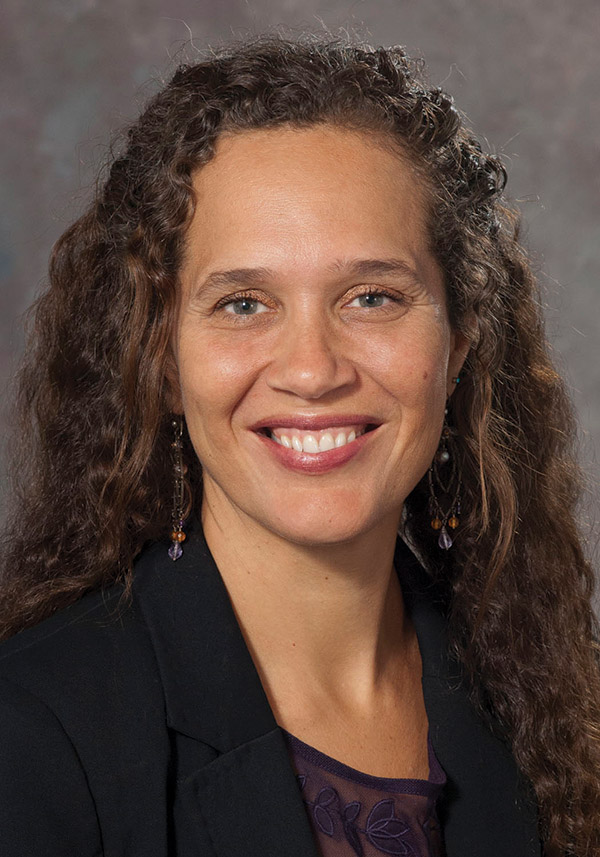 In alignment with the School of Nursing's mission to attract students from diverse backgrounds and experiences, the Scholarships for Disadvantaged Students grant provides direct tuition support for disadvantaged students in the Master's Entry Program in Nursing. The Health Resources & Services Administration (HRSA) awarded $2.68 million to Associate Dean for Health Equity, Diversity and Inclusion Piri Ackerman-Barger to oversee the project. She engages and coordinates staff, resources and partnerships from the school to enroll and retain full-time students from disadvantaged backgrounds and exposes students to primary care and placements in Medically Underserved Communities.
Wellness Intervention for Smokers with HIV (WISH) Trial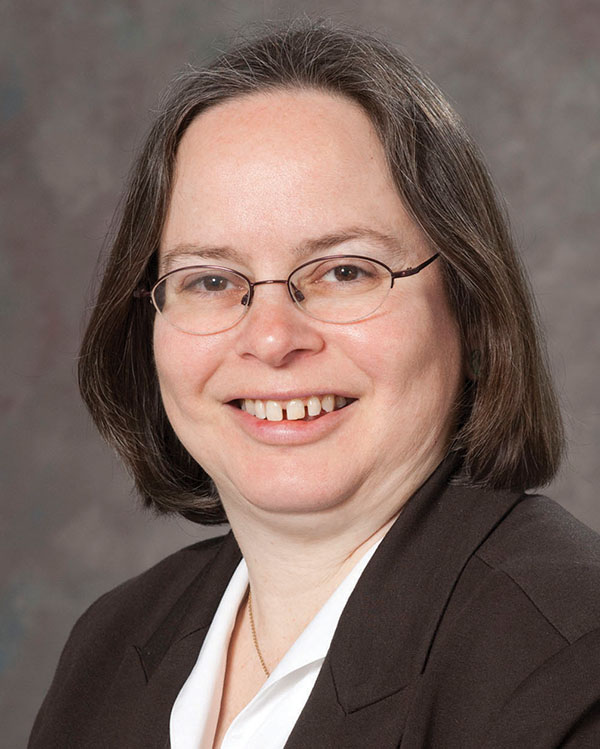 "Remotely delivered programs to promote healthy living are urgently needed in today's world. This is especially true for smokers and people living with chronic conditions," says Professor Sheryl Catz. Catz serves as UC Davis lead and one of multiple principal investigators on a nationwide study, Improving the Reach and Effectiveness of Smoking Cessation Services Targeted to Veterans Living with HIV. This five-year $2.9 million trial supported by the National Cancer Institute recruits 500 Veterans living with HIV who smoke, regardless of their readiness to quit. Researchers compare the effectiveness of WISH, a remotely delivered comprehensive wellness program to standard care smoking cessation services offered nationally through VA. In partnership with Kristina Crothers at VA Puget Sound Health Care System and Jennifer McClure at Kaiser Permanente Washington Health Research Institute, Catz coordinates study protocol implementation across sites, trains staff to deliver the WISH intervention and supervises the UC Davis team conducting follow-up surveys.