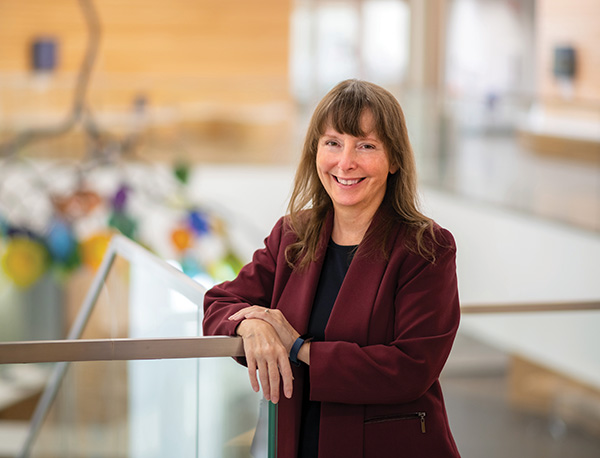 Online course addresses caregiving conundrum
Family caregivers are often an invisible member of the care team for older adults, yet an AARP study reports that 97% of providers say caregivers play an important role in patient care. That reality — and work by the Family Caregiving Institute at the Betty Irene Moore School of Nursing at UC Davis — elevate the conversation between these once disparate groups.
A new online program in family caregiving launched last fall builds skills for health care professionals so they can better communicate with and involve caregivers.
"The Family Caregiving Institute was created to advance the conversation and to prepare caregivers and professionals for their roles," explains Heather M. Young, associate director for the institute's strategic partnerships. "This educational offering builds a community of scholars interested in this topic."
The pilot program brings together master's-degree leadership and doctoral students along with clinicians in a completely online environment. The goal: prepare them to successfully interact with and integrate families into the health care team.
"By looking at the theories and the facets that family caregivers and older adults are faced with, students expand their assessment strategies and critically examine the global effects of caregiving," says Kathryn Sexson, lead educator for the institute.
Coursework toward a solution
The program, developed by Sexson, taught with Young and supported by instructional design specialists, con sists of synchronous and asynchronous sessions. Sexson says intense curricular preparation facilitated success in learning outcomes, provided flexibility during the COVID-19 response and created a strong sense of community among the learners.
"I was surprised how engaged I was given the online environment," explains Michelle Camicia, director of operations for Kaiser Foundation Rehabilitation Center and doctoral alumna from the Class of 2019. "The teaching strategies and technology platform were very impressive, offering a variety of learning activities."
Future national impact
The first online pilot class is just one, local step, say leaders. With the need so great and technology so pervasive, the long-term national impact lies in repackaging content. Online curriculum designers plant to develop modules for clinicians across the nation to learn these valuable skills and receive continuing education credits for their professional development.
"Health care professionals will gain skills that are integral to patient and family centered care, and that are essential in supporting family caregivers such as, assessment of caregiving preparedness, communication and shared-decision making," says Eve Ogugu, a registered nurse and master's-degree leadership student taking the course.
"At the end of the day, the goal is for caregivers to be not only visible, but integral members of the team," Sexson adds.