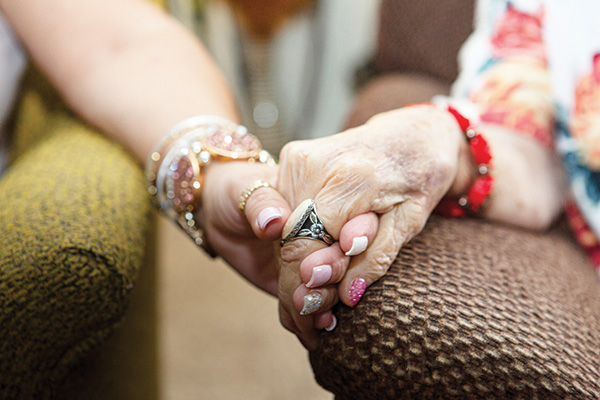 Engineering high-tech solutions to caregiving challenges
Today's over-65 population is witness to technological marvels, from men landing on the moon to worldwide connection via the Internet. Yet, daily tasks increasingly become difficulty. Technology is often framed as a solution to challenges associated with aging.
"Whether it's limited mobility or cognitive impairment, this growing population faces growing frustrations with managing in day-to-day life," says Terri Harvath, senior director for strategic initiatives and director of the Family Caregiving Institute at the Betty Irene Moore School of Nursing at UC Davis. "As more baby boomers transition in age, families and caregivers hope to find ways to ensure their loved ones stay safe and are well cared for."
U.S. census data indicates the number of Americans ages 65 and older is projected to nearly double from 52 million in 2018 to 95 million by 2060 and the 65-and-older age group's share of the total population will rise to 23%. As technology companies race to develop new solutions for this population, UC Davis undergraduates already tackle the challenges in a unique collaboration with the School of Nursing.
"We developed our Introduction to Engineering Design class to give engineering majors hands-on coursework early in their undergraduate experience. But in past projects, the human aspect was missing," explains Jennifer Mullin, a UC Davis engineering professor. "Teaming up with the Family Caregiving Institute to develop solutions for older adults seemed very real world and a perfect fit."
Before 23 students teamed up to tackle the assignment, they traveled from Davis to Sacramento for a tour of Betty Irene Moore Hall, home of the School of Nursing and its one- bedroom apartment, home-health simulation suite.
"The visit opened my eyes to how caregivers perform complex care for their loved ones with little instruction. New technologies to support them are needed," says Priya Talreja, a first-year computer science engineering major, whose team designed the Sleepy Buddy. "Working with the Family Caregiving Institute appealed to me because I see my own grandparents' struggle as they wish to remain very active, while having many gradually imposed limitations."
Students from various engineering disciplines, including computer science, biosystems, mechanical and electrical, tackled the project-based, active-learning challenge to innovate and develop tools to assist older adults and their caregivers. From an interactive game called Molecanoes to the Sleepy Buddy sleep-aid device and stove safety and reminder system, the students embraced the challenge.
"I learned the extensive process behind designing and creating a functioning prototype. But more specifically, I now know users' needs must always be considered," explains Carlos Medina, a second-year engineering student who worked on the NESSBot emotional support system. "As technology is more integrated in older adults' lives, it will expand possibilities for design engineers in terms of the products they create and the way we interact with them."
Harvath and Mullin look forward to future classes and inspired designs.