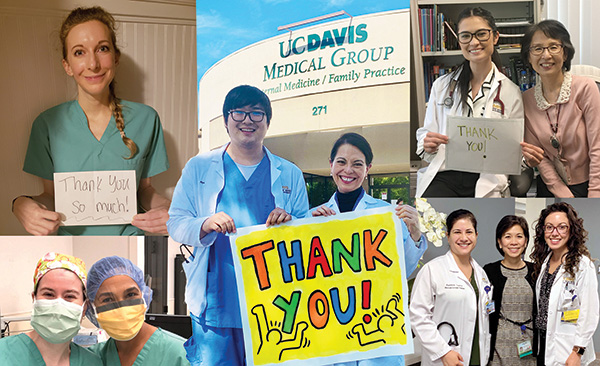 Academic medical center partnership keeps students on track
When COVID-19 hit, it not only disrupted life for all Americans, but it threatened to derail students in health professions programs from graduating on time.
"Most of the health systems in the region who we rely on as partners for students' clinical experiences told our students to steer clear until the worst had passed," says Stephen Cavanagh, dean for the Betty Irene Moore School of Nursing at UC Davis. "Fortunately, we were able to tap into the vast enterprise of UC Davis Health and partner with our colleagues like never before."
The School of Nursing and the UC Davis School of Medicine Office of Medical Education established an interprofessional group of clinical coordinators to implement a process for welcom- ing learners into UC Davis Health clinics. By centrally locating the clinical rotation scheduling, the team compared clinical rotation needs across both schools while coordinating scheduling and communications among new preceptors.
"The team spent countless hours each week adjusting the students' schedules to ensure each student received clinical experiences across specialty areas that are required for graduating on time in their program," says Lisa Badovinac, assistant dean for education. "Without the teamwork of this group, the critical mission for our health professions schools would be unrealized."
The predicament turned into an opportunity and teamwork and collaboration saved the day.
"The strength of UC Davis Health is that we are an academic medical center. Our job is both to treat the patients who rely on us and teach the future generation of health care professionals," explains David Lubarsky, CEO of UC Davis Health.
Within a few weeks, future advanced practice providers — physician assistants (P.A.) and family nurse practitioners (FNP) on track to graduate in the summer — reported for clinical rotations at UC Davis Health clinics, in the UC Davis Health Internal Medicine, Surgery, and Obstetrics and Gynecology departments as well as in the UC Davis Medical Center Emergency Department.
"We have a dedicated team at the School of Medicine who rose to this challenge and worked creatively to ensure that students would continue to get the training they need and transition smoothly into the workforce where they are needed," adds Allison Brashear, School of Medicine dean.
For UC Davis Medical Center nursing leaders, there was never any question that students, on the cusp of graduation and nursing careers, would be given a place at the hospital to finish up their educational requirements. At least 47 students from the Master's Entry Program in Nursing also found places alongside managers and staff of 13 different units, on three different shifts, when other health systems turned them away.
Students are grateful for this reality and their UC Davis Health preceptors.
"I'm so grateful to the UC Davis staff for sharing their knowledge, experience and passion for nursing with me," says Shelbie Allen, master's-entry student.
"Despite the COVID-19 pandemic, they taught me foundational knowledge in this area of medicine," adds Selu Vargas, a second-year P.A. student.