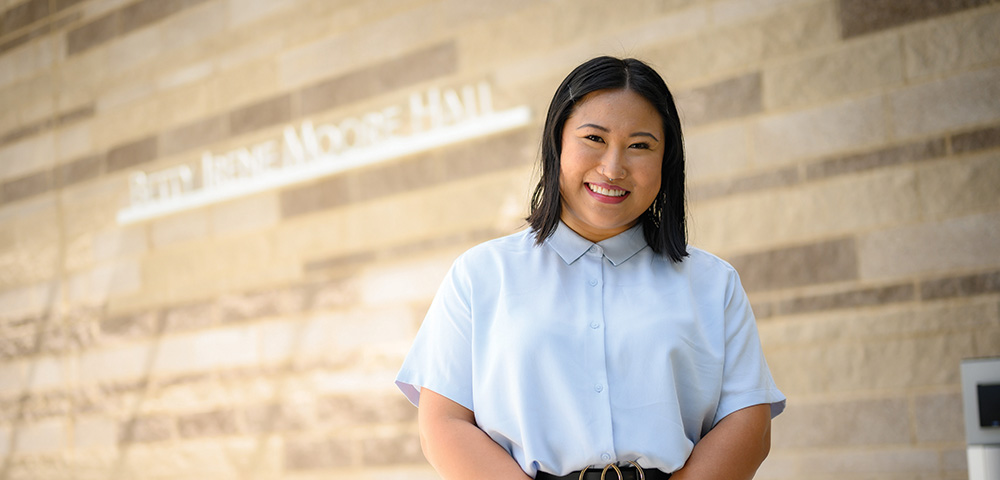 Alumni, leaders create safety net and hope for students
A house fire. A missed paycheck. A global pandemic. If the events of the past year have taught us anything, it's that life can throw you a curveball with no warning and no safety net.
Six months shy of completing her master's-degree nursing program, Joanna Bustamante suffered an assault from a loved one, struggled to find a safe place to live and battled with depression.
"As an immigrant from a low-income single-parent household, I've overcome a lot of anxiety and stress in my life. My mom showed me the value of education and hard work," Bustamante says. "But I didn't know how to navigate this. It turned my whole world upside down."
Bustamante says the financial hardship nearly forced her to quit pursuit of her dream to become a registered nurse.
Students enter the Betty Irene Moore School of Nursing at UC Davis from diverse backgrounds and at different stages of life, each with a unique personal story and education history. Many are helped by traditional academic supports that teach learning strategies or specific skills like test preparation. However, the barriers to a student's academic success are not always academic, particularly at the graduate level.
"What does that do for your ability to learn and really experience, if your mind is cluttered with just trying to figure out you're going to put food on the table and get to where you need to go, for instance, for a clinical rotation?" asks Jennifer Edwards, an alumna from the master's-degree leadership Class of 2018. "When we realized how financially at risk many of our fellow students were, our class started a fund to support them."
The Betty Irene Moore School of Nursing Student Hardship Fund was born. It provides student support in cases of exceptional hardships that may affect a student's ability to succeed in pursuing their degrees. One year later upon their graduation, members of the Class of 2019 doctoral program contributed to the fund as their class gift. And in 2020, the School of Nursing leadership team enabled the fund to be endowed.
"I believe everyone deserves a safety net. This school continuously centers around the success of students now, with a forward-looking focus on preparing them to be change agents in their chosen fields," explains Emily Sanson-Smith, assistant dean for administration.
"We push our students to think deeply about why people who experience a lack of access to health care are challenged to make healthy choices," adds Elizabeth Rice, associate dean for stu- dent and faculty success. "I believe this fund demonstrates our understanding that there are barriers beyond their control and our commitment to students during times of financial need."
When COVID-19 hit and rocked the world of many stu-dents, new donors to the School of Nursing gave to the fund and invested in future students who might experience the same support as Bustamante, who is the first recipient of this fund. She says the support was more than financial.
"I was in such a low, desperate place and it gave me hope. It gave me time to figure things out and figure out a plan to move forward," Bustamante says. "It lifted me up, so I didn't have to delay my education and my journey toward financial security."
Bustamante eagerly awaits when she is established in her career and can pay it forward for others who come from underrepresented backgrounds and need others to financially invest in their dreams.