Carroll Cross, M.D.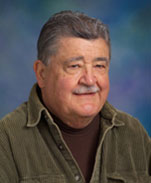 Professor
Division of Pulmonary, Critical Care and Sleep Medicine
Suite 3400, Professional Services Building,
Sacramento Campus
916-734-3564
e-mail
Dr. Cross's expertise is in the areas of oxidative stress and respiratory tract biology with a focus on environmental inhaled oxidant exposures (e.g. ozone, cigarette smoke) and respiratory tract inflammation-related oxidants as best exemplified by cystic fibrosis.
Yoneda KY, Cross CE. The pulmonary toxicity of anticancer agents. In Comprehensible Toxicology, Chapter 25. 3nd ed, vol 9, toxicology of the Respiratory Tract, GS Yost, Editor, In Press. 2010
Vasu VT, Oommen S, Lim Y, Valacchi G, Hobson B, Eirserich JP, Leonard SW, Traber MG, Cross CE, Gohil K. Modulation of ozone-sensitive genes in alpha-tocopherol transfer protein null mice. Inhal Toxicol 22(1):1-16. 2010
Vasu VT, Cross CE, Gohil K. Nr1d1, an important circadian pathway regulatory gene, is suppressed by cigarette smoke in murine lungs. Integr Cancer Ther 8(4):321-8. 2009
Aung HH, Vasu VT, Valacchi G, Corbacho AM, Kota RS, Lim Y, Obermueller-Jevic UC, Packer L, Cross CE, Gohil K. Effects of dietary carotenoids on mouse lung genomic profiles and their modulatory effects on short-term cigarette smoke exposures. Genes Nutr 4(1):23-39. 2009
Lim Y, Vasu VT, Valacchi G, Leonard S, Aung HH, Schock BC, Kenyon NJ, Li CS, Traber MG, Cross CE. Severe vitamin E deficiency modulates airway allergic inflammatory responses in the murine asthma model. Free Radic Res. 42(4):387-96. 2008
Beattie JR, Maguire C, Gilchrist S, Barrett LJ, Cross CE, Possmayer F, Ennis M, Elborn JS, Curry WJ, McGarvey JJ, Schock BC. The use of Raman microscopy to determine and localize vitamin E in biological samples. FASEB J 21(3):766-76. 2007
Gohil K, Oommen S, Vasu VT, Aung HH, Cross CE. Tocopherol transfer protein deficiency modifies nuclear receptor transcriptional networks in lungs: modulation by cigarette smoke in vivo. Mol Aspects Med 28(5-6):453-80. 2007
Oommen S, Vasu VT, Leonard SW, Traber MG, Cross CE, Gohil K. Genome wide responses of murine lungs to dietary alpha-tocopherol. Free Radic Res 41(1):98-109. 2007
Cantin AM, White TB, Cross CE, Forman HJ, Sokol RJ, Borowitz D. Antioxidants in cystic fibrosis. Free Radic Biol Med 42(1):15-31. 2007
Cross CE, Vasu VT, Lim Y, Gohil K. Combating oxidative stress at respiratory tract biosurfaces: challenges yet to be resolved, a commentary on "Vitamin supplementation does not protect against symptoms in ozone-responsive subjects". Free Radic Biol Med 40(10):1693-7. 2006
Van Der Vliet A, Nguyen MN, Shigenaga MK, Eiserich JP, Marelich GP, Cross CE. Myeloperoxidase and protein oxidation in cystic fibrosis. Am J Physiol Lung Cell Mol Physiol 279(3):L537-46. 2000
Eiserich JP, Hristova M, Cross CE, Jones AD, Freeman BA, Halliwell B, van der Vliet A. Formation of nitric oxide-derived inflammatory oxidants by myeloperoxidase in neutrophils. Nature 391(6665):393-7. 1998
National Institutes of Health