Welcome to the Department of Pharmacology
Welcome to the Department of Pharmacology in the UC Davis School of Medicine. The Department comprises a dynamic group of faculty, researchers and students from diverse backgrounds undertaking investigations to reveal biological mechanisms that will ultimately lead to discovery of novel understanding of physiological and pathological mechanisms, identification of potential therapeutic targets and development of new strategies for a variety of human diseases.
The Department is led by Chair Donald Bers, Ph.D. and the Executive Advisory Group that includes Johannes W. Hell, Ph.D. (Vice-Chair for Academic Development), Crystal M. Ripplinger, Ph.D., (Vice-Chair for Research and Administration) and Heike Wulff, Ph.D. (Vice-Chair for Education). The Pharmacology Department is part of the basic biomedical sciences in the School of Medicine. The Department and its Faculty have strong connections with multiple UC Davis Graduate Groups, other Departments (in multiple colleges) and Research Centers constituting a powerful interactive high-quality research team. The faculty are also committed to excellence in teaching and service (both at UC Davis and beyond). UC Davis Pharmacology is one of the nation's top ranked pharmacology departments in federal research funding and hosts a diverse group of postdoctoral trainees and graduate students from different Graduate Groups.
Two of the strongest research areas within the Department are Cardiovascular and Neuroscience at multiple levels, and in a highly collaborative environment of considerable international reputation. Along with other research areas, our work is unified by a common goal - to understand mechanistically the critical building blocks of biological systems from molecules to cells and organ systems, in health and disease, and to identify components that can be modified through pharmacology or other therapeutic strategies to cure disease. Please visit our Research Overview page and Faculty Research pages for details of ongoing work in the individual Departmental laboratories.
Spotlight on Our Pharmacology Team
Department Team found a remarkable link between secondhand tobacco smoke and cardiac arrhythmia

We are proud to announce an exciting new research from the Ripplinger and Chen Labs in our Department highlighting the consequences of indoor secondhand smoke on cardiac function and in particular the increase incidence of cardiac alternants that may lead to cardiac arrhythmias and sudden cardiac death. Read more about this exciting research at the UC Davis Newsroom.
---
19 From UC Davis on Global List of Most-Cited Researchers
Congratulations to Dr. Heike Wulff, Professor for being one among the nineteen researchers from the University of California, Davis, who have been named in the annual Highly Cited Researchers 2018 list released by Clarivate Analytics. The list identifies exceptional scientists and social scientists who have demonstrated significant influence by publishing multiple papers that rank in the top 1 percent by citations in a particular field and year, over a 10-year period.
Read more about this news article »
---
Digitizing interactions between the brain and the heart

UC Davis Health researchers including Dr. Eleonora Grandi, Associate Professor, have been awarded $5.2 million over four years from the National Institutes of Health to develop the first computerized model of the relationship between the nervous system and cardiovascular disease.
The tool is expected to lead to new understanding of conditions such as hypertension, arrhythmia, heart failure and stroke, along with how those conditions change in response to treatment.
Read more about this news article »
---
Dr. Grandi Awarded Precision Medicine Fellowship

We are excited to announce Dr. Eleonora Grandi's receipt of the Precision Medicine Fellowship! This award will allow Dr. Grandi the opportunity to further her research using mathematical models and statistical approaches to understand the mechanisms of safety and toxicity antiarrhythmic therapies in male and female patients.
---
Manuscript from Dr. Hariharan's lab published in Stem Cells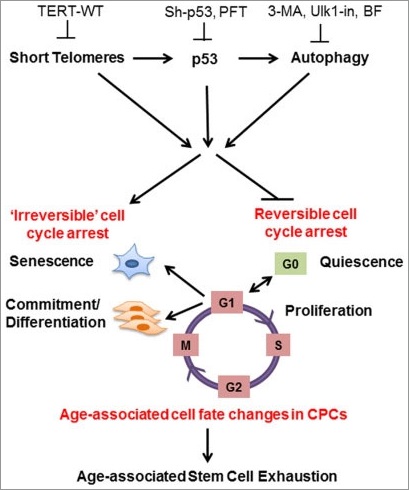 We are excited to announce that the manuscript "Short Telomeres Induce p53 and Autophagy and Modulate Age-Associated Changes in Cardiac Progenitor Cell Fate" from Dr. Nirmala Hariharan's lab, has been accepted for publication in Stem Cells. Collin Matsumoto, Molecular, Cellular and Integrative Physiology graduate student, is first author of the study. This study demonstrates that aged cardiac stem/progenitor cells have a different fate than young cells and establishes a signaling mechanism that causes exhaustion of these aged cardiac stem cells. Congratulations to all that contributed to this important study!
---