Welcome to the Department of Pharmacology
Welcome to the Department of Pharmacology in the UC Davis School of Medicine. The Department comprises a dynamic group of faculty, researchers and students from diverse backgrounds undertaking investigations to reveal biological mechanisms that will ultimately lead to discovery of novel understanding of physiological and pathological mechanisms, identification of potential therapeutic targets and development of new strategies for a variety of human diseases.
The Department is led by Chair Donald Bers, Ph.D. and the Executive Advisory Group that includes Johannes W. Hell, Ph.D. (Vice-Chair for Academic Development), Crystal M. Ripplinger, Ph.D., (Vice-Chair for Research and Administration) and Heike Wulff, Ph.D. (Vice-Chair for Education). The Pharmacology Department is part of the basic biomedical sciences in the School of Medicine. The Department and its Faculty have strong connections with multiple UC Davis Graduate Groups, other Departments (in multiple colleges) and Research Centers constituting a powerful interactive high-quality research team. The faculty are also committed to excellence in teaching and service (both at UC Davis and beyond). UC Davis Pharmacology is one of the nation's top ranked pharmacology departments in federal research funding and hosts a diverse group of postdoctoral trainees and graduate students from different Graduate Groups.
Two of the strongest research areas within the department are Cardiovascular and Neuroscience at multiple levels, and in a highly collaborative environment of considerable international reputation. Along with other research areas, our work is unified by a common goal - to understand mechanistically the critical building blocks of biological systems from molecules to cells and organ systems, in health and disease, and to identify components that can be modified through pharmacology or other therapeutic strategies to cure disease. Please visit our Research Overview page and Faculty Research pages for details of ongoing work in the individual departmental laboratories.
Spotlight on Our Pharmacology Team
New mouse study utilizing a new type of imaging technique shows cardiac reactions to 'fight or flight' hormone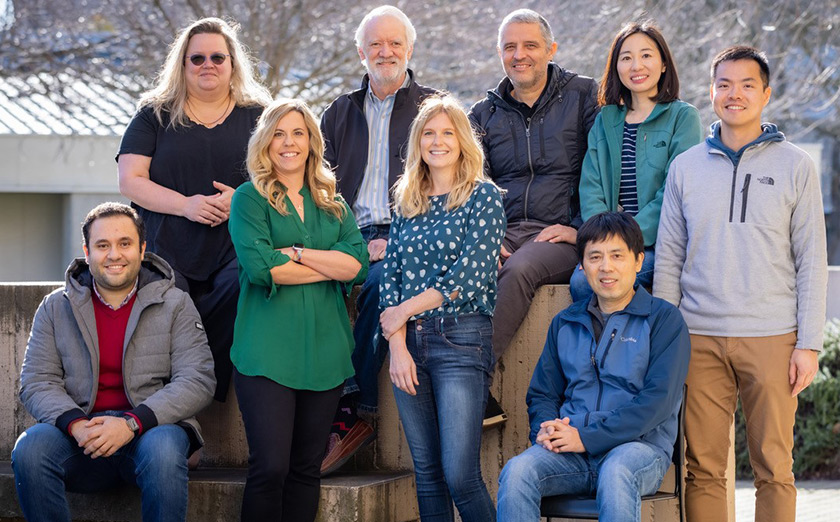 We are proud to announce the recently published journal article by Pharmacology's Drs. Crystal Ripplinger, Don Bers, Kevin Xiang, Manuel Navedo, Julie Bossuyt, Lianguo Wang, Jessica Caldwell, Rita Xu, and students Eric Lee, Lena Ngo and Sherif Bahriz. This incredibly significant paper details a new fluorescence imaging system developed by the team which allows for viewing cardiac reactions to 'fight or flight' hormone within male and female mice. This new imaging system could help to pin-point factors contributing to irregular heartbeat (arrhythmias), and ultimately lead to new therapies for treating heart diseases.
Visit the UC Davis Health news page to read more about this outstanding accomplishment by the group.
---
I-DARE Kick-off Event and Award Certificate Presentation for 2021-22
Click on the images to enlarge.
I-DARE challenge awardees: Jessica Caldwell, Chao-Yin Chen, Elva Diaz, Bence Hegyi, Mary Horne, Igor Vorobyov, Heike Wulff
Honorable mention (participated in more than half of the activities): Hai Nguyen, Madeline Nieves-Cintron, Daisuke Sato
Special thanks to the I-DARE taskforce members that led the I-DARE activities: Chao-Yin Chen, Elva Diaz, Ele Grandi, Mary Horne, Stefano Morotti, Madeline Nieves-Cintron, Dave Speca, Igor Vorobyov
---
Prestigious NIH grant helps UC Davis train researchers in drug discovery and development
The Department of Pharmacology has received a renewal of the prestigious NIH T32 training program grant. The funding will help educate the next generation of biomedical researchers in the concepts of drug discovery and development, inclusive of a clinical perspective.
Spearheaded by Johannes W. Hell and Donald M. Bers of the Department of Pharmacology at UC Davis Health, the program includes diverse faculty members from 14 departments in six UC Davis colleges, where extensive collaboration already exists.
Read more about the news article »
---