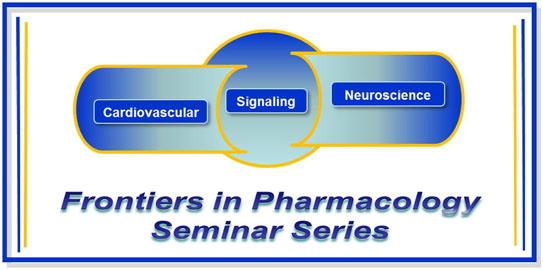 Each year the Department of Pharmacology invites distinguished researchers to present their work on topics broadly related to pharmacology. Topics range from those closely aligned with the research interests of the department to areas of interest to researchers across the UC Davis campus and the UC Davis School of Medicine.
2020 - 2021
September 15, 2020
11:00 a.m. (PST) Via Zoom
Speaker: Dr. Osama Harraz, Research Assistant Professor, Department of Pharmacology, Larner College of Medicine, University of Vermont
Title: "PIP2: The maestro of the cerebral blood flow symphony" (PDF)
Host: Madeline Nieves-Cintron, Ph.D.
---
October 20, 2020
11 a.m. (PST) Via Zoom
Speaker: Dr. Federica Accornero, Assistant Professor, Physiology and Cell Biology, The Ohio State University
Title: "Insights into post-transcriptional control of gene expression in the heart" (PDF)
Host: Crystal Ripplinger, Ph.D.
---
November 17, 2020
11 a.m. (PST) Via Zoom
Speaker: Dr. Laurent Groc, Directeur Recherche CNRS, Group Leader, Directeur Adjoint, Institut Interdisciplinaire Neuroscience (IINS), Centre Broca Nouvelle-Aquitaine, CNRS – Université de Bordeaux
Title: "INMDA receptor signaling: old actor, new vista" (PDF)
Host: Johannes W. Hell, Ph.D.