Welcome to the Department of Biochemistry and Molecular Medicine
Our Mission is to conduct world-class research in biochemistry and molecular medicine. To excel in undergraduate, graduate and medical education, and to serve the university through leadership in forums committed to graduate and professional school admissions and curriculum.
The research interests of the departmental faculty are focused in the fundamental molecular aspects of cell biology, gene expression, cancer biology, membrane biology, glycobiology, neurobiology, muscle physiology, human genetics, chemical and structural biology, molecular imaging and drug development. In addition to innovative research activities, faculty are involved in the teaching and training of medical and doctoral students.
At the Davis Campus, the department maintains laboratories at Tupper Hall, the Genome Building and in the Department of Chemistry. At the Sacramento Campus, the department maintains laboratories at the Oak Park Research Building, Research I and III Buildings, and the MIND Institute.
The department's primary research funding comes from the National Institutes of Health, National Science Foundation, Department of Defense, and a wide variety of Private agencies.
The department's teaching focus includes Lower Division courses, Graduate courses, and Professional courses for medical students.
Each of us has an obligation to the community and the UC Davis Department of Biochemistry and Molecular Medicine strives to build and maintain a culture and climate based on mutual respect and caring. We recognize and cherish the richness contributed to our lives by our diversity. We further recognize the right of every individual to think, speak, express and debate any idea. We support and uphold the UC Davis Principles of Community.
Department News
2022 CAMPOS Faculty Scholar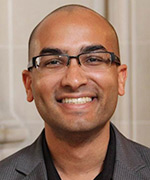 Dr. Alan Lombard, the newest member of our department, has been approved as a UC Davis CAMPOS Faculty Scholar. Congratulations!
CAMPOS Faculty Scholars are nominated and selected for their exceptional records of research and teaching excellence and their commitment and an accomplished track record (calibrated to their career stage) of teaching, research or service activities addressing the needs of underrepresented students or communities in STEMM (Science, Technology, Engineering, Mathematics, and Medicine). As part of the eighth cohort (2022-2023) of CAMPOS Faculty Scholars, Alan will join forty other faculty members, across thirty-one disciplines on the main campus and medical center in Sacramento.
UC Davis is committed to develop a strong and diverse community of STEM scholars. The mission of the Center for the Advancement of Multicultural Perspectives on Science (CAMPOS) is to support the discovery of knowledge through an inclusive environment that is diversity-driven, mentorship-grounded and focuses on the career success of its faculty scholars. CAMPOS is a key element of our campus effort to transform the STEM disciplines to become more inclusive, diverse, and engaged with under-served communities.
---
David Olson mentioned in New York Times article
A story on the cover of the NY Times Sunday Review highlighted the work of Dr. David E. Olson, a faculty member in our department. Dr. Olson's group is engineering non-hallucinogenic analogs of psychedelics for treating neuropsychiatric and neurodegenerative diseases.
Read the entire news article from here » (PDF)
---
For more news, see Department News »