Welcome to the Department of Biochemistry and Molecular Medicine
Our Mission is to conduct world-class research in biochemistry and molecular medicine. To excel in undergraduate, graduate and medical education, and to serve the university through leadership in forums committed to graduate and professional school admissions and curriculum.
The research interests of the departmental faculty are focused in the fundamental molecular aspects of cell biology, gene expression, cancer biology, membrane biology, glycobiology, neurobiology, muscle physiology, human genetics, chemical and structural biology, molecular imaging and drug development. In addition to innovative research activities, faculty are involved in the teaching and training of medical and doctoral students.
At the Davis Campus, the department maintains laboratories at Tupper Hall, the Genome Building and in the Department of Chemistry. At the Sacramento Campus, the department maintains laboratories at the Oak Park Research Building, Research I and III Buildings, and the MIND Institute.
The department's primary research funding comes from the National Institutes of Health, National Science Foundation, Department of Defense, and a wide variety of Private agencies.
The department's teaching focus includes, Lower Division courses, Graduate courses, and Professional courses for medical students.
Department News
UC Davis Researchers Are Highly Cited
Departmental faculty member, Carlito Lebrilla, Ph.D., is one among the sixteen UC Davis researchers that have been named in the annual Highly Cited Researchers 2019 list released by the Web of Science Group, which compiles statistics on scientific publishing. The list identifies scientists and social scientists who have published multiple papers ranking in the top 1 percent by citations in a particular field and year, over a 10-year period.
Young investigator awarded $1 million for prostate cancer research
Tsung-Chieh (James) Shih has been awarded a $1 million Idea Development Award from the U.S. Department of Defense to study whether a novel combination drug therapy can be effective against advanced prostate cancer.
Shih's collaborators are Kit Lam and Ruiwu Liu in the Department of Biochemistry and Molecular Medicine, Allen Gao in the Department of Urology and Emanual Maverakis in the Department of Dermatology.
UC Davis awarded new CRISPR grant to test novel approach to cancer treatment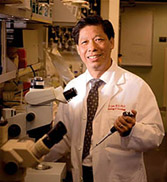 UC Davis researchers have been awarded $1.5 million from the National Institutes of Health (NIH) for the first part of a project to develop a novel approach to deliver genome editing machinery to genes responsible for a rare form of familial cancer.
Kit S. Lam, distinguished professor and chair of the Department of Biochemistry and Molecular Medicine in the School of Medicine, and R. Holland Cheng, professor of Molecular and Cellular Biology in the College of Biological Sciences, aim to demonstrate that CRISPR, a technology that allows alteration of DNA sequences to modify gene function, can be successfully packaged and delivered to target cells in a living animal.
For more news, see Department News »