Megan Dennis, Ph.D.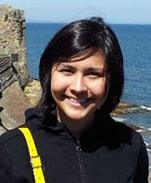 Assistant Professor
GBSF 4515
Davis Campus
Ph: 530-752-1357
e-mail
Human genetics and genomics
We are interested in identifying the underlying causal genes and mutations that make us uniquely human using genetics and genomics techniques. Using a "genome first" approach, one area of interest is identifying genes and complex genomic variants unique to the human lineage, such as duplicated genes, that may contribute to phenotypic differences.
Alternately, we can also identify important genes contributing to human traits by identifying mutations that lead to malfunctions of these traits such as reading (dyslexia), higher intellect (intellectual disability), social behavior (autism), language (specific language development), etc. Finally, we can use molecular evolution and population genetics to identify and functionally characterize genes exhibiting extraordinary signatures of selection.
Zebrafish to test human neural genes
We use zebrafish to understand the function of human genes contributing to disease and phenotypic traits. With the advent of CRISPR gene editing tools, we can now systematically mutate and assess the phenotypic consequences of these mutations for any gene of interest.
Sequencing complex genomic variation
We are developing methods to capture complex genomic variation using long-read sequencing technologies otherwise recalcitrant to analysis.
A complete list of publications can be found here.
GGG 201B Genomics (Winter)
MCB 220L BMCDB Rotations (Fall)
MCB 211 Macromolecular Structure and Interactions (Fall)