Aldrin Gomes, Ph.D.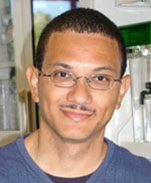 Professor
187 Briggs Hall
Davis Campus
530-752-3207
e-mail
We are interested in the molecular mechanisms of signal transduction, particularly in the role of proteostasis (protein homeostasis) in cardiovascular diseases. Impaired protein degradation is associated with many cardiac and skeletal muscle diseases. Our laboratory is interested in investigating the signaling pathways involved in proteostasis (protein homeostasis) in cardiac and skeletal muscle diseases. Our laboratory is also interested in the side effects of commonly used drugs, such as ibuprofen, on the heart.
For details about my research go to: https://npb.ucdavis.edu/aldrin-gomes
See: An updated list of current publications on PubMed, Google Scholar »
Gomes AV (2018) Spatiotemporal Multi-Omics–Derived Atlas of Calcific Aortic Valve Disease. Circulation. 2018;138:394–396
Yuan CC, Kazmierczak K, Liang J, Zhou Z, Yadav S, Gomes AV, Irving TC, Szczesna-Cordary D. (2018) Sarcomeric perturbations of myosin motors lead to dilated cardiomyopathy in genetically modified MYL2 mice. Proc Natl Acad Sci U S A. 15(10):E2338-E2347.
Gilda JE, Gomes AV. (2017) Proteasome dysfunction in cardiomyopathies. The Journal of physiology 595(12):4051-4071.
Yuan CC, Kazmierczak K, Liang J, Kanashiro-Takeuchi R, Irving TC, Gomes AV, Wang Y, Burghardt TP, Szczesna-Cordary D. (2017) Hypercontractile mutant of ventricular myosin essential light chain leads to disruption of sarcomeric structure and function and results in restrictive cardiomyopathy in mice. Cardiovascular research 113(10):1124-1136.
Wagner K, Gilda J, Yang J, Wan D, Morisseau C, Gomes AV, Hammock BD. (2017) Soluble epoxide hydrolase inhibition alleviates neuropathy in Akita (Ins2 Akita) mice. Behavioural brain research 326:69-76.
Inceoglu B, Bettaieb A, Haj FG, Gomes AV, Hammock BD. (2017) Modulation of mitochondrial dysfunction and endoplasmic reticulum stress are key mechanisms for the wide-ranging actions of epoxy fatty acids and soluble epoxide hydrolase inhibitors. Prostaglandins & other lipid mediators. 133:68-78.
Gilda JE, Lai X, Witzmann FA, Gomes AV. Delineation of molecular pathways involved in cardiomyopathies caused by troponin T mutations. Molecular and Cellular Proteomics. 2016 Jun;15(6):1962-81.
Ghosh R, Hwang SM, Cui Z, Gilda JE, Gomes AV. Different effects of the nonsteroidal anti-inflammatory drugs meclofenamate sodium and naproxen sodium on proteasome activity in cardiac cells. Journal of Molecular and Cellular Cardiology. 2016 May;94:131-144.
Ghosh R, Goswami SK, Feitoza LF, Hammock B, Gomes AV. Diclofenac induces proteasome and mitochondrial dysfunction in murine cardiomyocytes and hearts. Int J Cardiol. 2016 Nov 15;15;223:923-935.
Nguyen S, Siu R, Dewey S, Cui Z, Gomes AV. Amino Acid Changes at Arginine 204 of Troponin I Result in Increased Calcium Sensitivity of Force Development. Front Physiol. 2016 Nov 15;7:520.
Carbonell T, Alva N, Sanchez-Nuño S, Dewey S, Gomes AV. Subnormothermic Perfusion in the Isolated Rat Liver Preserves the Antioxidant Glutathione and Enhances the Function of the Ubiquitin Proteasome System. Oxid Med Cell Longev. 2016;2016:9324692.
Gilda JE, Xu Q, Martinez ME, Nguyen ST, Chase PB, Gomes AV. The functional significance of the last 5 residues of the C-terminus of cardiac troponin I. Arch. Biochem. Biophys. 2016 Jul 1;601:88-96.
Landry M, Gomes AV. Antibodies: Half of samples fail protein-blot tests. Nature. 2016 Jan 7;529(7584):25
West DW, Baehr LM, Marcotte GR, Chason CM, Tolento L, Gomes AV, Bodine SC, Baar K. Acute resistance exercise activates rapamycin-sensitive and -insensitive mechanisms that control translational activity and capacity in skeletal muscle. J Physiol. 2016 Jan 15;594(2):453-68.
Klionsky DJ et al. Guidelines for the use and interpretation of assays for monitoring autophagy (3rd edition). Autophagy. 2016;12(1):1-222.
Lindsey ML, Mayr M, Gomes AV, Delles C, Arrell DK, Murphy AM, Lange RA, Costello CE, Jin YF, Laskowitz DT, Sam F, Terzic A, Van Eyk J, Srinivas PR; Transformative Impact of Proteomics on Cardiovascular Health and Disease: A Scientific Statement From the American Heart Association. AHA Council on Functional Genomics and Translational Biology, Council on Cardiovascular Disease in the Young, Council on Clinical Cardiology, Council on Cardiovascular and Stroke Nursing, Council on Hypertension, and Stroke Council. Circulation. 2015 Sep 1;132(9):852-72.
Gomes AV, Kazmierczak K, Cheah JX, Gilda JE, Yuan CC, Zhou Z, Szczesna-Cordary D. Proteomic analysis of physiological versus pathological cardiac remodeling in animal models expressing mutations in myosin essential light chains. J Muscle Res Cell Motil. 2015 Dec;36(6):447-61.
Gilda JE, Ghosh R, Cheah JX, West TM, Bodine SC, Gomes AV. Western Blotting Inaccuracies with Unverified Antibodies: Need for a Western Blotting Minimal Reporting Standard (WBMRS). PLoS One. 2015 Aug 19;10(8):e0135392.
Carbonell T, Gomes AV. Dynamic regulation of the proteasome by systolic overload. Journal of Molecular and Cellular Cardiology 2015 Oct;87:1-3.
Negroni JA, Morotti S, Lascano EC, Gomes AV, Grandi E, Puglisi JL, Bers DM. β-adrenergic effects on cardiac myofilaments and contraction in an integrated rabbit ventricular myocyte model. J Mol Cell Cardiol. 2015 Apr;81:162-75.
Ghosh R, Alajbegovic A, Gomes AV. NSAIDs and Cardiovascular Diseases: Role of Reactive Oxygen Species. Oxid Med Cell Longev. 2015;2015:536962.
Gilda JE, Gomes AV. Western blotting using in-gel protein labeling as a normalization control: stain-free technology. Methods Mol Biol. 2015;1295: 381 -91.
Jamart C, Gomes AV, Dewey S, Deldicque L, Raymackers JM, Francaux M. Regulation of ubiquitin-proteasome and autophagy pathways after acute LPS and epoxomicin administration in mice. BMC Musculoskelet Disord. 2014 May 22;15:166.
Ghosh R, Gilda JE, Gomes AV. The necessity of and strategies for improving confidence in the accuracy of western blots. Expert Rev Proteomics. 2014 Oct;11(5):549-60.
Cui, Z., Scruggs, S.B., Gilda, J.E., Ping, P., Gomes, A.V. Regulation of cardiac proteasomes by ubiquitination, SUMOylation, and beyond. J Mol Cell Cardiol. 2014 Jun;71:32-42.
Narashimhan M., Hong J., Atieno N., Muthusamy V.R., Davidson C.J., Abu-Rmaileh N., Richardson R., Gomes A.V., Hoidal J.R., Rajasekaran N.S. Nrf2 Deficiency Promotes Apoptosis and Impairs Pax7/MyoD Expression in Aging Skeletal Muscle Cells. Free Radical Biology and Medicine. 2014 Jun;71:402-14.
Wecksler A.T., Hwang S.H., Wettersten H.I., Gilda J.E., Patton A., Leon L.J., Carraway K.L. 3rd, Gomes A.V, Baar K., Weiss R.H., Hammock B.D. Novel sorafenib-based structural analogues: in-vitro anticancer evaluation of t-MTUCB and t-AUCMB. Anticancer Drugs. 2014 Apr;25(4):433-46
National Institute of Health
American Heart Association
EXB110, Exercise Metabolism