James Trimmer, Ph.D.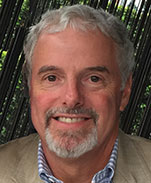 Distinguished Professor
4206 Tupper Hall
Davis Campus
530-754-6075
e-mail
For more information, visit the Trimmer Laboratory website.
As neuroscience enters the post-genomic era, a major goal is the translation of genomic sequence information into a molecular understanding of the mechanisms of neuronal information processing and transfer. My laboratory's research focuses on protein function, biochemical pathways and networks of protein-protein interactions regulating intra- and inter-cellular signaling in mammalian neurons. In particular, we are interested in dynamic regulation of voltage-sensitive ion channel abundance, localization and function through reversible protein phosphorylation. These proteins determine the intrinsic electrical properties of neurons and how these cells respond to external stimuli, integrate the encoded information and generate an appropriate response. Modern proteomic techniques have allowed for insights into protein networks, and post-translational modifications, that provide for both the generation and maintenance of complex cellular functions, but also their dynamic regulation that underlies functional plasticity. Our studies are aimed at a molecular understanding of how neuronal ion channels generate and maintain the fidelity of neuronal signaling, and how these processes can be dynamically regulated to generate neuronal plasticity. Such information is necessary for an increased understanding of not only the normal functional plasticity of neurons, but also in understanding of disease states where neuronal function is altered and effects of acute external insults such as ischemia and drugs of abuse, and represent a key step towards the development of therapeutics that can address these and other psychiatric and neurological disorders. Moreover, these studies are representative of approaches that would prove advantageous to studies on other neuronal signaling proteins. To better translate findings from genome-based studies, we have also established the UC Davis/NIH NeuroMab facility, to use information on proteins encoded in the human and other genomes to generate monoclonal antibodies for use in the research community.
See: An updated list of current publications on PubMed »
Kirmiz, M., Gillies, T. E., Dickson, E. J., and J. S. Trimmer. (2019). Neuronal ER-PM Junctions Organized by Kv2-VAP Pairing Recruit Nir Proteins and Affect Phosphoinositide Homeostasis. J. Biol. Chem. 294:17735-17757. PMID: 31594866.
Vierra, N. C., Kirmiz, M., van der List, D., Santana, L. F., and J. S. Trimmer. (2019). Kv2.1 Mediates Spatial and Functional Coupling of L-type Calcium Channels and Ryanodine Receptors in Neurons. eLife 8: e49953. PMID: 31663850.
Dong, J.-X., Lee, Y., Kirmiz, M., Palacio, S., Dumitras, C., Moreno, C. M., Sando, R., Santana, L. F., Südhof, T. C., Gong, B., Murray, K. D., and J. S. Trimmer. (2019). A Toolbox of Nanobodies Developed and Validated for Diverse Neuroscience Research Applications. eLife 8:e48750. PMID: 31566565.
Sato, D., Hernández-Hernández, G., Matsumoto, C., Tajada, S., Moreno, C. M., Dixon, R. E., O'Dwyer, S., Navedo, M. F., Trimmer, J. S., Clancy, C. E., Binder, M. D., and L. F. Santana. (2019). A Stochastic Model of Ion Channel Cluster Formation in the Plasma Membrane. J. Gen. Physiol. 151:1116-1134. PMID: 31371391.
Zheng, Y., Liu, P., Bai, L., Trimmer, J. S., Bean, B. P., and D. D. Ginty. (2019). Deep Sequencing of Somatosensory Neurons Reveals Molecular Determinants of Intrinsic Physiological Properties. Neuron 103:598-616. PMID: 31248728.
Andrews, N. P., Boeckman, J. X., Manning, C. F., Nguyen, J. T., Bechtold, H., Dumitras, C., Gong, B., Nguyen, K., van der List, D., Murray, K. D., Engebrecht, J. and J. S. Trimmer. (2019). A Toolbox of IgG Subclass-Switched Recombinant Monoclonal Antibodies for Enhanced Multiplex Immunolabeling of Brain. eLife 8:e43322. PMID: 300667360.
Rasmussen, H. B., and J. S. Trimmer (2019). The Voltage-Dependent K+ Channel Family. In The Handbook of Neuronal Ion Channels. (A. Bhattacharjee, Editor). Oxford: Academic Press, London. DOI: 10.1093/oxfordhb/9780190669164.013.1.
Kirmiz, M., Palacio, S., Thapa, P., King, A. N., Sack, J. T. and J. S. Trimmer. (2018). Remodeling Neuronal ER-PM Junctions is a Conserved Nonconducting Function of Kv2 Plasma Membrane Ion Channels. Mol. Biol. Cell 29: 2410-2432. PMID: 30091655.
Kirmiz, M., Vierra, N. C., Palacio, S., and J. S. Trimmer. (2018). Identification of VAPA and VAPB as Kv2 Channel-Interacting Proteins Defining Endoplasmic Reticulum-Plasma Membrane Junctions in Mammalian Brain Neurons. J. Neurosci. 38: 7562-7584. PMID: 30012696.
Taussig, M. J., Fonseca, C., and J. S. Trimmer. (2018). Antibody Validation: A View from the Mountains. New Biotech. 45: 1-8. PMID: 30086383.
Baba, K., Yoshida, W., Toriyama, M., Shimada, T., Manning, C. F., Kohno, K., Trimmer, J. S., Watanabe, R., and N. Inagaki. (2018). Gradient-Reading and Mechano-Effector Machinery for Netrin-1–Induced Axon Guidance. eLife 7. pii: e34593. PMID: 30082022.
Simhal, A. K., Gong, B., Trimmer, J. S., Weinberg, R. J., J. Smith, S. J., Sapiro, G., and K. D. Micheva. (2018). Automated Antibody Characterization and Screening for Array Tomography via Probabilistic Synapse Detection. Front. Neuroanat. 12:51, doi: 10.3389/fnana.2018.00051. PMID: 30065633.
Bradbury, A. R. M.,Trinklein, N. D., Thie, H., Wilkinson, I. C., Tandon, A. K., Anderson, S., Bladen, C. L., Jones, S., Force Aldred, S., Bestagno, M., Burrone, O., Maynard, J., Ferrara, F., Trimmer, J. S., Görnemann, J., Glanville, J., Wolf, P., Frenzel, A., Wong. J., Yu, X., Eng, H.-Y., Lane, D, Lefranc, M.-P., Clark, M., & Dübel, S. (2018). When Monoclonal Antibodies are not Monospecific: Hybridomas Frequently Express Additional Functional Variable Regions. MAbs. 27:1-19. PMID: 29485921.
Riquelme, D., Silva, I., Philp, A. M., Huidobro-Toro, J. P., Cerda, O., Trimmer J. S., and E. Leiva-Salcedo. (2018). Subcellular Localization and Activity of TRPM4 in Medial Prefrontal Cortex Layer 2/3. Front. Cell. Neurosci. 12:12, doi: 10.3389/fncel.2018.00012. PMID: 29440991.
Bishop, H. I., Cobb, M. M., Kirmiz, M., Parajuli, L., Mandikian, D., Philp, A. M., Melnik, M., Kuja-Panula, J., Rauvala, H., Shigemoto, R., Murray, K. D., and J. S. Trimmer. (2018). Kv2 Channels Determine the Expression and Localization of the Associated AMIGO-1 Cell Adhesion Molecule in Adult Brain Neurons. Front. Mol. Neurosci. 11:1. DOI: 10.3389/fnmol.2018.00001. PMID: 29403353.
Jensen, C. S., Watanabe, S., Stas, J. I., Klaphaak, J., Schmitt, N., Olesen, S.-P., Trimmer, J. S., Rasmussen, H. B., and H. Misonou. (2017). Trafficking of Kv2.1 Channels to the Axon Initial Segment by a Novel Non-Conventional Secretory Pathway. J. Neurosci. 37:11523-11536. PMID: 29042434.
Speca, D. J., Trimmer, J. S., Peterson, A. S., and E. Diaz. (2017). Whole Exome Sequencing Reveals a Functional Mutation in the GAIN Domain of the Bai2 Receptor Underlying a Forward Mutagenesis Hyperactivity QTL. Mammalian Genome 28:465-475. PMID: 28894906.
Palacio, S., Chevaleyre, V., Brann, D. H., Murray, K. D., Piskorowski, R. A., and J. S. Trimmer. (2017). Heterogeneity in Kv2 Channel Expression Shapes Action Potential Characteristics and Firing Patterns in CA1 Versus CA2 Hippocampal Pyramidal Neurons. eNeuro 4(4). pii: ENEURO.0267-17.2017. PMID: 28856240.
Kirk, L. M., Ti, S. W., Bishop, H. I., Orozco-Llamas, M., Pham, M., Trimmer, J. S., Díaz, E. (2016). Distribution of the SynDIG4/Proline-Rich Transmembrane Protein 1 in Rat Brain. J. Comp. Neurol. 524:2266-2280. PMID: 26660156.
Established Investigatorship, American Heart Association
National Institute of Neurological Disorders and Stroke, National Institutes of Health, Jacob Javits Neuroscience Investigator (MERIT) Award
UC Davis Graduate Student Association Award for Excellence in Service to Graduate Students
NPB 107, Cell Signaling in Health and Disease
NPB 110A Foundations: From Molecules to Individuals
National Institutes of Health