Radiation Oncology Accreditation Frequently Asked Questions
Why should I have my treatments at an accredited facility?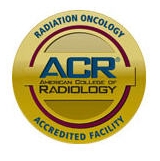 A diagnosis of cancer is usually a life-changing experience for patients and their loved ones. As they seek treatment for their disease, cancer patients need to know that they are receiving safe and appropriate care. To achieve American College of Radiology (ACR) Accreditation, our facility's personnel qualifications, equipment requirements, quality assurance and quality control procedures have gone through a rigorous review process and have met specific qualifications.
It's important for patients to know that every aspect of the ACR accreditation process is overseen by board-certified, expert radiation oncologists and medical physicists.
---
What does ACR accreditation mean?
Our facility has voluntarily gone through a vigorous review process to ensure that we meet nationally-accepted standards of care. Our personnel are well qualified, through education and certification, and to administer your radiation therapy treatments. Our equipment is appropriate for the treatment you will receive, and our facility meets or exceeds quality assurance and safety guidelines.
---
What does the accreditation seal mean?
When you see the ACR seal, you can rest assured that your treatment will be done at a facility that has met the highest level of quality and radiation safety. The facility and its personnel have gone through a comprehensive review to earn accreditation status by the ACR, a national professional organization serving more than 34,000 diagnostic/interventional radiologists, radiation oncologists, nuclear medicine physicians and medical physicists.