Medical Residency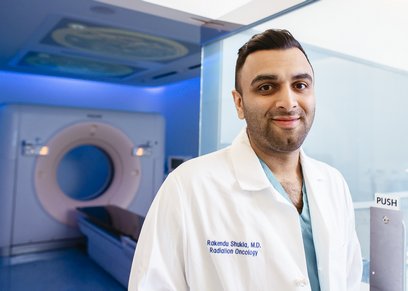 The UC Davis Department of Radiation Oncology offers a four-year residency training program in clinical radiation oncology. The residency fulfills all requirements of the American Board of Radiology and is fully accredited by the American Medical Association's Accreditation Council for Graduate Medical Education (ACGME). Residents train at the UC Davis Comprehensive Cancer Center and the UC Davis Medical Center based in Sacramento, California. As the only NCI-designated comprehensive cancer center located in the Central Valley region encompassing Sacramento, the UC Davis Comprehensive Cancer Center serves a diverse, high-volume population of various socioeconomic and ethnic backgrounds and captures patients from a large portion of Northern California, Southern Oregon, and Western Nevada.
Our department is committed to creating a work environment where each person is treated with respect, courtesy, and sensitivity. In this regard, the department places an emphasis on adhering to the UC Davis Principles of Community. The UC Davis School of Medicine offers scholarships for students underrepresented in medicine (URiM) from other medical schools interested in an elective experience at one of our residency programs.
The mission of the radiation oncology residency program is to train highly competent academic and private practice radiation oncologists in a multi-disciplinary, collegial setting. We aim to train physicians with broad, clinical expertise in all areas of radiation oncology, including external beam radiation, intracavitary and interstitial brachytherapy, SBRT, intracranial SRS, and transplant preparatory regimens such at total lymphoid and total body irradiation. Residents will undergo rigorous hands-on teaching, including high-volume brachytherapy and other special procedures, formal didactic instruction, with development of lifelong learning skills.
Residents will also gain significant exposure to radiation oncology research, including the design and execution of prospective clinical trials, patient accrual to cooperative group clinical trials, imaging, physics, and laboratory-based research, allowing interested residents to pursue careers as clinician investigators. The mission of UC Davis Health is to serve a diverse racial, ethnic, and socioeconomic community, from urban to rural communities, homeless and wealthy through superior patient care, research, and innovation.
Program Aims
Train highly educated residents with the required skill sets to succeed in the academic or private practice setting
Provide a culturally and economically diverse training environment, including rural and urban underserved.
Provide a strong academic and scholarly environment that enhances the quality of patient care
Program Overview
Residents are assigned to three-month clinical rotations during the course of training. In each rotation, residents practice under the supervision of one site-specific attending physician in an apprenticeship-like format. These service-focused rotations foster one-on-one teaching and learning. Residents are an essential component of the practice team and work closely with ancillary staff and referring physicians to optimize care. Residents also obtain essential, practical training in physics and dosimetry/treatment planning during their rotations.
Our faculty of radiation oncologists, medical physicists and radiobiologists participate in the training and supervision of residents in the classroom, laboratory and clinic. Residents attend and participate in numerous patient care-related conferences, tumor boards, presentations and workshops on a weekly basis, typically accompanied by their assigned attending physician.


Clinical Core Didactic Curriculum
The clinical core didactic curriculum has consistently been rated by former and existing residents as one of the strengths of the training program. Lectures are organized into six to eight-week didactic blocks focusing on a specific disease-site at a given time. Each of the clinical faculty members serve as moderators on a rotating basis depending on their area of expertise and are overwhelmingly committed to creating an interactive and educationally stimulating environment for trainees. Formal activities include instructional lectures, mortality and morbidity conferences, mock oral boards, case presentations and journal clubs. Additionally, the curriculum has been recently modified to include lectures on topics such as professionalism, bioethics, statistics, physician wellness and health economics.

Richard Valicenti, M.D., M.A., F.A.S.T.R.O.
Chair, Department of Radiation Oncology
Professor


Megan Daly, M.D.
Associate Director for Clinical Research, Cancer Center
Professor


Ruben Fragoso, M.D., Ph.D.
Director, Medical Residency
Professor


Arta Monjazeb, M.D., Ph.D.
Professor


Shyam Rao, M.D., Ph.D.
Medical Director
Associate Professor


Jason Zhao, M.D., M.E.M.
Director, Brachytherapy Services
Assistant Professor

Chief Resident
PGY-5
Ahsen Ahmed, M.D., Ph.D.
Texas Tech University
Health Sciences Center


Chief Resident
PGY-5
Patrick Beagen, M.D.
University of New Mexico
School of Medicine


Chief Resident
PGY-5
Shera Feinstein, M.D.
University of Southern California
Keck School of Medicine


PGY-4
Muhtada Kamal Aldin, M.D.
UC Davis School of Medicine


PGY-3
S. Joanna Kim, M.D.
UC Davis School of Medicine


PGY-3
Charles Wang, M.D., Ph.D.
Drexel University College of Medicine


PGY-2
Jinger Yu Sun, M.D., Ph.D.
Southern Medical University, China
| | |
| --- | --- |
| Graduation Year | Employer |
| 2023 | St. Mary's Regional Medical Center, Reno, NV |
| 2022 | Comprehensive Blood and Cancer Center, Bakersfield, CA |
| 2022 | BASS Cancer Center, Walnut Creek, CA |
| 2021 | NorthMain Radiation Oncology, Providence, RI |
| 2020 | Adventist Health and Rideout Cancer Center, Marysville, CA |
| 2020 | WellStar Health System, Atlanta, GA |
| 2019 | University of Washington, Seattle, WA |
| 2018 | Peachtree Radiation Oncology, Atlanta, GA |
| 2018 | UC Davis Health, Dept. of Radiation Oncology, Sacramento, CA |
| 2017 | Centrecare Clinic Health Plaza, St. Cloud, MN |
| 2016 | Kessler Medical Center, Kessler AFB, Biloxi, MS |
| 2016 | Emory Winship Cancer Institute, Dept. of Radiation Oncology, Atlanta, GA |
| 2016 | Department of Radiation Oncology, Queen's Medical Center Honolulu, Hawaii |
| 2016 | Coastal Radiation Oncology, Templeton, CA |
| 2014 | University of California, San Diego |
| 2014 | Salinas Valley Memorial Healthcare System, Salinas, CA |
| 2013 | South Baldwin Reginal Medical Center, Foley, AL |
| 2012 | Carle Foundation Hospital, Urbana, IL |
| 2012 | University of Arizona Health Sciences, Tucson, AZ |
| 2010 | Weill Cornell Medicine, Flushing, NY |
| 2009 | Mount Sinai Health, New York, NY |
Publications / Oral and Poster Presentations / Book Chapters
Resident Scholarly Activities
Wang CX, Hunt J, Feinstein S, Kim SK, Monjazeb AM. Advances in Radiotherapy Immune Modulation: From Bench-to-Bedside and Back Again. Surg Oncol Clin N Am. 2023 Jul;32(3):617-629. DOI: 10.1016/j.soc.2023.02.009. PMID: 37182996.
Daly ME, Beagen P, Madani MH. Nonsurgical Therapy for Early-Stage Lung Cancer. Hematol Oncol Clin North Am. 2023 Jun;37(3):499-512. DOI: 10.1016/j.hoc.2023.02.002. PMID: 37024386.
Manna PR, Ahmed AU, Molehin D, Narasimhan M, Pruitt K, Reddy PH. Hormonal and Genetic Regulatory Events in Breast Cancer and Its Therapeutics: Importance of the Steroidogenic Acute Regulatory Protein. Biomedicines. 2022 Jun 3;10(6):1313. DOI: 10.3390/biomedicines10061313. PMID: 35740335; PMCID: PMC9220045.
Moran A, Wang Y, Dyer BA, Yip SSF, Daly ME, Yamamoto T. Prognostic Value of Computed Tomography and/or 18F-Fluorodeoxyglucose Positron Emission Tomography Radiomics Features in Locally Advanced Non-small Cell Lung Cancer. Clin Lung Cancer. 2021 Sep;22(5):461-468. DOI: 10.1016/j.cllc.2021.03.015. PMID: 33931316; PMCID: PMC8463410 .
Li Y, Rao S, Chen W, Azghadi SF, Nguyen KNB, Moran A, Usera BM, Dyer BA, Shang L, Chen Q, Rong Y. Evaluating Automatic Segmentation for Swallowing-Related Organs for Head and Neck Cancer. Technol Cancer Res Treat. 2022 Jan-Dec;21:15330338221105724. DOI: 10.1177/15330338221105724. PMID: 35790457; PMCID: PMC9340321.
Aldin MK, Qi L, Zhou X, Kahn LA, Daly ME. Detection of second primary lung cancers on surveillance imaging following stereotactic ablative radiotherapy for non-small cell lung cancer. Clin Lung Cancer. 2022 May;23(3):e222-e230. DOI: 10.1016/j.cllc.2021.11.004. PMID: 34922827; PMCID: PMC10109240.
Azghadi S, Daly ME. Radiation and immunotherapy combinations in non-small cell lung cancer. Cancer Treat Res Commun. 2021;26:100298. DOI: 10.1016/j.ctarc.2020.100298. PMID: 33387868.
Candas-Green D, Xie B, Huang J, Fan M, Wang A, Menaa C, Zhang Y, Zhang L, Jing D, Azghadi S, Zhou W, Liu L, Jiang N, Li T, Gao T, Sweeney C, Shen R, Lin TY, Pan CX, Ozpiskin OM, Woloschak G, Grdina DJ, Vaughan AT, Wang JM, Xia S, Monjazeb AM, Murphy WJ, Sun LQ, Chen HW, Lam KS, Weichselbaum RR, Li JJ. Dual blockade of CD47 and HER2 eliminates radioresistant breast cancer cells. Nat Commun. 2020 Sep 14;11(1):4591. DOI: 10.1038/s41467-020-18245-7. PMID: 32929084 PMCID: PMC7490264.
Usera BM, Creveling P, Tward JD. Impact and Outcomes of Pretreatment Total Serum Testosterone on Localized Prostate Cancer Patients. Prostate Cancer. 2020 Jan 20;2020:8357452. DOI: 10.1155/2020/8357452. PMID: 32395350; PMCID: PMC7201500.
Morán A, Daly ME. Surveillance imaging for non-small cell lung cancer: mounting evidence that less is more. Transl Lung Cancer Res. 2019 Dec;8(Suppl 4):S343-S346. DOI: 10.21037/tlcr.2019.05.07. PMID: 32038911; PMCID: PMC6987346.
Dyer BA*, Yuan Z*, Qiu J, Benedict SH, Valicenti RK, Mayadev JS, Rong Y. Factors associated with deformation accuracy and modes of failure for MRI-optimized cervical brachytherapy using deformable image registration. Brachytherapy. 2019 May-Jun;18(3):378-386. *Equally contributing authors. DOI: 10.1016/j.brachy.2019.01.001. PMID: 30745016.
Shukla RP, Nguyen KN, Dyer BA. ASTRO/ARRO Image Challenge – Intraorbital Mass. American Society for Radiation Oncology, 18 Apr 2019.
Shukla RP. Radiation Biology Seminar with the Department of Gynecologic Oncology. Sacramento, CA March 2019
Stern R, Bernardez B, Harrell A, Wright C, Haney A, Dyer B, Shukla R, Rao S. Quality Improvement Project: Reducing Patient Wait Times using the DMAIC Methodologies. 9th UC Davis Health Quality Forum. Sacramento, CA March 2019
Nguyen KNB, Hause DJ, Novak J, Monjazeb AM, Daly ME. Tumor Control and Toxicity after SBRT for Ultracentral, Central, and Paramediastinal Lung Tumors. Pract Radiat Oncol. 2019 Mar;9(2):e196-e202. DOI: 10.1016/j.prro.2018.11.005. PMID: 30496842; PMCID: PMC6402805.
Morán A, Azghadi S, Maverakis EM, Christensen S, Dyer BA. Combined Immune Checkpoint Blockade and Stereotactic Ablative Radiotherapy Can Stimulate Response to Immunotherapy in Metastatic Melanoma: A Case Report. Cureus. 2019 Feb 8;11(2):e4038. DOI: 10.7759/cureus.4038. PMID: 31011500; PMCID: PMC6456359.
Nguyen KN, Shukla RP, Dyer BA, Rao SS. ASTRO/ARRO Esthesioneuroblastoma Case Discussion. American Society for Radiation Oncology, 8 Feb 2019.
Azghadi SF*, Morán A*, Maverakis E, Christensen SD, Monjazeb AM, Dyer BA. Combined PD-L1 Immune Checkpoint Blockade and Stereotactic Ablative Radiotherapy Induces Durable, Repeatable Systemic Abscopal Response. Cureus. 2019 Feb; 11(2): e4038. *Equally contributing authors.
Shukla RP. Clinical Outcomes of Re-Irradiation with Stereotactic Body Radiation Therapy and Brachytherapy. UC Davis Re-Irradiation Conference. Sacramento, CA January 25, 2019.
Dyer BA, Zamarin D, Eskandar R, Mayadev JS. The Role of Immunotherapy in Management of Locally Advanced and Recurrent/Metastatic Cervical Cancer. J Natl Compr Canc Netw. 2019 Jan;17(1):91-97. DOI: 10.6004/jnccn.2018.7108
He Y* and Liu Y*, Dyer BA, Boone JM, Liu S, Chen T, Zheng F, Zhu Y, Sun Y, Rong Y, Qiu J. 3D printed breast phantom for multi-purpose and multi-modality imaging. Quant Imaging Med Surg. 2019 Jan;9(1):63-74. *Equally contributing authors. DOI: 10.21037/qims.2019.01.05. PMID: 30788247; PMCID: PMC6351809.
He Y, Qin Y, Dyer BA, Zhang H, Zhao L, Chen T, Zheng F, Sun Y, Shi L, Rong Y, Qiu J. Polyvinyl chloride as a tissue-equivalent substitute in physical and mechanical properties for X-ray and magnetic resonance imaging. JACMP 2019. DOI: 10.1002/acm2.12661. PMID: 31207035; PMCID: PMC6612694.
Application Process
To apply, you should first contact your medical school Dean's office to access the Electronic Residency Application Service (ERAS) web-based application. The deadline for receipt of all application materials is November 30, 2023.
Match 2023: One PGY-2 position to begin July 1, 2025.
Required application materials include:
Common Application Form
Personal Statement
Medical School Transcripts
USMLE Scores
ECFGM Report (foreign medical graduates only)
Three Letters of Recommendation
Dean's Letter
Our program participates in the National Resident Match Program (NRMP).
Virtual Interview Days
The radiation oncology residency program will use the Thalamus interview scheduling platform to host three virtual interview days. The dates are: December 1 and 13, 2023 and January 8 and 19, 2024. A virtual meet and greet with our residents will be offered to available candidates the day prior to the interview.
Interview Day Information
Selected candidates can expect to receive the Thalamus email notification with invitation letter and access to the interview schedule. The interview schedule hours will be set to the Pacific Standard Time Zone (PST) and will be about 4-hours.
Thalamus will assign candidates to eight 15-minute interview sessions with a 5-minute break between interviews. Candidates will have the opportunity to interview with our six attendings, vice-chair of physics, and a PGY4 resident. The schedule will include opening/closing remarks with the program director along with a resident led program presentation with time for Q&A. Start time is subject to change based total candidates scheduled on each day.
Sample morning schedule. Similar format for the afternoon schedule.
| | |
| --- | --- |
| 7:45 - 8 a.m. | Welcome and Opening Remarks |
| 8 - 9:30 a.m. | Four Interviews |
| 9:30 - 10:15 a.m. | Program Presentation |
| 10:15 - 11:45 a.m. | Four Interviews |
| 11:45 - 12 p.m. | Closing Remarks |
---
Important Information for Applicants
The links below will provide helpful information for candidates to consider when applying for our residency program.
California Medical License Information
New licensing requirements effective January 1, 2022 – updates provided on the UC Davis Graduate Medical Education website
Salary and Benefit Information
The UC Davis Health resident program human resources website provides current salary and benefits information
Life in Sacramento and Beyond
Sacramento is a culturally diverse city that offers many events and activities to foster a healthy work life balance
---
If you have questions about the application procedure, please email Tina Roberts, residency coordinator, at tcroberts@ucdavis.edu.
Thank you for your interest in the UC Davis Radiation Oncology Residency program.
The University of California, Davis is an equal opportunity/affirmative action employer with a strong institutional commitment to the achievement of diversity among its faculty, staff and students.