Appointments and Referrals
Our team at the Department of Radiation Oncology treats patients in the Radiation Oncology Clinic on the ground floor of the UC Davis Comprehensive Cancer Center in Sacramento.
New Patient Appointments and Physician Referrals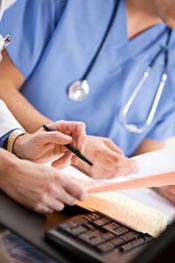 To schedule or refer a new patient, please call 916-734-1971 or 800-770-9275, Monday through Friday, 8 a.m. to 5 p.m.
You will not receive a radiation treatment at this visit. Schedule your appointment for a time when you can be in the clinic for two or more hours.
Returning Patients
If you are a returning patient and need to schedule an appointment, please call the clinic appointment desk at 916-734-5810.
Your First Appointment
For more information on how to prepare for your first visit with Radiation Oncology, visit our What to Expect from Your First Appointment page. There you will find everything you will need to get organized for your first appointment, including what to bring and where to check in.