Parking and transportation
The cancer center is committed to providing excellent parking services during your visit. There is a patient drop-off area in front of both buildings and a patient parking lot with a payment kiosk and a several accessible parking spaces close to the building. Please refer to the map below for several drop-off and parking options for our patients and visitors.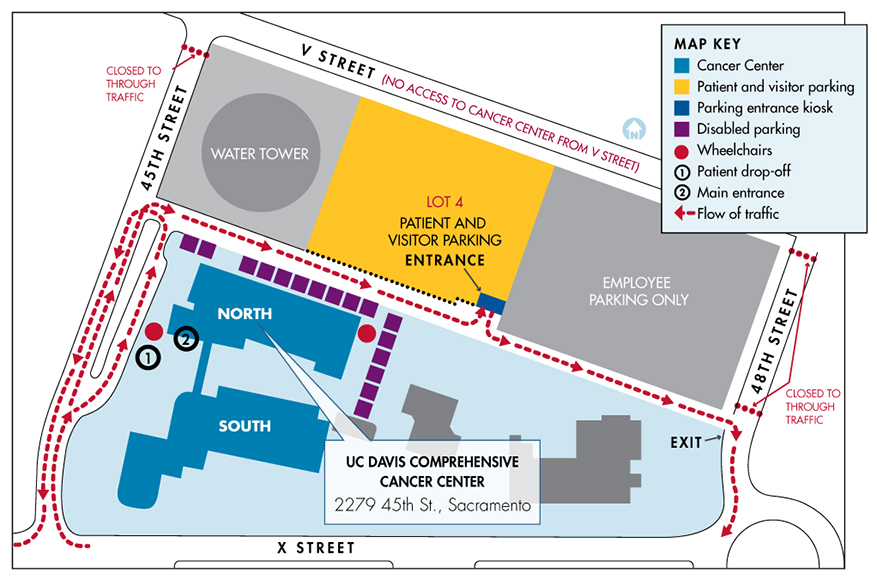 ---
Patient drop-off
Patients may be dropped off at the main entrance on 45th Street.
---
Self parking – patients and visitors
Location: Patient and visitor self-parking is available in Lot 4, behind the Cancer Center and adjacent to the water tower. Vehicles should enter the parking area through the ticket kiosk.
---
Additional patient and visitor parking is available on the grounds of the UC Davis Medical Center.
Parking spaces for vehicles with disabled-person parking placards or plates are available on the north and east sides of the Cancer Center.
Wheelchairs are available in front of the patient drop-off area on 45th St. and on the north-east side of the Cancer Center. Patients who need help getting in or out of their car should bring a family member or caregiver for assistance.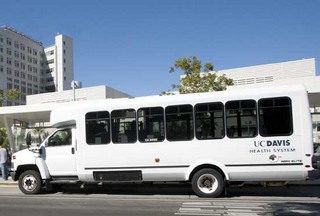 The UC Davis Medical Center shuttle is a free service for patients, visitors, faculty, staff, students and other people affiliated with the University of California. This service runs Monday through Friday from 7:00 a.m. to 11:45 p.m. excluding university holidays. Routes and schedules can be found by visiting the Parking and Transportation Services shuttle service page. Ride requests can also be made by calling Transportation Services directly at 916-734-2687. Shuttles are equipped with bike racks, and all of the shuttles are wheelchair-accessible.
Transportation Options for Cancer Treatment
If you or a loved one has been diagnosed with cancer and need assistance with transportation to and from appointments, these services may help.
Mobilize support from family and friends
The best option for getting to cancer treatment is to ride with a trusted friend or family member.
Public Transportation / ADA Paratransit
Within the service area of the Sacramento Regional Transit District, Paratransit offers door-to-door shared-ride service for people who are unable to use fixed-route public transit due to disability. To request an application, call Sacramento Regional Transit District at 916-557-4685
Medi-Cal Transportation Benefit
Medi-Cal has a transportation benefit that can help when other options are not available. If you have a Medi-Cal Health Plan, call your plan's customer service line to request transportation help.
Medi-Cal Managed Care Transportation:
For "Straight Medi-Cal" in the Sacramento and surrounding area, call at least seven (7) days in advance of your appointment. These programs will work with Medi-Cal to cover your rides:
Other Options
Non-emergency medical transport can be hired, check online: Google, Yelp and Yellow pages
Financial aid for travel assistance is available to low-income patients. Ask to speak with an oncology social worker for an assessment.