Parking Information
We are committed to providing excellent parking services during your visit to Radiation Oncology at UC Davis Comprehensive Cancer Center. We have a patient drop-off area in front of the building on 45th Street, a patient parking lot with a kiosk and a several accessible parking spaces close to the building. Please refer to the map below for several drop-off and parking options for our patients and visitors.
Once inside the South Pavilion (Pavilion A) of the cancer center, take the elevator down to the ground floor to enter the Radiation Oncology Clinic.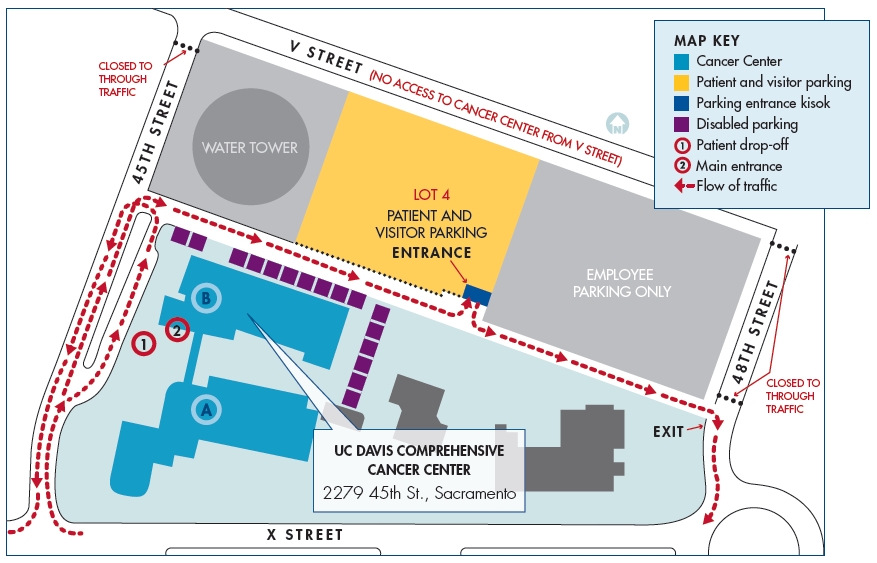 PATIENT DROP-OFF: Patients may be dropped off at the main entrance on 45th Street.
PARKING: Patient and visitor self-parking is available in Lot 4, behind the Cancer Center and adjacent to the water tower. Vehicles should enter the parking area through the ticket kiosk.
COST: Patients, $2 with clinic validation; all other visitors without validation $2 per hour, with a maximum of $18 per day.
ACCESSIBILITY: Parking spaces for vehicles with disabled person parking placards or plates are available on the north and east sides of the Cancer Center. Wheelchairs are available in front of the patient drop-off area on 45th St. and on the north-east side of the Cancer Center.