State-of-the-Art Facilities
State-of-the-Art Facilities
Dedicated to patient safety and service
"With the surgery and emergency services pavilion, patients have the convenience of one-stop check-in, beautifully appointed waiting areas, a well-lighted atrium and a nearby cafeteria — in addition to specialists and state-of-the art technical capabilities for all areas of surgery, from bariatric to burn, cardiothoracic to cancer."
UC Davis Medical Center's surgery and emergency services pavilion is equipped with the most sophisticated patient-care and information-technology resources, providing patients one of the most technologically advanced hospitals in the country. In addition to the pavilion, facilities include outpatient surgical services at the Lawrence J. Ellison Ambulatory Care Center, the adjacent Same Day Surgery Center, and several other convenient locations.
Surgery and Emergency Services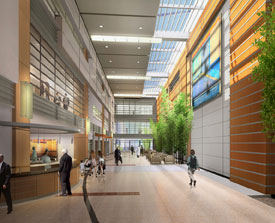 The three-story, 470,000-square-foot surgery and emergency services pavilion, includes cutting-edge technologies such as operating rooms with the ability to share voice and visual information over the Internet, helping to enhance diagnostic services and treatments. Having instant communications between distant locations integrated into the functions of the operating rooms themselves is a key element in the modern surgical suite. Among the facility's many attributes:
A surgical intensive-care unit
Pathology laboratory support
Radiology services
A 12-bed burn unit
Same Day Surgery Center
Located just blocks from the UC Davis Medical Center, and directly adjacent to the Lawrence J. Ellison Ambulatory Care Center, the Same Day Surgery Center compliments the hospital's main operating rooms by providing a convenient outpatient setting for low-risk, high-volume and noninvasive surgeries. The facility can handle at least 30 cases a day, with a majority of patients being treated by specialists from the departments of ophthalmology, orthopaedics, otolaryngology and plastic surgery.