Galahad Cruz, R.V.T.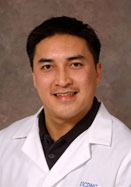 Galahad Cruz joined the UC Davis Vascular Lab in February 2006. He obtained his Registered Vascular Technologist credentials in 2002.
Galahad, an Operation: Desert Storm veteran, also received his vocational nursing license while in the military in 1989. He graduated from Grossmont College's vascular technology program in 2002 and has been working as a vascular technologist since.