Vascular Appointments and Referrals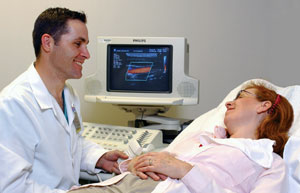 Many patients come to the UC Davis Vascular Center with a referral from their physician. In fact, your insurance company may require a referral. For a Vascular Center appointment call 800-2-UC DAVIS.
New patients who have already had tests or imaging studies performed at another facility should bring copies of their records when they come to their first clinic appointment. It is especially important to bring the actual films (or an electronic version on CD) of any imaging studies that have been done to evaluate the vascular problems being evaluated.
Health history questionnaires
New patients are asked in advance to complete questionnaires that ask for information about current and past health issues. This information is very useful in your medical evaluation and in developing your care plan. It is especially important to know about current medications, allergies, and active problems that require medical attention.
Your first visit to the UC Davis Vascular Center
The UC Davis Vascular Center is located at the Lawrence J. Ellison Ambulatory Care Center at 4860 Y Street. Patient and visitor parking is available at the parking structure next to the Lawrence J. Ellison Ambulatory Care Center. There is no time limit on how long a vehicle can be parked in this structure. Garage tickets will be validated at the center registration desk; this limits the parking cost to $1 total.
New patients receive a thorough evaluation. Nursing staff will measure your vital signs, record important general information such as allergies, and prepare you for the visit. They will ask you the reason for your visit to make sure you have arrived in the appropriate clinic, as the university grounds are extensive. Medical students and surgical residents may take your history and perform a physical exam prior to your consultation with the attending physician. Your surgeon will use all of this information and more before discussing his/her recommendations with you.
Together, we will create a plan of care that meets your individual needs. This team approach is an extremely effective way to identify and resolve health issues. Your questions are welcome and you will be provided with written health information whenever possible.
Many patients will be referred to UC Davis Health's accredited Vascular Laboratory for tests, either before or after a clinic evaluation. The information from non-invasive vascular testing with ultrasound studies or other methods is important, and it may help to guide your treatment. Some patients may be seen regularly, as part of Vascular Laboratory surveillance programs, to monitor the severity of their vascular problems and to help identify potential problems at a more easily correctable stage.
Follow-up visits and returning vascular patient appointments
Established patients will usually have appointments made for a follow-up visit when they are seen at the center. To make or change an appointment, call the clinic at 916-734-3800.
Information for referring physicians
UC Davis Health Physician Referral Center
Outpatient special referrals and phone consultations
Monday - Friday, 8 a.m. to 5 p.m.
1-800-4-UC DAVIS or 1-800-482-3284.