Visiting Scholar in Pediatric Anesthesia Program (ViSiPAP)
In 2017, the Department of Anesthesiology and Pain Medicine established the joint UCD/UCSF Visiting Scholars in Pediatric Anesthesia Program (ViSiPAP). The program is designed to provide junior faculty and fellows the opportunity to develop and deliver original oral presentations in pediatric anesthesiology. In the first year of the program, Dr. Andrew Infosino and Dr. Kristin Pappas, and Dr. Hung Nguyen and Dr. Vanessa Hoy were the visiting scholars at UCD. Dr. Niroop Ravula and Dr. Andrew Dobson traveled to UCSF in June 2017.
The following year, Dr. Ravula expanded the program to Oregon Health and Science University, and we were pleased to have Dr. Kirk Lalwani as the first visiting scholar from there. In 2020, the department inaugurated the UCD/Stanford ViSiPAP series. With the advent of COVID-19, all three departments held a remote program, "COVID-19 on the West Coast: It's Impact on Perioperative Care", moderated by Dr. Rajvinder Dhamrait, Health Sciences Clinical Professor (UCD), with Dr. Andrew Infosino, Clinical Professor (UCSF) and Dr. Kirk Lalwani (Professor of Anesthesiology and Perioperative Medicine) presenting.
Program goals include:
Creating extramural opportunities for networking, collaborating and sponsorship
Expanding the community of practice in pediatric anesthesia
Increasing academic activity to improve promotion and retention rates for junior faculty
Assisting the transition of fellows from trainees to engaged and productive faculty
Promoting gender equity and URM individuals in pediatric anesthesia
Types of Exchanges include:
In Person Faculty
In Person Fellow/Faculty
Virtual Faculty
Virtual Fellow/Faculty.
List of participants and topics
UCD
Date

Faculty

Fellow

10/17/2019

Julianna Clark-Wronski, M.D.

All the Good Stuff: Perioperative Transfers of Care

Janelle Aguirre, M.D.

4/19/2019

Sarah Maclean, MBBS, FRCA

Non-Operating Room Anesthesia

Ryan Toole, D.O.

1/29/2018

Rajvinder Dhamrait, MBBS, FRCA

The Second Victim – Help Me!

Michelle Kim, M.D.

The Second Victim – Help Me!

6/14/2014

Niroop Ravula, MBBS, FRCA

Pediatric Difficult Airway

Andrew Dobson, D.O.

Pediatric Difficult Airway
UCSF
5/18/2022

David Wong, M.D.

Anesthetic Considerations for Pediatric Patients with Mucopolysaccaridoses

Andrew Infosino, M.D.

Can ViSiPAP Improve Academic Scholarly Output and Assist with Promotion?

1/20/2021

Esther Lee, M.D.

Non-Opioid Analgesia and Sedation

Benjamin Marsh, M.D.

Anesthetic Consideration for Posterior mediastinal masses

7/31/2019

Jeanie Bhuller, M.S.

Pediatric MRI Under Anesthesia

Josemine Carey, MD

An Introduction to Conflict Management & Communication for the Pediatric Anesthesiologist
OHSU
6/22/2022

Ona Dachsangvorn, M.D.

Patient Blood Management

Brian Pellatt, M.D.

Pediatric Awake Craniotomy

6/29/2019

Marissa Vadi, M.D., MPH

Cognitive Errors in Anesthesiology

First UCD presenter to OHSU
Stanford
12/8/2021

Dua Anderson, M.D.

Anesthesia for the Fetal Patient

Austin Flores, M.D.

Management of an Unusual Tracheoesophageal Fistula in a Neonate with Suspected Shone's Complex

3/5/2020

Robert Kaye, M.D.

Mindfulness: Finding Peace in the Midst of the Storm

Chidimma Osigwe, M.D.

Developing an Anesthetic Care Pathway in a Novel Patient Population. The Evolution of the Transcatheter Device Closure of PDA in Pre-term Infants at UCD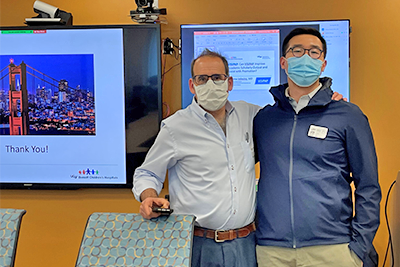 Dr. Andrew Infosino, Professor, UCSF, and Dr. David Wong, Pediatric Fellow, UCSF, at the UC Davis Children's Surgery Center, ViSiPAP, May 18, 2022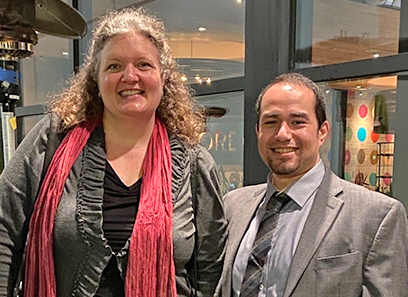 Dr. Dua Anderson, Professor, and Dr. Austin Flores, Pediatric Fellow, at Stanford, ViSiPAP, December 8, 2021