Malignant Hyperthermia
A young child with a family history of malignant hyperthermia (MH) family traveled from India to UC Davis for glaucoma surgery.
The 16-week old patient, Megha, was originally evaluated in India for symptoms concerning for glaucoma in need of surgical intervention. Her father and paternal uncle are MH susceptible based on muscle biopsy testing. There were multiple centers in India capable of managing childhood glaucoma, but access to the MH antidote drug dantrolene is limited throughout much of India, and David, Megha's father wanted her treated in the US to maximize her safety.
Dr. James Brandt, ophthalmologic surgeon, from the UC Davis Eye Center, was contacted by an Aarogya Seva-Global Health Volunteer Alliance volunteer about transferring this baby to UC Davis for her glaucoma surgery. Dr. Brandt consulted Dr. Niroop Ravula, pediatric anesthesiologist, from our Pediatric Anesthesia division and Dr. Tim Tautz, the director of the UC Davis MH Biopsy Testing Center about managing this patient at UC Davis. With the help of Aarogya Seva-Global Health Volunteer Alliance and online fundraising, she traveled to the US with her family to obtain surgery.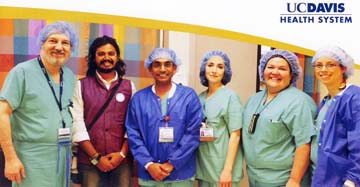 Since arriving at UC Davis, Megha has successfully undergone two eye procedures under non-triggering general anesthesia after proper anesthesia workstation preparation without any complications. After the follow up visit at UC Davis Ophthalmology, Dr. Brandt expects Megha to have normal vision.
Megha's story demonstrates that adequate preparation and a team centered approach are vital to ensure patient safety during perioperative course and lead with a successful outcome.
The UC Davis Medical Center is one of six designated MH testing sites in the United States, and is also involved in collecting data for the North American MH Registry. We utilize laboratories at UC Davis to perform muscle biopsies and other tests. The director of the testing center, Dr. Timothy Tautz, serves as a consultant to the MH Hotline and is available to answer questions and concerns about MH from physicians and other healthcare personnel.


Timothy J. Tautz, M.D., Director
Send an email to Dr. Tautz
Call the MH Testing Center: 916-734-2431