A Message from the Acting Vice Chair for Research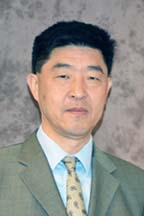 The Department of Anesthesiology and Pain Medicine at University of California Davis is committed to providing the best perioperative patient care, ensuring improved outcomes via advanced research led by dedicated professors and research staff. Our innovative research translates into better patient care.
We conduct medical research in clinical and laboratory settings, collaborating with other divisions, departments and institutions within UC Davis Health and beyond. Our goal is to develop novel ideas in research and generate new knowledge in perioperative patient management.
Research is made possible by the collective efforts of anesthesiologists and their associated staff and supported by government grants as well as private industry sources. As part of a teaching hospital, our faculty hold numerous research grants from both federal and non-federal sources. The research program produces a large number of peer-reviewed papers, presentations at national and international meetings, and visiting professorships.
For information on Anesthesiology Research, please contact:
Evaluation of Impacts of Continuous Non-Invasive Intra-operative Hemoglobin and PVI Monitoring on Intra-operative and Post-Surgical Clinical Outcomes (Big 10). Applegate II, Richard L and Fleming, Neal
Oxygen Reserve Index: Utility as Early Warning for Desaturation and Clinical Laboratory Correlations in Critically Ill Patients. Fleming, Neal and Applegate II, Richard L
Validation of PVI as a Parameter to Predict Fluid Responsiveness. Fleming, Neal and Singh, Amrik
Oxygen Reserve Index: Utility as Early Warning for Desaturation in Morbidly Obese Patients. Fleming, Neal and Applegate II, Richard L
Prospective Observational Study Characterizing Noninvasive Hemoglobin (SpHb) Measured with Pulse CO-Oximetry Technology in a Variety of Surgical Cases. Fleming, Neal
IRB #

Title

Principal Investigator

Co-Investigator

Sponsor

967347

(REGAIN Trial)

A randomized controlled trial of Regional Versus General Anesthesia for promoting Independence After Hip Fracture

Richard Applegate

Jeffrey Uppington

PCORI

494171

Prospective Observational Study Characterizing Non-Invasive Hemoglobin (SpHb) Measured with pulse CO-Oximetry technology in a variety of surgical cases

Neal Fleming

-

Masimo

887901

Oxygen Reserve Index: Utility as Early Warning for Desaturation and Clinical Laboratory Correlations in Critically Ill patients

Neal Fleming

Richard Applegate

Masimo

917990

Oxygen Reserve Index: Utility as Early warning signs for Desaturation in Morbidly Obese Patients

Neal Fleming

Richard Applegate

Masimo

930087

Validation of PVI as a parameter to predict fluid responsiveness

Neal Fleming

Amrik Singh

Masimo

1130014

Calibration and Validation of Patient Monitoring Device for Pressure Injury Prevention and Fall Detection

Neal Fleming

Richard Applegate

Masimo

1042830

PeDI Registry

Niroop Ravula

Mike Yim

CHOP
Non Sponsored Projects
| | | | | |
| --- | --- | --- | --- | --- |
| IRB # | Project Name | Principal Investigator | Co-Investigator | Sponsor |
| 1022523 | Patient self-reported duration of analgesia after shoulder surgery and interscalene block with and without perineural adjuncts | Robin Aldwinckle | Richard Applegate | Departmental |
| 483753 | Factors Affect outcomes in Cardiovascular Surgery | Hong Liu | Nilas Young | Departmental |
| 521455 | Dexmedetomidine and Renal Transplants | Hong Liu | Richard Perez | Departmental |
| 960451 | Contributing Factors to adult case cancellations at U Davis Medical Center during the year 2015-2016 | Niroop Ravula | - | Departmental |
| 1091762 | Impact of race in the perioperative pain management of pediatric patients undergoing tonsillectomy and adenoidectomy | Niroop Ravula | Beti Asnake | Departmental |
| 899485 | Do Pre-operative PECS I and II nerve blocks reduce post mastectomy opioid consumption, length of stay, and improve patient comfort?: A retrospective evaluation | Jon Zhou | - | Departmental |
362559

The Evaluation of Minimally Invasive Hemodynamic Monitors for the Assessment of Volume Responsiveness to Various Standard Replacement Fluids during Acute Normovolemic Hemodilution

(Fluid Study)

Neal Fleming

David Rose

Departmental

367729

Does Video-Assisted Self Review Help Students Learn a New Skill faster?

Neal Fleming

-

Departmental

589589

Non-Diagnostic Serum Troponin As a Marker for Peri-operative Risk

Neal Fleming

Hong Liu

Departmental

932163

PONV Study

Neal Fleming

Paul Marc

Departmental

948256

MODIV-APAP

Cathy Lammers

Brent Hall

Departmental

987983

Acupuncture and Acupressure for Postoperative Nausea and Vomiting in Children Undergoing Outpatient Middle Ear Surgery

Sungeun Lee

Kyeong Seon Kim

Departmental

909765

Comparison of Etomidate Plus Propofol vs.Propofol, Etomidate Alone n Induction of Anesthesia, a Pilot Observational study

Hong Liu

Jon Zhou

Departmental

1107822

Classroom vs. OR training for mastering new monitoring technology

Charandip Sandhu

Richard Applegate

Departmental

983837

Transversus abdominus plane (TAP) block catheters vs liposomal bupivacaine for pain control after colorectal surgery: A prospective randomized control trial

Jon Zhou

Steve Macres

Departmental
Publications (Peer reviewed)
2018 Publications:
Gatling J, Ramsingh D, Horricks J, Lauer R, Brauer S, Debooy J, Mascetti C, Applegate R: Blood Conservation Using Tranexamic Acid versus Epsilon Aminocaproic Acid in Cardiac Surgery: A Randomized Controlled Trial. Journal of Anesthesia and Perioperative Medicine 2018; 5:169-175.
Gelfand A, Johnson H, Lenaerts M, De Mesa C, Bogduk N, Goadsby P. Neck-Tongue Syndrome: A Systemic Review. Cephalalgia, 38(2): 374-382.
Manoukian MAC, Migdal CW, Tembhekar AR, Harris JA, and De Mesa C. Topical Administration of Ibuprofen for Injured Athletes: Considerations, Formulations, and Comparison to Oral Delivery. Sports Medicine - Open, 3(1): 1-9.
Hanna AH, Ramsingh D, Sullivan-Lewis W, Cano S, Leiter P, Wallace D, Andrews G, Austin B, Applegate RL 2nd. A comparison of midazolam and zolpidem as oral premedication in children, a prospective randomized double-blinded clinical trial.

Paediatr Anaesth

. 2018 Oct 17. [Epub ahead of print]
Lee LK, Burns RA, Dhamrait RS, Carter HF, Vadi MG, Grogan TR, Elashoff DA, Applegate RL 2nd, Iravani M. Retrospective Cohort Study on the Optimal Timing of Orogastric Tube/Nasogastric Tube Insertion in Infants With Pyloric Stenosis.

Anesth Analg

. 2018 Sep 18. [Epub ahead of print].
Singh N, Nielsen AA, Copenhaver DJ, Sheth SJ, Li CS, Fishman SM. Advancing Simulation-Based Education in Pain Medicine.

Pain Med

. 2018 Sep 1;19(9):1725-1736.

Med Gas Res

. 2018 Sep 25;8(3):73-78. eCollection 2018 Jul-Sep.
Tentindo GS, Fishman SM, Li CS, Wang Q, Brass SD. The prevalence and awareness of sleep apnea in patients suffering chronic pain: an assessment using the STOP-Bang sleep apnea questionnaire.

Nat Sci Sleep

. 2018 Aug 1;10:217-224. eCollection 2018.
Huang L, Applegate RL 2nd, Applegate PM, Boling W, Zhang JH. Inhalation of high concentration hydrogen gas improves short-term outcomes in a rat model of asphyxia induced-cardiac arrest.
Koebner IJ, Fishman SM, Paterniti D, Sommer D, Witt CM, Ward D, Joseph JG. The Art of Analgesia: A Pilot Study of Art Museum Tours to Decrease Pain and Social Disconnection Among Individuals with Chronic Pain.

Pain Med

. 2018 Jul 24. [Epub ahead of print]
Schloemerkemper N. Psychotic due to bath salts and methamphetamines: emergency cesarean section under general anesthesia.

J Biomed Res

. 2018 Jul 23;32(4):311-313.
Maselli RA, Vázquez J, Schrumpf L, Arredondo J, Lara M, Strober JB, Pytel P, Wollmann RL, Ferns M. Presynaptic congenital myasthenic syndrome with altered synaptic vesicle homeostasis linked to compound heterozygous sequence variants in RPH3A.

Mol Genet Genomic Med

. 2018 May;6(3):434-440. Epub 2018 Feb 14.
Ligsay A, El-Deeb M, Salcedo-Arellano MJ, Schloemerkemper N, Grayson JS, Hagerman R. General Anesthetic Use in Fragile X Spectrum Disorders.

J Neurosurg Anesthesiol

. 2018 May 4. [Epub ahead of print]
McBride DW, Reis C, Zhang JH, Applegate RL 2nd, Tang J Remote Limb Ischemic Preconditioning Attenuates Cerebrovascular Depression During Sinusoidal Galvanic Vestibular Stimulation via α1-Adrenoceptor-Protein Kinase Cε-Endothelial NO Synthase Pathway in Rats.

J Am Heart Assoc

. 2018 Mar 24;7(7).
Clarke SO, Julie IM, Yao AP, et al. Longitudinal exploration of in situ mock code events and the performance of cardiac arrest skills. BMJ Simulation and Technology Enhanced Learning Published Online First: 02 March 2018. doi: 10.1136/bmjstel-2017-000255.
Fishman SM, Carr DB, Hogans B, Cheatle M, Gallagher RM, Katzman J, Mackey S, Polomano R, Popescu A, Rathmell JP, Rosenquist RW, Tauben D, Beckett L, Li Y, Mongoven JM, Young HM. Scope and Nature of Pain- and Analgesia-Related Content of the United States Medical Licensing Examination (USMLE).

Pain Med

. 2018 Mar 1;19(3):449-459.
2017 Publications:
Neumann MD, Gaskins LJ, Ziolek T, REGAIN Investigators: Time to institutional review board approval with local versus central review in a multicenter pragmatic trial. Clinical Trials 2017 PMID: 28982261 doi/10.1177/1740774517735536
Applegate PM, Boyd WM, Applegate II RL, Liu H: Is it the time to reconsider the choice of valves for cardiac surgery: mechanical or bioprosthetic? J Biomed Research 2017 31(5): 373–376. doi:10.7555/JBR.31.20170027
Ho WM, Reis C, Akyol O, Akyol GY, Applegate II RL, Stier G, Martin R, Zhang JH: Pharmacological Management Options to Prevent and Reduce Ischemic Hemorrhagic Transformation. Current Drug Targets 2017;18(12):1441-1459. PMID: 27538508 DOI: 10.2174/1389450117666160818115850
Reis C, Akyol O, Ho WM, Araujo C, Huang L, Applegate II R, Zhang JH: Phase I and Phase II Therapies for Acute Ischemic Stroke: An update on currently studied drugs in clinical research. Biomed Res Int. 2017;2017:4863079. doi: 10.1155/2017/4863079. PMID 28286764
Liu H, Ji F, Peng K, Applegate RL 2nd, Fleming NW. In Response: Sedation After Cardiac Surgery With Propofol or Dexmedetomidine: Between Scylla and Charybdis?

Anesth Analg

. 2017 Nov;125(5):1822-1823.
Liu H, Ji F, Peng K, Applegate R II, and Fleming N. Sedation after Cardiac Surgery - Is One Drug Better Than Another? Anesth Analg 2017;124:1061–70.
Li D, Bohringer C and Liu H. What is "normal" intraoperative blood pressure and do deviations from it really affect postoperative outcome? Journal of Biomedical Research 2017; 31(2): 79–81.
Copenhaver DJ, Karvelas NB, Fishman SM. Risk Management for Opioid Prescribing in the Treatment of Patients With Pain From Cancer or Terminal Illness: Inadvertent Oversight or Taboo?

Anesth Analg

. 2017 Nov;125(5):1610-1615.
Vora FM, Gates J, Gerard K, Hanson S, Applegate RL 2nd, Blood AB. Use of Esophageal Hemoximetry to Assess the Effect of Packed Red Blood Cell Transfusion on Gastrointestinal Oxygenation in Newborn Infants. Am J Perinatol. 2017 Jul;34(8):735-741.
Vadi MG, Roddy KJ, Ghazal EA, Um M, Neiheisel AJ, Applegate RL 2nd. Comparison of the GlideScope Cobalt® and Storz DCI® Video Laryngoscopes in Children Younger Than 2 Years of Age During Manual In-Line Stabilization: A Randomized Trainee Evaluation Study. Pediatr Emerg Care. 2017 Jul;33(7):467-473.
Tobey R, Cheng H, Gao M, Li Z, Young N, Boyd D, Ji F and Liu H. Postoperative AKI and blood product transfusion after synthetic colloid use during cardiac surgery. J Cardiothorac Vasc Anesth. 2017 Jun;31(3):853-862. Epub 2016 Dec 28.
Nielsen AA, Liyanage TA, Leiserowitz GS, Mayadev J. Optimal perioperative anesthesia management for gynecologic interstitial brachytherapy.J Contemp Brachytherapy. 2017 Jun;9(3):216-223.
Chang E, Gatling JW, Bode S, Herrmann PC, Bull BS, Applegate II RL: Extreme Plasma Dilution Decreases Heparin and Protamine Cardiopulmonary Bypass Requirements: A Case Report on a Jehovah's Witness Patient. Anesthesia & Analgesia Case Reports 2017 Jun 1;8(11):291-293. DOI: 10.1213/XAA.0000000000000493. PubMed PMID: 28328588
Jones, J., Singh, N., Nidecker, A., Li, C., and Fishman, S. Predicting the Distance from the Skin to the Epidural Space for Cervical and Lumbar Epidural Steroid Injections using Magnetic Resonance. Anesth Analg. 2017 May;124(5):1678-1685
Yang Y, Peng K, Liu H, Meng X, Zhang J and Ji F. Dexmedetomidine preconditioning for myocardial protection in ischemia–reperfusion injury in rats by downregulation of the HMGB1–TLR4–NF-κB signaling pathway. Clin Exp Pharmacol Physiol. 2017 Mar;44(3):353-361.
Kim CH, McBride DW, Raval R, Sherchan P, Hay KL, Gren EC, Kelln W, Lekic T, Hayes WK, Bull BS, Applegate R, Tang J, Zhang JH. Crotalus atrox venom preconditioning increases plasma fibrinogen and reduces perioperative hemorrhage in a rat model of surgical brain injury. Sci Rep. 2017 Jan 19;7:40821.
2016 Publications:
Applegate RL 2nd, Dorotta IL, Wells B, Juma D, Applegate PM. The Relationship Between Oxygen Reserve Index and Arterial Partial Pressure of Oxygen During Surgery. Anesth Analg. 2016 Sep;123(3):626-33.
Fishman SM and Young H. Driving Needed Change in Pain Education. Pain Medicine 2016; 0: 1–3.
Applegate RL 2nd, Lenart J, Malkin M, Meineke MN, Qoshlli S, Neumann M, Jacobson JP, Kruger A, Ching J, Hassanian M, Um M. Advanced Monitoring Is Associated with Fewer Alarm Events During Planned Moderate Procedure-Related Sedation: A 2-Part Pilot Trial. Anesth Analg. 2016 Apr;122(4):1070-8.
Solberg J, Copenhaver D, and Fishman SM. Medial branch nerve block and ablation as a novel approach to pain related to vertebral compression fracture. Curr Opin Anesthesiol 2016, 29:596–599
Gao M, Rejaei D and Liu H. Ketamine Use in Current Clinical Practice. Acta Pharmacol Sin. 2016; 37(7):865-72
Gao M, Sun J, Young N, Boyd D, Atkins Z, Li Z, Ding Q, Diehl J and Liu H Impact of body mass index on the outcomes in cardiac surgery. JCVA 2016 Oct;30(5):1308-16.
Ke P, Liu HY, Wu SR, Liu H, Zhang ZC, Fuhai Ji. Does propofol anesthesia lead to less postoperative pain compared with inhalation anesthesia? A systematic review and meta-analysis. Anesth Analg 2016 Oct;123(4):846-58.
Geng J, Qian J, Cheng H, Ji F, Liu H. The influence of perioperative dexmedetomidine on the patients undergoing cardiac surgery: a meta-analysis. PLOS ONE 2016 Apr 6;11(4):e0152829.
Singh, N., DeMesa, C. Unusual Hypersensitivity Reaction to Iohexol during Epidural Steroid Injection Resulting in Lipoma Development-A Case Report. PM R. 2016 Jun 9. pii: S1934-1482(16)30179-4
Rejaei, D., Singh, N., Sheth, S., Koebner, I., and Fishman, S. A Novel Approach to the Treatment of Sacroiliac Joint Complex Pain: Bipolar Radiofrequency Ablation Applied in a Palisade Pattern. Reg Anesth Pain Med. 2016 May-Jun;41(3):416-7
McBride DW, Reis C, Frank E, Klebe DW, Zhang JH, Applegate R 2nd, Tang J. An Experimental Model of Vasovagal Syncope Induces Cerebral Hypoperfusion and Fainting-Like Behavior in Awake Rats. PLoS One. 2016 Sep 22;11(9):e0163280
Vadi MG, Ghazal EA, Malkin MR, Ayodeji A, Applegate RL 2nd. Continuous Noninvasive Hemodynamic Monitoring in an Infant With Tetra-Amelia. A A Case Rep. 2016 Sep 15;7(6):123-4.
Vadi MG, Ghazal EA, Halverson B, Applegate RL. COMPARISON OF INDIRECT VIDEO LARYNGOSCOPES IN CHILDREN YOUNGER THAN TWO YEARS OF AGE: A RANDOMIZED TRAINEE EVALUATION STUDY. Middle East J Anaesthesiol. 2016 Feb;23(4):401-10.
Carter HF, Lau C, Juma D, Wells B, Applegate RL 2nd. Intraoperative Red Blood Cell Transfusion in Infant Heart Transplant Patients Is Not Associated with Worsened Outcomes.
Anesth Analg. 2016 May;122(5):1567-77.
Vadi MG, Malkin MR, Lenart J, Stier GR, Gatling JW, Applegate RL 2nd. Comparison of web-based and face-to-face interviews for application to an anesthesiology training program: a pilot study. Int J Med Educ. 2016 Apr 3;7:102-8.
Wong CM, Ghazal EA, Dyleski RA, Applegate RL 2nd. Management of Near-Complete Airway Obstruction Caused by a Vallecular Cyst in an Infant Using a Tongue Tip Traction Suture. A A Case Rep. 2016 Jan 15;6(2):31-3.
Kowalczyk AK, Bachar BJ, Liu H. Neuromonitoring during adult cardiac surgery. Journal of Biomedical Research 2016,30(3):171-173
Pakkianathan C, Benggon M, Khatibi NH, Chen H, Marcantonio S, Applegate R 2nd, Tang J, Zhang J. Propofol Pretreatment Fails to Provide Neuroprotection Following a Surgically Induced Brain Injury Rat Model. Acta Neurochir Suppl. 2016;121:323-7
Komanapalli ES, Sherchan P, Rolland W 2nd, Khatibi N, Martin RD, Applegate RL 2nd, Tang J, Zhang JH. Epsilon Aminocaproic Acid Pretreatment Provides Neuroprotection Following Surgically Induced Brain Injury in a Rat Model. Acta Neurochir Suppl. 2016;121:311-5.
Zhao J, Yu W, Tong C, Xie Z, Sun J, Zhou SF, Liu H, Meng L. Adopting the American Anesthesia Oral Board in China: Value and Roadblocks. Journal of Clinical Anesthesia. 2016; 30: 42–45
Huang L, Woo W, Sherchan P, Khatibi NH, Krafft P, Rolland W, Applegate RL 2nd, Martin RD, Zhang J. Valproic Acid Pretreatment Reduces Brain Edema in a Rat Model of Surgical Brain Injury. Acta Neurochir Suppl. 2016;121:305-10
Benggon M, Chen H, Applegate RL 2nd, Zhang J. Thrombin Preconditioning in Surgical Brain Injury in Rats. Acta Neurochir Suppl. 2016;121:299-304.
Cheng H, Li Z, Young N, Boyd D, Atkins Z, Ji F and Liu H. The effect of dexmedetomidine on outcomes of cardiac surgery in elderly patients. J Cardiothorac Vasc Anesth. 2016 Dec;30(6):1502-1508
2015 Publications:
Huang L, Sherchan P, Wang Y, Reis C, Applegate RL 2nd, Tang J, Zhang JH. Phosphoinositide 3-Kinase Gamma Contributes to Neuroinflammation in a Rat Model of Surgical Brain Injury. J Neurosci. 2015 Jul 22;35(29):10390-401
Wang Y, Xu X, Liu H, Ji F. Effects of Dexmedetomidine on T Helper Lymphocytes and Inflammatory Response in Patients Undergoing Radical Gastrectomy. J Surg Res. 2015, 194: 147-53
Wang Y, Reis C, Applegate R 2nd, Stier G, Martin R, Zhang JH. Ischemic conditioning-induced endogenous brain protection: Applications pre-, per- or post-stroke. Experimental neurology. 2015; 272:26-40.
Yao L, Young N, Liu H, Li Z, Sun W, Goldhammer J, Tao L, He J, Diehl J and Sun J. Evidence for preoperative aspirin improving major outcomes in patients with chronic kidney disease undergoing cardiac surgery, a cohort study. Ann Surg. 2015 Jan;261(1):207-12
Judge O, Ji F, Fleming N and Liu H. The Current Use of Pulmonary Artery Catheter for Hemodynamic Monitoring in Cardiac Surgery: a Survey from Members of Society of Cardiovascular Anesthesiologists. J Cardiothorac Vasc Anesth. 2015, 29(1);69-75
Santosa CM, Rose DD, Fleming NW. The Utility of 3D Left Atrial Volume and Mitral Flow Velocities as Guides for Acute Volume Resuscitation. Biomed Res Int. 2015;2015:697327.
Huang J, Donneyong M, Trivedi J, Barnard A, Chaney J, Dotson A, Raymer S, Cheng A, Liu H and Slaughter MS. Preoperative Aspirin Use and its Effect on Adverse Events in Patients Undergoing Cardiac Surgery. Ann Thoracic Surg. 2015;99:1975–82
Sun J, Dong H, Yao L and Liu H. Preventing Perioperative Cardiovascular Complications in Patients with Diabetes. J Anesth Perioper Med 2015;2(2):96-106.
Chen J and Liu H. Is perioperative surgical home the future of surgical patient care? The Journal of Biomedical Research, 2015, 29(3):173-175
Wang C, Hu SM, Xie H, Qiao SG, Liu H, Liu CF. Role of mitochondrial ATP-sensitive potassium channel-mediated PKC-ε in delayed protection against myocardial ischemia/reperfusion injury in isolated hearts of sevoflurane-preconditioned rats. Braz J Med Biol Res. 2015 Jun;48(6):528-36
Ji F, Li J, Fleming N, Rose D and Liu H. Reliability of a new 4th generation FloTrac algorithm to track cardiac output changes in patients receiving phenylephrine.

J Clin Monit Comput

. 2015 Aug;29(4):467-73