Originally published by UC Davis Health on LinkedIn on June 15, 2022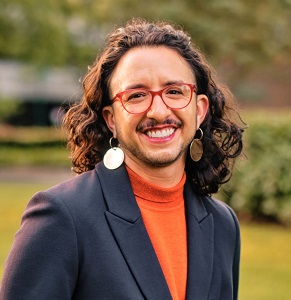 By Miles Harris, FNP-BC, AAHIVS
Pronouns: he/him/his
Director of Gender-Affirming Care at UC Davis Health
Consulting FNP for Betty Irene Moore School of Nursing at UC Davis
"As we celebrate LGBTQ+ communities during Pride Month, I am honored to introduce myself to the UC Davis community as the first Director of Gender-Affirming Care. I'm proud to join UC Davis Health as we expand and improve care for transgender and gender-nonbinary communities in Sacramento and Northern California.
Transgender and gender-nonbinary (TGNB) people have a gender identity that is different from their sex assigned at birth. Many TGNB people seek out gender-affirming care, which is an intervention that helps a person better align their body with their gender identity. For some people, this includes gender-affirming hormone therapy and gender-affirming surgeries. Even though California law requires Medi-Cal and state-based insurance plans to cover gender-affirming care, many TGNB Californians still lack access to gender-affirming healthcare services. "The State of the LGBTQ Community in 2020" found that 25 percent of TGNB Americans report being refused gender-affirming care by a healthcare provider, and 38 percent report that their insurance company denied them gender-affirming hormone therapy. Abundant evidence shows that TGNB people who have access to gender-affirming care have better health outcomes, including decreased rates of anxiety, depression, and suicidality. By expanding gender-affirming care services at UC Davis Health, we will work to fill this care gap and connect more TGNB people with the care they need and deserve.
Many efforts throughout UC Davis and UC Davis Health are underway to improve inclusion for TGNB communities. For example, the Vice Chancellor's LGBTQ+ Advisory Council is working to update our "Find a Provider" system. Although many of our providers already provide welcoming and inclusive care for LGBTQ+ people, it can be challenging for many patients to find them. The updated "Find a Provider" system will make it easier for providers to identify themselves as someone who has training and experience in caring for people of diverse sexual orientations and gender identities.
Being able to use one's lived name (sometimes called chosen or preferred name) and correct gender identity marker is essential for the safety and well-being of TGNB people. In 2020, the University of California system issued the "Gender Recognition and Lived Name" policy. This means that for UC campuses and health systems, all documents and IT systems must provide woman, man and nonbinary options for gender identity and allow people to use their lived name. UC Davis and UC Davis Health are actively working to make these updates; complete implementation is required by the end of 2023.
UC Davis Health encourages all employees to display their pronouns on their badges. Pronouns include he/him/his, she/her/hers, and they/them/theirs, as well as new pronouns like ze/zir/zirs. Sharing your pronoun on your badge and email signature normalizes talking about gender and pronouns and makes spaces safer for TGNB people. UC Davis Health employees can request pronoun stickers from the Office for Health Equity, Diversity, and Inclusion by emailing hs-pride@ucdavis.edu. Everyone can display their pronouns on a pin or sticker, which are easy to obtain online or at your local LGBTQ+ center.
I am inspired by the past work of the many LGBTQ+ staff and faculty who have laid the groundwork for this moment, and grateful to the many people working diligently to make gender-affirming care at UC Davis Health and throughout Sacramento a reality."