Written by Katelyn Reed, Freshman Redwood SEED Scholar and Sophie Howarth, Sophomore Redwood SEED Scholar
Have you heard the term neurodiversity yet? It's the idea that people experience the world differently and that neurological differences are not deficits. It embraces inclusion, respect and the value of all people.
Neurodiversity is often used when describing autism, attention-deficit/hyperactivity disorder (ADHD) and other neurodevelopmental disabilities. This includes people with intellectual disabilities, such as the UC Davis Redwood SEED Scholars. This four-year, non-degree, residential college program is in its second year and is specifically designed for students with intellectual disabilities. Many have Down syndrome, autism or fragile X syndrome. They take courses with other Redwood SEED Scholars as well as traditional college classes, live in dorms and have jobs and internships. The goal is independent living and meaningful future employment.
Redwood SEED Scholars is run by the UC Davis MIND Institute, the UC Davis Office of Diversity, Equity and Inclusion and the Office of Continuing and Professional Education.
To celebrate and highlight the importance of neurodiversity, two Redwood SEED Scholars share their experiences in the program:
Katelyn Reed - Freshman
My name is Katelyn Reed and I am a first year student at UC Davis in the Redwood SEED Scholars Program. Living away from home for me was difficult at first because I had everything back at home that I needed and lots of friends and family around me in my town of Brea, California. When I graduated High School, I didn't know what I was capable of, and I didn't know what I wanted to do with my life. 
When I got into UC Davis I was so excited and I didn't know what I had been so scared of. When I started my first classes, I didn't know how it would go because I thought it was going to be much harder than High School. But, by the end of the first few weeks, I didn't know why I had felt so scared becoming a college student. 
Now that I am done with one quarter already I can say that my classes are way better than in High School because I am learning things that I have never learned before and I like that. My instructors are challenging me to be a way better person everyday and that's what I like about my classes. 
I also have made so many friends here at UC Davis. They are all so amazing and very inclusive and I love that. It feels like I have been making friends everywhere I go and I feel completely supported here at UC Davis. So far my experiences are that I have been working on my goals of being a communicator and an advocate for people like me who have a disability. I have been sharing my book that I wrote last summer, Wisdom From the Whiteboard - Interactive Journal, with UC Davis First Year Med School Students. It feels good to show people that being different is ok. 
My favorite memories so far at UC Davis are having a discussion at the First Year Seminar course Disability Studies on How To Be an Ally, attending a few Aggie football games, and going to my Monday night dance classes with my friends at the ARC. 
I am so very honored to be a part of this amazing program at a wonderful college like UC Davis. Thank you to everyone for everything that you have done for me. 
---
Sophie Howarth - Sophomore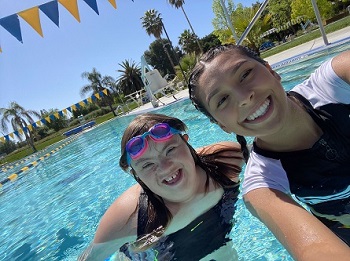 I am a sophomore at UC Davis and my name Is Sophie Howarth and I am 24 years old.  I love being at UC Davis. It's a lot of fun.  I'm taking classes such as Literacy, Math, Self-Regulation, and American Studies. My American Studies class is all about dangers such as, heat waves, Covid, and wildfires. 
Last quarter I worked at the ARC recreation center where I cleaned the equipment. Now I'm currently working at the Vet School where I package mail for animal hospitals at the front desk and I do data usage where I write down the names of the owners who take care of their cats and dogs.  In winter quarter I will be taking a museum course. It's about taking an object and I get to tell the teacher what It means to me.  
I really enjoy being with my friends at the Memorial Center and having pho for lunch. I love to swim, I really like helping people, and I love bowling, I also love to dance. I love being In the dorms because I picked my own roommate. Her name is Rachel. I do a lot of independent things like, doing homework, taking out the trash, and hygiene like brushing my teeth and taking my meds and brushing my hair.
We invite you to learn more about neurodiversity by checking out MIND Institute programs and events, including:
LEND (Leadership Education in Neurodevelopmental and Related Disabilities
2023 World Down Syndrome Day is March 21, 2023
On this day we advocate for the rights of people with Down Syndrome.
More stories, information, resources, and this year's theme "With Us Not For Us".