By Alexis Sanchez (She/Her/Hers), Director of Advocacy and Training, Sacramento LGBT Community Center.
Spotlight: "Medical Students Honor Transgender Day of Remembrance" by Chase Clark (they/them) and Juliana Novaes (she/her), UC Davis School of Medicine.
Transgender Day of Awareness was first started in 1999 as a way to memorialize transgender people who have been murdered as a result of transphobia. This solemn event gives community members a space to grieve and find community. It also raises awareness of the prevalence of violence against transgender and gender non-conforming people (TGNC), especially those with intersecting marginalized identities. The number of victims seems to grow year over year, especially with anti-LGBTQ+ groups focusing narratives on transgender individuals and anti-transgender narratives being common in both traditional media and social media. Those who work in violence prevention often point to things that make a person or group more prone to violence. Violence prevention work to protect the TGNC community entails improving material conditions for transgender people. Transgender people are more likely to experience discrimination in the workplace, during hiring, and in seeking housing. The crux of what we can do locally to ensure TGNC people live long and healthy lives is increasing access to jobs and housing and building equity programs that ensure they have the resources to thrive.
As Director of Advocacy and Training, I oversee our programs for victims of hate crimes and bias incidents. My hope is that someday, this portion of my work becomes irrelevant, with violence related to gender identity becoming a thing of the past. People can start working towards this world by interrupting transphobia when they hear it. Things we can do to actively stop violence against transgender people are interrupting transphobic jokes or comments made by peers, learning bystander intervention techniques, or working to create new jobs or equity programs for transgender people. This Transgender Day of Remembrance, take a little time to learn about the violence that TGNC people deal with every day and work to create a world free of it.
In observance of Transgender Awareness Week (November 13-19), we honor a fellow UC Davis Health employee who shared their story. Read more about their journey.
Spotlight: Medical Students Honor Transgender Day of Remembrance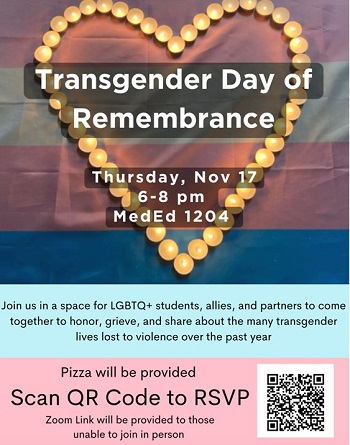 The month of November includes Transgender Awareness Week, which concludes with Transgender Day of Remembrance (TDOR), a day for people to come together to recognize the many transgender lives lost to violence over the last year. Transgender folks remain one of the most underserved groups of people across several domains, including health care. Addressing inequities in health care is complex, difficult work, but it is of paramount importance.
If you are interested in learning more about TDOR or want to commemorate those lost this year, please RSVP and join us at our event this Thursday, November, 17th, 2022 from 6-8 p.m.
We spoke to several gender-diverse students across UC Davis School of Medicine to learn what TDOR means to them, as well as to highlight their ideas of the role healthcare workers play in improving care for transgender patients:
Before I understood that I was transgender, I felt like I was sleepwalking through life. As a child, I remember wondering when I would wake up. I felt perpetually disconnected, like I was a character in someone else's story. As I grew older, I didn't know how to express my dislike for the trappings of womanhood I was expected to adopt. It wasn't until I entered adulthood that I learned something was different about me. Most women, for example, didn't experience revulsion at the thought of being pregnant. After coming to the realization that I am transgender, I finally felt at peace with myself. For the first time in my life, I could imagine growing old. I am present in my life in a way that was never possible before. To me, being a healthcare provider for transgender people is about giving patients the opportunity to live a life of peace and fulfillment through access to gender-affirming healthcare. This not only takes the form of hormones and surgeries but also providing respectful primary care and specialist services. On Transgender Day of Remembrance, I pay my respects to those who were denied this better, fuller life. I pray for those who have died because of who they are, and for those who cannot access the healthcare they so desperately need. I pray for the generations that came before me, whose tireless activism has allowed me to enjoy a degree of happiness I once thought unimaginable.
As a future physician, I hope to affirm folks of all genders, especially those of us that are gender diverse! Unfortunately, we are often tasked with teaching our providers about our identities and how to best care for us. As a medical student, I am dedicating my training to trans inclusive reproductive care, gender affirming care, and cultural humility so that I may one day advocate for and protect our trans and nonbinary siblings.
Healthcare workers play an imperative role in the inclusion of transgender patients. Transgender patients face multiple barriers when accessing healthcare which may result in less desirable health outcomes for transgender populations. From intake to the physical exam, healthcare workers should prioritize gender-affirming care to remove such barriers at the clinical level. Even seemingly small efforts like asking for a patient's pronouns can make a big difference for transgender patients whether or not they will seek care in the future. Thus, I implore my peers to practice gender-affirming care as it could make the difference between life and death for transgender patients. Transgender Day of Remembrance is a reminder that progress still needs to be made for the transgender community. I have a role now and as a future provider to uplift my transgender siblings through my commitment to practicing gender-affirming care.
I have often likened my own journey with gender identity to feeling like a magnificent bird trapped in a brass cage. Brass, an impenetrable material, traps a beautiful soul within its confines, limiting the beauty it can share with the world. My brass cage was the gender identity assigned to me by society, and the realization that I am transgender allowed me to escape that cage and spread my wings in a way I never could before. On Transgender Day of Remembrance each year, I am reminded of the resilience found within my community and deeply saddened to see that too many of my transgender siblings had their wings clipped too soon. The needs of my community have always been my driving force in everything I do and, as I grow in medicine, I will continue to break open cages and provide care to transgender individuals, including but not limited to comprehensive primary care, hormone access, and identity affirming surgeries.